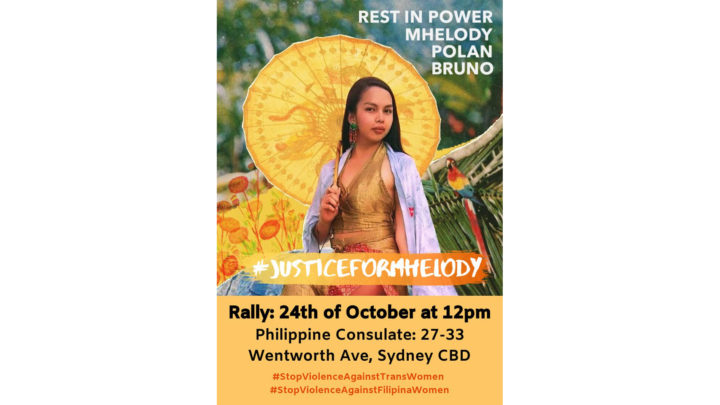 Mhelody Polan Bruno died at around 10 am on 22 September at Wagga Wagga Base Hospital. The death occurred after paramedics attended an apartment the morning before, where they stabilised her.
The 25-year-old Filipina trans woman had been holidaying in Australia for two months at the time.
A 31-year-old local man was arrested in relation to the death later that day. He was subsequently charged with manslaughter and released on bail. His matter has been listed for a mention in Wagga Wagga Local Court on 6 November.
Ms Bruno planned to return to the Philippines on 28 September, where she worked in a call centre in the capital of Manila. She was said to be the de facto breadwinner for her family, who live in the province of Surigao del Sur.
NSW police have established Strike Force Lamson to investigate Mhelody's death. However, Migrante Australia spokesperson Lina Cabaero questions the decision of police in naming the taskforce after an aspect of a sexual act.
Transphobic violence
Trans and gender diverse people experience violence at a glaringly higher rate than the rest of the population. The largest study of its kind in Australia found 92 percent of trans women had been subjected to verbal abuse, while 46 percent had experienced physical assault.
Violence against transgender people is escalating globally. In the 12 months to November last year, 369 transgender people had been reported murdered worldwide. However, it's speculated that the true number is much higher.
Trans Action Warrang – Sydney spokesperson Sid Littlewood explained that in comparing the number of trans women murdered around the globe to the total number of trans women worldwide is staggering. And this is especially so in regard to trans women of colour.
Rising calls for justice
Over 100 supporters attended a vigil in honour of Mhelody on 7 October in the centre of Newtown. And this coming Thursday 24 October, a rally calling for justice will be held out the front of the Philippine Consulate in Sydney's CBD at 12 pm.
The Justice for Mhelody rally is being organised by national organisation of Filipino migrants Migrante Australia, pro-democracy group Anakbayan Sydney, the Anticolonial Asian Alliance and Trans Action Warrang.
Sydney Criminal Lawyers spoke with Migrante Australia spokesperson Lina Cabaero-Ponnambalam about the circumstances around Mhelody's death, the disproportionate rate of trans people who are murdered, and what those gathering at the rally on Thursday are calling for.
Firstly, emergency services attended Ms Bruno in a Wagga Wagga apartment on the morning of 21 September. A 31-year-old local man has since been charged with manslaughter. Ms Cabaero, what else do you know about the circumstances of her death?
It is very vague. Nobody knows the circumstances surrounding her death. They said it was manslaughter, because it was the man who rang the ambulance. And he showed remorse.
Migrante Australia is part of an international organisation of migrant Filipinos, known as Migrante International. And it has been put in contact with Mhelody's family in the Philippines.
I spoke with Migrante International a few days after Mhelody's repatriation. And they said in the autopsy it mentioned strangulation as the cause of death.
There was some dispute around whether she would be repatriated. So, she has been?
Yes, on 15 October.
Mhelody was a young trans woman from the Philippines. Trans women of colour globally are subjected to high rates of violence. Is this incident being put down to a hate crime?
Yes. You can say that in this context. If you look at the statistics, transgender women are around one or two percent of the population.
But, every single day, a transgender woman is murdered someplace in the world. It's a high rate for such a small rate of the population.
There's also been a spate of suspicious deaths of Filipino people in Australia. Can you tell me about that?
There was a Filipina woman in Western Australia murdered by her partner. It was a case of intimate partner violence.
In March, there was a young Filipino man here on a traineeship visa. He was working in a winery in Jerilderie. He allegedly jumped out of a speeding car at 100 km/h and died.
His body was returned to the Philippines and that's it. There was no progress in the investigation. And then we have Mhelody.
But, if you talk about Filipino migrants globally, there are so many suspicious deaths and unsolved killings.
The attitude of the Philippine government is that it will repatriate the body and that's it, because it is something that could cause friction between the host country and the Philippine government.
The Philippine government depends on the remittances of migrant workers.
What do you think about this local man being charged with manslaughter and further, being released on bail?
On the same day that Mhelody passed away, he was charged, but also released on bail. This is within the legal boundaries in Australia.
But, we are really interested in who this man is. He will be appearing in the Wagga Wagga Local Court in November.
Some people have suggested he is from the navy. And there was a case in the Philippines, where a local transgender woman was murdered by a US navy man.
In that case, it didn't go anywhere because the navy man was secured by the American government and he never went to trial.
We don't want that sort of thing to happen again, if the man is indeed from the navy. Justice has to prevail.
A number of organisations have rallied around this cause. Can you tell me about that?
It has brought many people together who are very concerned about the issue. It's a concern, not only for the Filipino community, but also for the trans community.
Migrante Australia works very closely with Anakbayan, which is for younger Filipinos. In this campaign for Mhelody, we, Anakbayan and Trans Action Warrang are all working together.
We are also very concerned about the role of the Philippine government on this issue, because their only response is to repatriate the body.
And lastly, as you've just said, Migrante, Trans Action and Anakbayan, along with Anticolonial Asian Alliance are holding the Justice for Mhelody rally on Thursday. What is its aim?
We want an independent and impartial investigation conducted by the police, so that it brings closure.
We want the Philippine government playing a role in pushing for this investigation.
It is also to draw attention to violence against women and transgender women.
It is one of the priorities of the Australian government. This is now the fourth stage of their action plan to reduce violence against women in Australia.
Poster artwork by Lachlan Pham
The Justice for Mhelody rally will be held in Sydney at 12 pm on Thursday 24 October at the Philippine Consulate, 27-33 Wentworth Avenue in the CBD
Receive all of our articles weekly