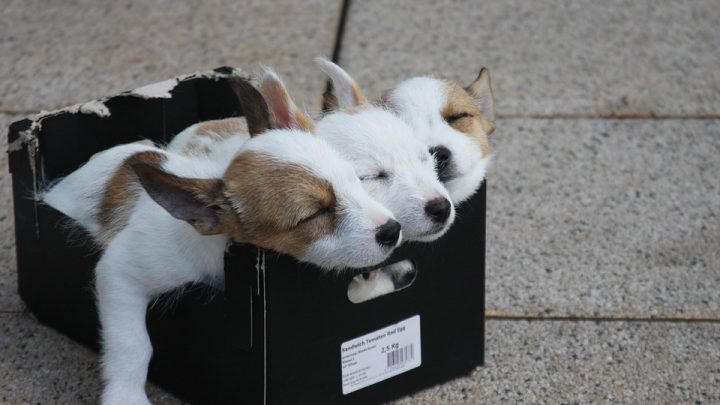 It is rare for those who commit animal cruelty to be taken to court because such crimes either go undetected or unprosecuted. And even if they do come before a magistrate, they are not dealt with anywhere near as harshly as assaults against people.
Cat Killer Found Not Guilty
Last year, a man came before the courts because he had kicked a kitten like it was a football until its insides spilled out. Although the man was charged, the court decided it had not been proved that the cat was alive at the time of the attack. He was therefore found not guilty.
Puppy Killer Sent to Prison
But it was a different story for Nathan Thompson, the man who bashed nine puppies to death. Thompson was sentenced to an 18-month prison term, which means that he is unlikely to forget his actions for a while.
Earlier this year, Thompson had taken eleven puppies into the bush and attempted to beat them all to death.
He was charged and ultimately pleaded guilty to serious animal cruelty, aggravated animal cruelty and resisting arrest. Prosecutors quickly sought an order to remove a pregnant dog from his house.
But it wasn't until this week that Thompson was back before the courts for sentencing.
His case had garnered so much public attention that the case was transferred from the East Maitland Local Court to the more secure Newcastle Local Court. A court exclusion zone was set up, although animal lovers still gathered to express their outrage at Thompson's actions.
One sign read: "Justice for the puppies."
The attack:
The puppies had been advertised for sale on Gumtree since 5 March, but hadn't sold by 11 March. So on that day, the owner took them to 25-year-old Thompson, who claims that he sold puppies in the past. That same day, Thompson bashed the puppies in two separate attacks.
He drove into the bush, parked his car and took the first puppy from the boot. Thompson then hit it on the head with a brick and it stopped moving. Thompson threw the body into the bush and grabbed the next one. This continued until another man walking dogs of his own came along.
This witness would later describe it as a "massacre".
As soon as he realised he was being watched, Thompson got back into his car and drove off. He again went to an isolated bushland area and continued his attack on the five remaining puppies.
One puppy died from its injuries on its way to a vet, meaning that only one ultimately survived.
Inside the courtroom:
Thompson's Legal Aid lawyer told the court that their client was on drugs at the time of the offence and that the killings were a "relatively painless exercise"- pleading for anything other than a prison sentence. This was in sharp contrast to the findings of the RSPCA, who told the court that the puppies had been subjected to "excruciating pain and fear" in their final moments.
Despite allegedly being under the influence of ice, the Magistrate sentenced Thompson to 18 months in prison with a non-parole period of 12 months, meaning he will spend at least a year behind bars. The Magistrate found that prison was the only appropriate option, although Thompson did receive a sentence discount because of his early plea of guilty.
Thompson has also been banned from having anything to do with animals for the rest of his life. The RSPCA was extremely satisfied with the result and thanked the public its support and for helping with the investigation. Community members were also content, thankful that animal cruelty charges were being taken seriously.
The sole surviving puppy, aptly named Lucky, has been adopted and now lives with a family in Cessnock.
Image Credit: Patrice Alsteen
Receive all of our articles weekly