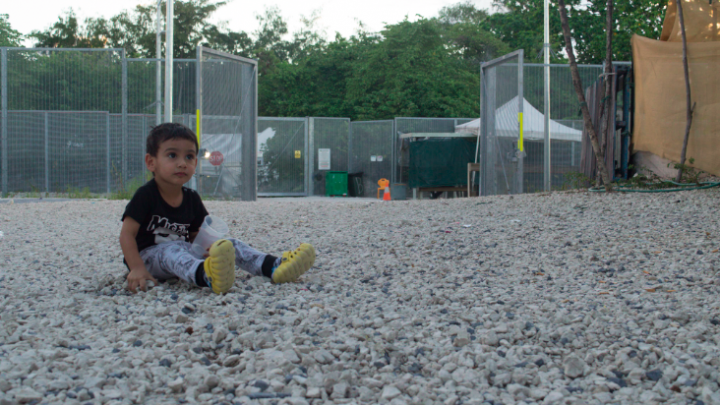 The tide is turning over the issue of removing the close to 80 children still being held in offshore detention off Nauru. Indeed, events over recent days reveal that the Morrison government is going to find it increasingly untenable to keep the kids there.
Three federal MPs from the prime minister's own crew have called on Scott Morrison to bring the children and their families to Australia claiming that the situation on the remote island the size of Melbourne airport has reached a "tipping point".
An open letter was presented to the PM on Monday that had been signed by close to 6,000 doctors – or around 5 percent of all registered medical practitioners in the country – stating that the children on Nauru should be removed because of serious physical and mental health problems.
After being kicked off the island last week, Médecins Sans Frontières publicly called for the immediate evacuation of all asylum seekers off Nauru, stating that there's "nothing humanitarian about saving people from sea only to leave them in an open-air prison".
And a driving force behind this growing turnaround is the #KidsOffNauru campaign that's now garnered the support of over 300 organisations and more than 126,500 Australians. It's calling on Morrison and Bill Shorten to set the children free by 20 November, Universal Children's Day.
Drawn out torture
There are now 78 children being held on Nauru. Some of them have been there for up to five years, while others were born there, and offshore detention is the only life they've ever known. And over the last couple of months, distressing reports have started to emerge about the condition they're in.
Dozens of suicide attempts have been made by these kids. A 14-year-old girl doused herself in petrol and set herself alight. A 10-year-old boy attempted suicide three times. The Federal Court has already intervened in the case of these two children and had them brought to Australia.
And around 30 of these children have been diagnosed with a rare psychological condition known as resignation syndrome. The disorder sees a suffer increasingly withdraw from everyday life. And they can eventually reach a comatose state and die.
A sudden backflip
Of course, the current prime minister was always going to be a stumbling block in getting the kids off the island, as he's the man who in 2013 initiated Operation Sovereign Borders: the government's policy of mandatory offshore detention and turning back the boats.
In response to a recent plea from Australian Medical Association (AMA) president Tony Bartone calling for the government to bring these children to Australia, Scott Morrison said that he wouldn't "put at risk any element of Australia's border protection policy" by allowing this to happen.
However, there are signs that even the PM is starting to give. Fairfax Media reported that just this week the Morrison government quietly transferred several families from Nauru over to Australia on medical grounds.
The people have spoken
The #KidsOffNauru campaign was launched by World Vision Australia on 20 August. And since then, the 90-odd organisations initially supporting the call has swelled to over three times that amount and the support of the general public has been growing exponentially.
Sydney Criminal Lawyers® spoke to World Vision Australia external affairs manager Andrew White about the conditions the children are facing on Nauru, the public's response to the campaign, and why the federal government needs to change its policy immediately.
Firstly, there are close 80 children being detained on Nauru. Mr White, what sort of conditions are these children subjected to on a day-to-day basis?
Really harsh conditions. What we are hearing from the medical experts is that the situation has certainly become untenable and it can't go on any longer.
We've now had numerous examples of Australian legal proceedings where children and their families have been brought to Australia, because the medical situation is so dire on Nauru.
There is inadequate support for children and their families. So, what World Vision Australia has been calling for is for all of the children and their families to be brought to Australia, so they can receive necessary care and treatment.
And then they can be resettled in Australia, or a third country – another country that welcomes them.
Many in the Australian community would have initially found the reports of young children on the island attempting suicide and developing a rare mental disorder hard to conceive. How do you think the public are reacting to these revelations?
In this case, what we need to do is take the advice of experts. And the experts – which are the doctors and the medical professionals – are telling us that this is taking place.
There's been numerous examples of this and multiple inquiries through government channels. There's been multiple media stories, where we've had people come out and say that the situation on Nauru is unacceptable and this is happening.
Fortunately, in the past few weeks, what we are actually starting to see is public opinion, and support for getting the kids off Nauru, really shift behind this.
We did some polling at the start of the campaign, which showed that only 40 percent of the Australian community was aware that children were even being detained on Nauru. It was certainly a small percentage of the community who were aware of this.
And now, what we've seen come through the various media coverage is the support of the Australian community. We've had over 125,000 Australians sign a petition and join the campaign to get the children and their families off Nauru.
People have a much clearer picture of what's happening through doctors speaking out bravely about the scenario over there. And we're now seeing the public support behind the need for Australia to actually do something about this after five years of detaining these people on Nauru.
Those in positions of power in this country are well-aware that prolonged detention has harmful effects on children and indeed, adults as well.
But, it seems that rather than act to prevent these harms, they simply turn a blind eye to them in order to retain the policy of offshore detention.
Considering the government is keenly aware of what's occurring in offshore detention, what do you think of the refusal of politicians to remove these people from the island amounts to?
Well, it's really disappointing, because this should be above politics. And what we really need to see from both our political parties is real leadership on this issue.
This has been an issue in which neither political party has been prepared to do the right thing. And what we're saying is that it's about time that our political leaders do the right thing.
There's at least 125,000 Australians that are now saying this is not right and that the Australian government needs to fix the situation by getting the kids and their families off Nauru given what's occurring there. Our political leaders really need to find a solution.
In your opinion, how can the government actually claim that these young children are not legitimate refugees and are therefore somehow not worthy of asylum?
Well, they can't legitimately make that claim. The government's own departmental data shows that the overwhelming majority of people being detained are refugees. The evidence is pretty clear that the majority are refugees.
In response to a call from the AMA president to bring these children to Australia, the PM implied that letting these kids come here would somehow encourage an influx of asylum seeker boats. How justified do you think he is in making this claim?
We don't think it's justified at all to make that claim. Because clearly, we haven't seen that transpire. As I mentioned, there's been a number of court proceedings where children have been brought to Australia and that hasn't occurred.
So, that's really political spin. The reality is that's not what's taking place. And our priority needs to be the children and their families and doing the right thing by them. The government has a responsibility to do that.
The evidence just doesn't stack up that the government's border protection policies would be in anyway compromised by bringing children and their families to Australia.
Morrison further said in response to the AMA call that the government is already in the process of getting the children off Nauru via the United States resettlement deal.
This deal has been going on for some time now. In your opinion, are these children going to be resettled in the United States? Is the Trump administration going to let them in?
The message in the case of the United States deal is very clear. And that is, that it's not happening quickly enough.
The situation in Nauru has deteriorated substantially and it shouldn't require Australia's courts to act to bring these children and their families who are in a dire scenario to Australia.
We should be able to come up with a solution that addresses this issue before people are put in a position where they are seriously unwell.
And lastly, these children have been in offshore detention for a long time, and despite reports about the horrors they face, the government has flat out refused to consider bringing them to Australia.
However, as you've already touched upon, there are changing opinions in the community. And a number of other recent developments show that things are drastically changing in regard to the issue.
Mr White, in your opinion, is this a pivotal moment? Do you foresee the #KidsOffNauru campaign achieving its aim?
Well the tide of public opinion is certainly turning. And what we are seeing is massive public support and a growing momentum politically by people who are standing up and saying that this is not right and we need to do the right thing.
World Vision will be continuing to advocate strongly for a solution, alongside around 300 other organisations, who've also signed up to the campaign.
We're hopeful that the government, the opposition, and all of our parliamentarians and political leaders will take on board the very strong advice they're getting from medical professionals, humanitarian organisations and refugee agencies that enough is enough.
We need to act and there's a massive level of public and organisational support for a change in policy.
Receive all of our articles weekly