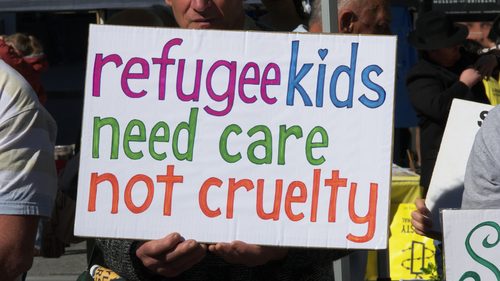 Back in the early 1940s, the Nazis carried out medical experiments on large numbers of prisoners being held in concentration camps. Often resulting in trauma or death, the experiments were conducted without the consent of detainees, which included children.
On Thursday, reigning prime minister Scott Morrison confirmed that the Coalition's unofficial experiment that it's carrying out upon child detainees held in the regional processing centre on Nauru would continue.
Currently, there are around 100 children detained on the island, some of whom have been there for five years. There's been dozens of suicide attempts made by these kids. And around 30 of them are showing symptoms of a rare disorder, which leads to withdrawal and can even cause death.
Morrison said that he wouldn't "put at risk any element of Australia's border protection policy" by taking these children out detention and bringing them to Australia. He asserted that the government was already in the process of getting them off Nauru via the United States resettlement deal.
So, it seems that despite his professed Christian values that compel him "to act with compassion and kindness," the new PM is happy to leave these kids languishing in despair. But then of course he is, Morrison's the one with a trophy boat in his office that brags about how he put them there.
A plea for humanity
Morrison made the announcement that his government would continue its experiment in finding out just how far innocent children can be pushed in response to a plea made by Australian Medical Association (AMA) president Tony Bartone.
In a letter to Morrison, Dr Bartone urged the PM to remove families from the offshore detention centre for their physical and mental safety. And the AMA president stressed that the situation on Nauru has developed into "a humanitarian emergency requiring urgent intervention."
Dr Bartone also asked Morrison to allow a delegation of Australian doctors access to Nauru, so they could assess the health and wellbeing of the asylum seekers on the island. The doctor warned that long-term detention and uncertainty were taking a toll on those being held in the processing facility.
The government's victims
Following Morrison's refusal to consider the AMA president's request, Tasmanian independent Andrew Wilkie questioned why the government would intervene in the case of European au pairs, but not in the case of suffering children.
Wilkie then listed a number of cases where the Federal Court had been forced to intervene instead. He mentioned that a 10-year-old boy, who'd attempted suicide three times, had been brought to Australia, along with another young girl, who'd attempted to take her own life three times as well.
The independent MP said the court had intervened in the case of a 14-year-old girl, who'd doused herself in petrol and set herself alight. While a 12-year-old boy was brought to Australia after refusing to eat or drink for two weeks. And Wilkie went on to list four more cases.
An outbreak of a rare disorder
Around 30 of the children on Nauru are said to be displaying symptoms of a rare psychiatric condition known as traumatic withdrawal syndrome. The disorder causes the sufferer to progressively withdrawal from everyday life.
Also known as resignation syndrome, the disorder sees a child initially withdrawing from social activities and if the condition continues the child may stop talking and stay in bed, and eventually they' can cease eating and drinking. In extreme cases a child can withdraw into a comatose state and die.
The condition is the child's reaction to a reality they can no longer bear. Not only have these children been living in the cramped and squalid conditions of the detention centre, but they've suffered trauma in their countries of origin, as well as when they were fleeing them.
Treatment of the syndrome requires specialist teams to deal with the multiple needs of these children, who become limp and unresponsive. And there are certainly no medical or mental health facilities on Nauru equipped to deal with the condition.
The opposite of what you preach
But, while all this information is out there in the public domain, and the head of Australia's top doctors' representative body personally drew the prime minister attention to the crisis, Scott Morrison continues to put government policy before the lives of innocent children.
Indeed, Morrison is somewhat invested in this system of offshore detention that sees children held in unbearable conditions, as it's a policy that he himself put in place, when he was immigration and border protection minister in September 2013.
Following the launch of Operation Sovereign Borders, Morrison made a video in which he addresses the detainees on Nauru and Manus Island warning them that even if they are valid refugees there was no way they were going to make it to Australia, so they better get used to detention.
Crimes against humanity
Writing at the time the new PM ended his tenure as immigration minister in December 2014, human rights lawyer Julian Burnside made clear that Morrison was  "concerned to ensure boat people were treated so harshly that the prospect of being locked up" in detention was a deterrent.
The current prime minister was also "responsible for holding more children in detention than any previous government," Mr Burnside pointed out, and added that Morrison "presided over a system that was calculated to humiliate, degrade, damage and break people."
Mr Burnside told Sydney Criminal Lawyers® in June that he believes all Australian immigration ministers since October 2002 – with the possible exception of Chris Evans – are guilty of crimes against humanity contrary to section 268.12 of the Criminal Code Act 1995 (Cth).
Selective compassion and kindness
On 31 August, Mr Morrison tweeted that he'd signed a trade agreement with Indonesia to benefit kids in West Java, as well as kids in Australia, who are just like them. The agreement he implied was going to lead to greater opportunities and more jobs: what one might call a future.
However, for the kids who are being held in detention under a policy that the prime minister put in place, any sort of a reasonable future has been ripped out from under them. Instead, Mr Morrison has guaranteed these children a life of ongoing trauma and despair.
Receive all of our articles weekly