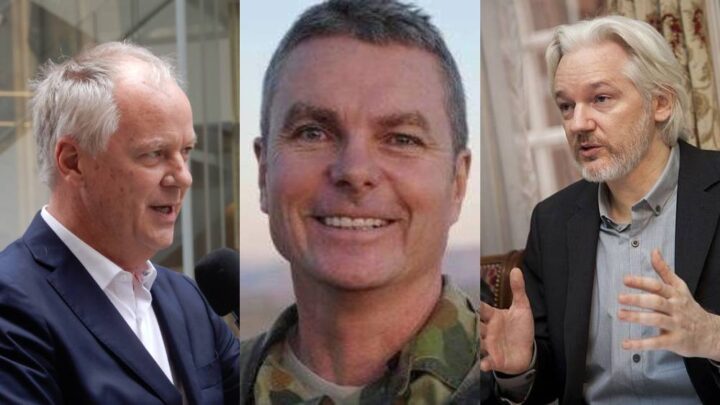 Released publicly on 19 November 2020, the Brereton report exposes the "warrior culture" prevalent amongst SAS troops deployed in Afghanistan between the years 2005 and 2016, which fostered the committing of war crimes and "a code of silence" to conceal them.
Led by NSW Supreme Court Justice Paul Brereton, the four-year-long investigation uncovered an alleged 39 murders of mainly unarmed captured Afghan troops, but also civilians, and the cruel treatment of two more locals.
Known as "blooding", the murder of captured Afghan troops by junior Australian officers to get them into killing mode was actively promoted by patrol commanders. And the carrying of throwdowns – foreign weapons and equipment – to plant on the bodies of the unlawfully killed was the norm.
The Brereton report also sets out that the understanding that these alleged war crimes were being perpetrated wasn't known above the level of patrol commander. And it recommends that the AFP investigates 36 matters with a view to possible prosecutions within civilian criminal courts.
A stark disconnect
Yet, at the same time, former military lawyer David McBride continues to face five national security-related charges – with the potential for a sentence of life imprisonment – all for exposing the very same culture within the ranks of special forces on the ground in Afghanistan.
As an Australian Army military lawyer, McBride served two tours in 2011 and 2013. So, unlike the investigators that produced the Brereton report, McBride was there, witnessing firsthand what transpired in the Central Asian country, and he felt it his moral duty to reveal what took place.
After initially attempting to communicate his concerns through every avenue available to him internally within the Australian Defence Force, he passed on the classified information to the ABC, and it went on to form the basis of the 2017 report The Afghan Files.
And although the Brereton inquiry was established a year before they were published, the revelations of The Afghan Files did add emphasis to the official investigation.
However, in taking this courageous path, McBride is still facing prosecution in a trial closed to the public.
Unjust prosecutions
Mark Davis is providing McBride's legal representation. The veteran Australian journalist and criminal lawyer is well aware of the disconnect between the hailing of the Brereton report and the continued prosecution of his client, whom he assures was very proud to have served the ADF.
Davis is somewhat of a familiar when it comes to Afghan War whistleblowers. He was with Julian Assange back in 2010 in the Bunker in London, as the WikiLeaks founder released the Afghan War Logs: tens of thousands of classified US military documents, revealing hundreds of war crimes.
Sydney Criminal Lawyers spoke to Mark Davis about the content of the Brereton report, the stark irony it brings to the decision to prosecute McBride for exposing the truth, as well as the issues a lawyer can face when dealing with closed courts and national security orders.
Firstly, last Thursday saw the release of the long-awaited Brereton report into alleged war crimes perpetrated by SAS officers in Afghanistan. The report reveals a culture within the special forces, whereby war crimes were regularly perpetrated and hushed up.
Mr Davis, what are your thoughts on the revelations that have shocked the nation?
Firstly, my compliments to Justice Brereton. There have been a number of these style of reports over the years, and none of them have been as forthright, probing and frankly, blunt as this one.
It could have turned out quite differently. The public reaction would be much more muted, and the ability for defence to dodge and weave would have been built into it.
Brereton has left no wriggle room on this. It's emphatic in its conclusions. And although it took a long time, he's done a great service against what I could imagine was enormous pressure. So, well done Justice Brereton.
What it reveals is a shock to the nation. Apparently, it's a shock to army command. And apparently, it's a shock to various defence ministers.
But I guess as more information comes out, we'll see how valid it is for army command and ministers of defence to be shocked or not.
There's been a lot of wringing of hands in Canberra over these revelations. However, this same government is overseeing the prosecution of your client, former military lawyer David McBride, for leaking documents in an effort to bring to light…
Paul, the irony is apparent to every member of the government and to every member of army command.
It's completely incongruous for them to express dismay and – let's be clear here – not just prosecute a man, but utterly ruin his life and devastate his family.
This is a man who made a moral decision. He has done nothing to harm his nation. He loves his nation. He was very proud of being a member of the ADF. And he did the right thing.
David told the truth. And now he's about to be slammed in a prison cell for it.
Of course, the Brereton report puts everything that McBride did in a totally different light. It brings it to the attention of the public. It's clearly not going to be a quiet little trial now, which they might have been hoping for.
These two facts can't fit next to each other together on the one page: the Brereton report and the prosecution of David McBride, who essentially revealed the very matters that Brereton has exposed.
David McBride tried to do the same thing. He ultimately revealed The Afghan Files to the ABC after trying to reveal it internally for three years.
He doesn't deserve to be on trial. That's apparent to everybody. Whether it's apparent enough for them to withdraw the charges is another question, or perhaps it's too early to tell.
There are a lot of difficulties around these closed trials that your client, and a number of other whistleblowers, are undergoing.
What sort of restrictions are you facing and how are you dealing with them?
We're under NSI orders – national security information orders. They've also been imposed upon the Bernard Collaery trial. That's to ensure that the public is not aware of anything that goes on within them. That's the end result.
These orders have been in the attorney general's toolkit for about 15 years. But it's only in the last two years that they've been wielded – and wielded with increasing frequency.
The effect of NSI orders terrify any lawyer who works with them because any indiscretion or any inadvertent revelation of anything that's in the brief is a criminal act.
It's intimidating. I can say it's intimidating to me. I find it an imposition upon running an independent defence to have security types monitoring me, instructing me and supervising certain actions.
It greatly limits my ability to confer with professional colleagues, as if they aren't also cleared specifically for this trial, I cannot speak with them.
Now, it often happens in criminal trials and civil trials that there will be some part of the case that you want a bit of expert assistance on.
Lawyers all have very particular parts of the law they work in. And it's common for us to speak to a barrister about one element and speak to someone else about another.
But we're totally isolated from that. We have to run our own show. And it makes it difficult.
I won't even give you the whinge about how difficult it is to actually open the brief and look at it, with the process of having to remove it from the safe and working with it. It's a huge burden.
As a principle, I understand it. But not when it's applied to the entire brief. There are elements to this case that I would accept you don't want in the Sydney Morning Herald. But this is not a small part they're seeking these orders on.
There is the conventional process in a courtroom involving government material: the government solicitor says they're seeking a suppression order on this report, or part of it. Then it's argued.
But the decision is the judge's: they put a suppression order on. It doesn't mean they close the court. They just tell the media that they can't publish this or print that name or reveal that information, and the media oblige.
I can't think of any instance where the media has not obliged.
It's quite a different situation we're facing now with the NSI order, which is made by the attorney general. It's made by a stranger to the action.
The attorney general is not a party to this criminal proceeding. There is the Commonwealth prosecutor, us, and the judge.
Suddenly, we have a stranger added to that conventional triangle making a decision that impacts upon the defence. It's quite oppressive.
And lastly, Mr Davis, you've been associated with another whistleblower who's fallen short of the law for exposing war crimes in Afghanistan.
What do you think the Coalition ministers' wringing of hands, while they're looking the other way as Assange is being considered for US extradition in a manner that flaunts the law, basically for doing the same as Brereton, but in a more journalistic manner?
Well, I'm very glad to see them handwringing about anything. I'm very happy to see handwringing, as you describe it. I applaud it and ask please extend it to Julian Assange.
I've stopped trying to contemplate why the Australian political class as a group has universally ignored Assange. It's utterly beyond me to the point where it hurts my brain to contemplate it any further, as well as the indifference of Australian journalists.
Julian will be vindicated. I feel already the tide has turned for him. But I'm not sure whether it's enough to get him out of the courtroom.
With the force of logic and the force of right, it is now very apparent that it's an unjust proceeding against Julian Assange.
All I can hope is that this handwringing continues. But I'm not keeping my fingers crossed.
With Assange, there is an added dimension for me, because I was with him when he had the Afghan War Logs and he was about to release them. I was with him through that entire period. I well know what he revealed and the cost that he paid for revealing it.
Of course, to see it ten years later, and to now be acting for David McBride, it should never have happened.
Assange essentially revealed these atrocities. And as he revealed them in 2010, you would have thought that it would have been enough to change the behaviour.
But when you look at the Brereton report, the worst behaviours seem to happen between 2010 to 2013.
So, I don't think anyone in the Australian Army was paying attention to what Assange revealed.
Receive all of our articles weekly