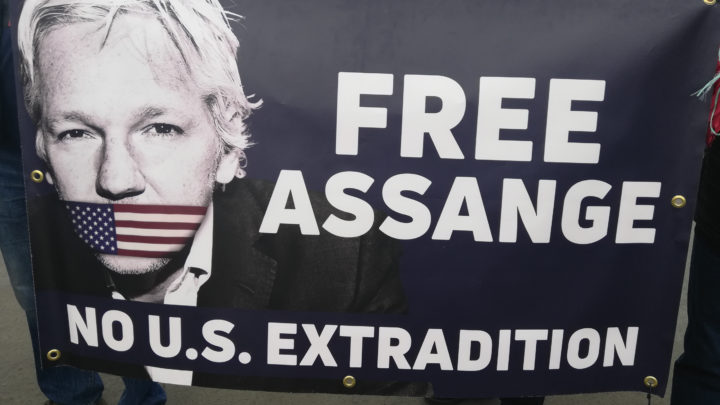 Hundreds of thousands of people have signed a petition to halt the extradition of Julian Assange from the United Kingdom to the United States.
The petition calls on Foreign Affairs Minister Marise Payne to put pressure on the UK to refuse the Australian citizen's extradition to the US, where he is expected to face criminal charges under the Espionage Act for exposing the truth.
Pleas to Federal Government fall on 'deaf ears'
So far, pleas for the Australian government to assist Assange have fallen on deaf ears.
In fact, after his eviction from the Ecuadorian embassy in London earlier this year, and his immediate arrest and conviction by UK authorities over a breach of bail, Prime Minister Scott Morrison made clear that while the Australian will be afforded consular services in the same way as any other citizen, he will be given no "special treatment".
Mr Morrison's reaction has angered many Australians who see Assange as a political pawn; a man who is being relentlessly pursued for publishing atrocities committed by the US, matters that are in the public's interest to know.
But Morrison's position is not new. It is the same stance that previous prime ministers have taken, effectively washing their hands of Assange.
In fact, in 2010 when Wikileaks originally published a classified US military video showing a 2007 attack by Apache helicopters in Baghdad that killed a dozen unarmed civilians, including two Reuters news staff, then Prime minister Julia Gillard denounced the publication as "illegal". Notably, a subsequent investigation by the Australian Federal Police concluded it was not illegal.
Currently, Assange is in prison in the UK where he is serving a 50-week sentence for failing to attend court in compliance with his bail conditions – conduct which, Assange says, was necessary to prevent him from being extradited to face a trumped up sexual assault investigation which was subsequently discontinued due to a lack of evidence.
Extradition hearing
Assange's extradition hearing has been scheduled for February 2020.
In October, Assange's lawyers fought to delay his extradition hearing on the grounds of their client's failing mental health – having been holed up in the Ecuadorian embassy since 2012.
In court, Assange appeared to struggle with providing his name, date of birth and other details to the court. He also told the judge, when asked, that he did not have a full and clear understanding of the proceedings, and was finding it difficult to prepare his case without access to research and his own writing.
His lawyers argued, unsuccessfully, that the case should be delayed given its complexity and difficulties communicating with their client who does not have access to a computer.
Facing lengthy prison sentence
If Assange loses his extradition hearing, he will be sent to the US to face charges that are punishable by more than 170 years in prison.
Assange's lawyers are vigorously fighting to vindicate their client, who they say has done nothing more than expose information that is squarely in the public interest.
They further argue that the US government had been illegally intercepting conversations between them and their client during Assange's time in the Ecuadorean embassy, and that a criminal case involving Spanish contractors allegedly used by the US Government is currently before the courts in Spain.
Champion of free speech
Assange's case has drawn commentary from around the globe, and he has millions of supporters both in Australia and overseas – people who hail him a hero for disclosing secret information and for being a champion of free speech.
He is also, of course, a multi-award winning journalist, and his case is seen as having implications for press freedom generally.
Australian politicians divided
Several prominent Australia political figures have also thrown their support behind Assange as his extradition hearing draws nearer.
Independent MP Andrew Wilkie has spoken in parliament, saying "an Australian citizen and must be treated like any other Australian. He was not in the US when he provided evidence of US war crimes in Iraq. He can't possibly have broken their laws… Put simply, he must be allowed to return to Australia."
Nationals' MP and former deputy prime minister Barnaby Joyce, has also spoken out on behalf of Assange. Joyce was also one of the first MPs to campaign former Prime Minister John Howard to act for the release of Australian David Hicks when he was imprisoned in Guantanamo Bay.
But these voices may be of cold comfort to  Assange, as those who truly hold power in our country prefer to act as the puppets of the United States, allowing a citizen to languish behind bars, when those who have been exposed as criminals continue to go unpunished.
Last updated on
Receive all of our articles weekly
Authors
Sonia Hickey
Sonia Hickey
is a freelance writer, magazine journalist, and owner of 'Woman with Words'. She has a strong interest in social justice and is a member of the
Sydney Criminal Lawyers®
content team. Sonia is the winner of the Mondaq Thought Leadership Awards, Spring 2022.