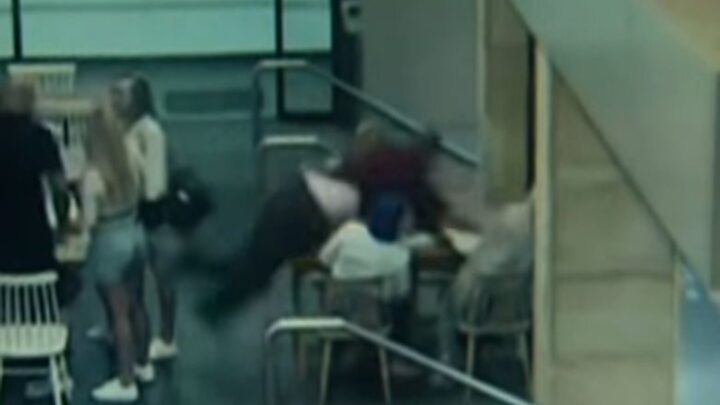 43-year old Stipe Lozina was recorded by CCTV cameras in November 2019 asking 31-year old Muslim woman Rana Elasmar for change in a Parramatta café, before making derogatory comments about her religion. He then leapt across the table and punched her more than a dozen times, before stomping on her head when she fell to the floor.
The horrific footage of the unprovoked attack went viral on social media. At the time, Ms Elasmar was 38-weeks pregnant.
She suffered head and facial injuries, as well as the lasting psychological trauma that comes from such a vicious, unprovoked attack.
Plea of guilty
Stipe Lozina pleaded guilty to assault occasioning actual bodily harm and faced a maximum penalty of five years in prison.
Despite the horrific nature of the assault, it should be said that Lozina has endured a long battle with schizophrenia, and has been in custody since his arrest.
He declined assistance from the Legal Aid Commission of New South Wales and insisted on representing himself in court.
Sentencing hearing
During the sentencing hearing in Parramatta District Court on 1 October 2020, Mr Lozina turned his back on the woman he attacked. He also interrupted Judge Craigie several times, making the unsubstantiated claim that someone wearing a hijab had previously harmed his mother.
Mr Stipe, who appeared via videolink, was eventually warned that the sentencing hearing would proceed without him if he did not stop interjecting, to which he replied: "I don't care."
Over-representation in the system
People with a serious mental illness like schizophrenia are over-represented in the criminal justice system, and this is due to a number of reasons including general social disadvantage, poverty, homelessness and unemployment, deinstitutionalisation, substance abuse, a lack of early intervention and a lack of mental health services in the community.
Of course, people with serious mental illness are also often agitated, aggravated and can be violent too. Without proper care and supervision, some with very serious issues can be a threat to others.
In 2017, the Australian Institute of Health and Welfare reported almost half of prison entrants (49%) reported having been told by a health professional that they have a mental health disorder, and more than 1 in 4 (27%) reported currently being on medication for a mental health disorder.
A mental health diagnosis is taken seriously in the eyes of the law and can lead to the defendant's diversion away from the criminal justice system and into the health system, depending on the type of crime they commit.
Under section 32 of the Mental Health (Forensic Provisions) Act 1990, Local Courts are empowered to divert those who are suffering from mental health conditions into a treatment plan that lasts up to six months, instead of otherwise dealing with them according to the law.
But, even so, prisons have become default mental health institutions over time.
The Richmond Inquiry
Experts say that this is largely because of the outcomes of the 1983, the Richmond Inquiry into Health Services for the Psychiatrically Ill and Developmentally Disabled. The final recommendations of this inquiry included moving people out of psychiatric wards to be cared for in the community.
It recommended that the NSW government fund a system of community-based networks, to be backed up by specialist hospital and accommodation services. Mental hospitals were to be progressively reduced in size, and their services provided by general hospitals, supported accommodation and hostels.
But the system has never worked as it was originally envisioned in theory – for a variety of reasons – lack of funding, lack of resources, lack of consistency and commitment over successive governments, and a shortage of facilities to accommodate Australia's growing mentally ill population.
As such, people with serious mental illnesses can find themselves marginalised from society, and many eventually come into contact with the justice system. But across the nation, the ability of prisons to adequately care for those suffering from serious mental health conditions is limited.
In New South Wales, the Mental Health Screening Unit, (MHSU) based at the Silverwater Correctional Centre in Sydney, is a purpose built unit based on a Multidisciplinary Model of Care to ensure comprehensive assessment and treatment of mentally ill offenders, with the aim of achieving better outcomes through joint management of offenders with mental health problems within the correctional system.
It is jointly managed by Corrective Services and Justice Health but it's one of a kind, and services all the correctional centres in New South Wales, which means that often prisoners who need it are forced to wait weeks for a placement.
And the impact of not receiving adequate treatment has been well documented, with the potential for prisoner mental health to seriously deteriorate while behind bars but also on recidivism.
Going to court in Parramatta?
If you have been charged with a criminal or traffic offence and are going to a court in Parramatta, call Sydney Criminal Lawyers anytime on (02) 9261 8881 to arrange a free first conference at our Parramatta office with an experienced defence lawyer who will advise you of your options, the best way forward and fight for the optimal outcome.
Receive all of our articles weekly