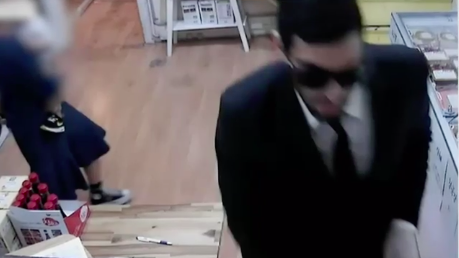 It has been reported that two men remain at large after pretending to be police officers in order to rob a currency exchange store in north-western Sydney.
The men – dressed in black suits, black ties and sunglasses – allegedly entered the Eastwood store at around 1.20pm on Sunday before announcing to a 54-year old staff member and 31-year old customer that they were police officers.
One of the men is alleged to have presented police identification before pushing the customer to the floor, while the other jumped over the counter and entered the contents of a safe into a bag.
The pair stole the wallets of the customer and staff member, leaving them terrified but uninjured.
One of the men is described as Caucasian, in his late twenties, around 182 cm in height with medium length strawberry blond hair, while the other – also a Caucasian his late twenties – is said to be 180 cm tall with short black hair and a trimmed beard.
Footage of the incident has been uploaded to various media websites and police are appealing for the public's assistance to locate the suspects.
Impersonating a police officer in NSW
Section 546D of the Crimes Act 1900 (NSW) prescribes a maximum penalty of two years' imprisonment for any person who impersonates a police officer.
The maximum increases to seven years where the person 'purports to exercise a power or function as a police officer'.
Examples may include pretending to be a police officer, whether in uniform or not, to:
Stop a person or vehicle,
Enter a premises,
Perform an arrest, or
Conduct a search.
Significantly, the section provides a defence where the conduct is 'solely for satirical purposes', such as a video or a prank.
Robbery in company in New South Wales
Robbery in company is an offence under section 97 of the Crimes Act which carries a maximum penalty of 20 years in prison.
To establish the offence, the prosecution must prove beyond reasonable doubt that a person:
Was armed with an offensive weapon or instrument, or
Was in the company of another person or persons, and
Robbed or assaulted another person with the intention to rob, or
Stopped any mail, person with mail, vehicle, train with the intention to rob or search.
The legislation does not define the word 'rob'. However, the courts have found that it is where:
"the victim… [is] compelled by force or fear to submit to the theft… It is not necessary that the offender applies force… It is enough that the offender by his or her conduct… puts the victim in fear of violence".
'Offensive weapon or instrument' means:
A dangerous weapon, or
Anything made or adapted for offensive purposes, whether or not it is ordinarily used as a weapon or capable of causing harm.
Defences to the charge include self-defence, duress and necessity.
Receive all of our articles weekly