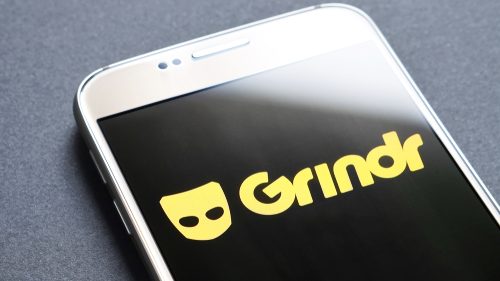 Jayson Hastie had his game down pat, or so he thought.
The 25-year old from Albion Park, south of Wollongong, set up a fake profile on under the name of 'Alex' on the bisexual and gay social networking and dating website Grindr, before getting to work.
His profile soon attracted the attention of an older man, who Mr Hastie wooed for two-weeks, exchanging several sexually explicit messages and calls.
The pair agreed to meet at a Police Citizens Youth Club on a Wednesday. The older man turned up, but 'Alex' did not.
Mr Hastie later called to apologise, and the vulnerable victim agreed to give him a second chance.
The pair then met at another location, and Hastie got into the backseat of the older man's car.
Mr Hastie then said "You have been pinged", telling the victim he was an undercover police officer and that a disc in his hand was a tracker that could be used to bring other officers to the location.
"You don't have to say anything but whatever you do say can be used as evidence in court", Mr Hastie told the man.
Hastie then searched the victim's car.
The older man agreed to Hastie's demand for $2,000 and ongoing help.
"If you don't all the transcripts [and] photos will be going to police", Mr Hastie threatened.
The victim then drove to a nearby shopping centre, withdrew the cash and gave it to the younger man.
"If you ever do this again, I'll find you and break your legs", Hastie warned.
The victim later figured out that things weren't quite right, and contacted the police.
Pleas of guilty
Mr Hastie was arrested and charged with impersonating a police officer under section 546D of the Crimes Act 1900 (NSW), blackmail under section 249K of the same Act and kidnapping under section 86.
The kidnapping charge was later withdrawn.
The matter came before Magistrate Peter Thompson in Wollongong Local Court where Mr Hastie pleaded guilty and was sentenced to a full term of 20 months in prison and a minimum term of 9 months.
Hastie has lodged an appeal against the severity of his sentence which will be heard in Wollongong District Court.
Impersonating a police officer in NSW
Section 546D of the Crimes Act prescribes a maximum penalty of two years' imprisonment for any person who impersonates a police officer.
The maximum increases to seven years where the person 'purports to exercise a power or function as a police officer'.
Examples may include pretending to be a police officer, whether in uniform or not, to:
Stop a person or vehicle;
Enter a premises,
Perform an arrest';; or
Conduct a search.
Significantly, the section provides a defence where the conduct is 'solely for satirical purposes'; such as a video or a prank.
The offence of blackmail in NSW
Section 249K of the Crimes Act sets down a maximum penalty of 10 years in prison for the crime of blackmail, which is where a person makes any unwarranted demand with menaces with the intention of:
obtaining a gain or causing a loss, or
influencing the exercise of a public duty.
The maximum increases to 14 years where the person threatens to commit a serious indictable offence, which is any offence that carries a maximum penalty of at least five years' imprisonment.
Examples of serious indictable offences include larceny (stealing), assault occasioning actual bodily harm, robbery etc.
Section 249L explains that a demand with menaces is 'unwarranted' unless unless the person believes that he or she has reasonable grounds for making the demand and reasonably believes that the use of the menaces is a proper means of reinforcing the demand.
'Menaces' is defined by section 249M to include:
an express or implied threat of any action detrimental or unpleasant to another person, and
a general threat of detrimental or unpleasant action that is implied because the person making the unwarranted demand holds a public office.
The section makes clear that a threat against an individual does not constitute a menace unless it would cause:
an individual of normal stability and courage to act unwillingly in response to the threat, or
the particular individual to act unwillingly in response to the threat and the person who makes the threat is aware of the vulnerability of the particular individual to the threat.
Further, a threat against a Government or body corporate does not constitute a menace unless it would:
ordinarily cause an unwilling response, or
cause an unwilling response because of a particular vulnerability of which the person making the threat is aware.
In any event, it is immaterial whether the menaces relate to action to be taken by the person making the demand.
Section 249N defines the terms 'gain', 'obtaining a gain', 'loss' and 'causing a loss'.
A 'gain' is defined as any gain in money or other property, whether temporary or permanent, and includes keeping what one has.
'obtaining a gain' includes obtaining a gain for oneself or for another person.
A loss is a loss in money or other property, whether temporary or permanent, and includes not getting what one might get.
'causing a loss' includes causing a loss to another person.
And finally, section 249O defines 'public duty' as a power, authority, duty or function:
that is conferred on a person as the holder of a public office, or
that a person holds himself or herself out as having as the holder of a public office.
Going to court?
If you are going to court for blackmail, impersonating a police officer or another criminal offence, call Sydney Criminal Lawyers® anytime on (02) 9261 8881 to arrange a free first conference with an experienced criminal defence lawyer, who will take the time to advise you of your options, the best path forward and the costs involved.
We offer fixed fees for most criminal and traffic cases.
Receive all of our articles weekly