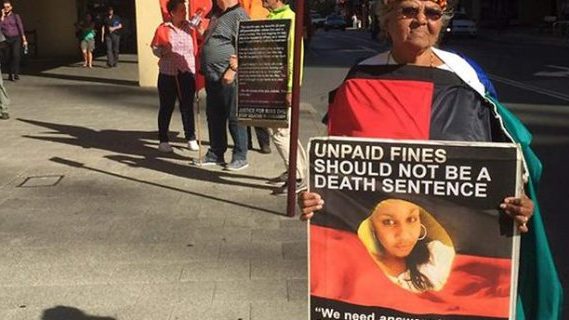 Western Australia's Police Commissioner has admitted that officers failed 22-year old Ms Dhu – whose first name is not used for cultural reasons – in the days leading to her agonising death in custody, and he vowed that such a tragedy would not happen again.
Commissioner Karl O'Callaghan's pledge comes just hours after Coroner Ros Fogliani delivered a damning indictment on the treatment of Ms Dhu while she was in police custody, calling it "inhumane" and saying her life could have been saved if doctors had properly diagnosed her.
Catastrophic deterioration in health
Ms Dhu had locked up at South Hedland Police Station for three days, serving time for unpaid fines totalling a little over $3,500.  She died of pneumonia and septicaemia. Experts working in Indigenous health say a vulnerable woman who was clearly in a domestic violence situation and had no money to pay the fines should have been dealt with compassionately.
Instead, Ms Dhu was locked up and "suffered a catastrophic deterioration in her health" while in police custody.
Ms Dhu had suffered two broken ribs after her partner threw her to the ground in April 2014, but one rib never healed properly and became infected.
The coroner found the infection entered her bloodstream more than once when she was injecting herself with amphetamines.
Errors by medical staff
While in police custody, Ms Dhu complained of rib pain and was taken to the Hedland Health Campus. But as she had no visible signs of infection, she was discharged back into police custody, with a doctor diagnosing her as having "behavioural issues".
The coroner found a litany of errors by the medical staff who treated Ms Dhu during three separate visits to the Health Campus, including that they did not take her temperature or perform a chest x-ray. As a result, there was "a missed opportunity to treat Ms Dhu for her infection… antibiotics would have been potentially life saving…"
Police officers thought Ms Dhu was faking her symptoms, including her collapse. Their behaviour is now available for the world to see, as the Coroner ordered the public release of CCTV footage of the last hours of her life. The footage shows officers dragging Ms Dhu from the bed and along a corridor, before putting her into the back of a police vehicle.
The footage was shown at the beginning of the Coronial Inquest, during which Rick Bond – the senior supervising sergeant on duty the day Ms Dhu died – was heard to have said to Ms Dhu: "you're a f****** junkie, you will sit this out".
Mr Bond has since resigned from the service.
Coroner's Recommendations
The Coroner has made a series of recommendations, including:
The introduction of dedicated lock-up keepers at every WA police station where detainees are held.
Cultural competency training to enable police officers to better understand the health concerns of Aboriginal people.
The establishment of a custody notification service be introduced in WA like those in Victoria and NSW, requiring a lawyer to be contacted when an Aboriginal person is detained.
And finally, one of the most important recommendations – that detention as option to pay off fines be scrapped in favour of alternatives such as out-of-court options and community work orders.
WA Police Commissioner Karl O'Callaghan has already agreed to this, admitting his officers failed in their basic obligations to Ms Dhu regarding her safety, welfare and dignity.
While the coroner expressed hope that her recommendations would avoid another person dying where police officers "disregarded her welfare and her right to humane and dignified treatment", Ms Dhu's family has said they are not satisfied with the findings because no single person has been made accountable.
The family vows to continue their quest for justice, expressing disappointment that no charges have been laid against police.
The Police Commissioner says the four officers involved were reprimanded at the time and that no further action would be taken against them.
Family vows to fight on
Ms Dhu's family says it will use the CCTV footage to bring international awareness to Aboriginal deaths in custody, and has plans to unleash the video onto social media the hope of forcing custodial and judicial reforms.
Receive all of our articles weekly