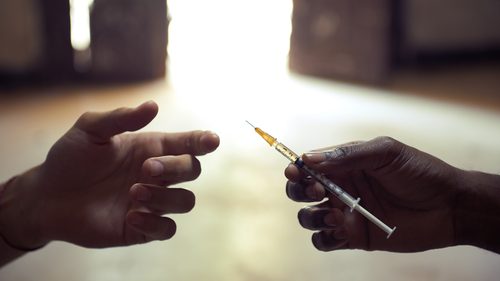 It's well-known that illicit substance use occurs right across the Australian prison system. A 2010 Corrective Services NSW report found that just over a third of inmates reported using an illegal drug at least once during their current stint behind bars.
Despite searches and the use of sniffer dogs by prison guards, illicit drugs continue to be smuggled into correctional facilities in various ways. Indeed, drug trends in prison are much the same as they are on the outside, where attempts to bring a halt to their use have also failed.
In the face of the pending AIDS crisis, needle and syringe programs (NSPs) were rolled out nationally in the mid-1980s. This led to some of the lowest rates of HIV amongst people who inject drugs in the world. It also stabilised hepatitis C rates, and saved countless lives.
However, this proven method of reducing the spread of blood-borne viruses within the community, is yet to be implemented in this nation's gaols. And just like illegal drugs are being dealt in prison, so too does the practice of injecting them occur.
A 2003 Victorian prisoner health study found that 13 percent of women and 14 percent of men said they'd injected drugs whilst inside, and 10 percent of women and 11 percent of men reported sharing needles when they did so.
Unsanitary equipment
"Prisons are actually a concentration of people from disadvantaged backgrounds," said John Ryan, chief executive officer of the Penington Institute. "And because of our failed drug war, they're also a concentration of people with drug problems."
The harm minimisation expert explained that a large proportion of inmates have a history of injecting drug use on the outside, and many prisoners report partaking in intravenous drug use for the first time whilst in gaol.
Due to the level of scarcity of injecting equipment on the inside, the use of used and unsterilised needles is rife. "There are reports of people injecting after a hundred others have used the same injecting equipment," Mr Ryan told Sydney Criminal Lawyers®.
And this lack of sterile equipment leads to the uncontained spread of blood-borne viruses within a confined population. As Ryan points out, although there's a low incidence of HIV in Australian prisons, there's "a very high concentration of people with hepatitis C."
"It's a really message from the community that we don't actually consider prisoner health to be worthy of our care and consideration," he added.
The stunted ACT proposal
In a position statement last January, the Australian Medical Association recommended the establishment of evidence-based prevention strategies to reduce the transmission of blood-borne viruses in custodial facilities, including prison-based NSPs.
This led to renewed calls to establish a safe injecting room in the ACT's Alexander Maconochie Centre. A parliamentary working group recommended this model of NSP for the prison last July, after the government deferred earlier plans to implement a different model in April 2015.
The Alexander Maconochie Centre opened in 2008. It was established under the framework of the ACT Human Rights Act 2004, with a focus on the loss of liberty being the sole punishment for prisoners. Inmates weren't to be subjected to further deprivations, and prisoner health was a priority.
Former ACT chief minister Katy Gallagher announced that an NSP would be trialled in the correctional facility back in October 2012. This followed a 2011 PHA report that found the scheme was necessary, as up to a third of prisoners had reported injecting drugs inside.
However, repeated trial proposals have stalled due to opposition from prison officers. An enterprise agreement with the Community and Public Sector Union provides that an NSP trial cannot be implemented without the majority agreement from prison staff.
Evidence to the contrary
Prison officers have consistently raised safety concerns as the main reason they reject the trial. Officers fear that they, along with detainees, will be at a greater risk of needle-related attack if an NSP was trialled.
According to Mr Ryan, the fear of injecting equipment being used as a weapon is unfounded. He points out that in the 50 prisons around the world where NSPs have already been adopted, there's never been a report of a needle-stick attack against a guard or an inmate.
Prison officers from overseas put the lack of needle attacks down to two reasons. The first is that the rules that govern the programs, include the exclusion of prisoners who might undermine them. And the second is that inmates already have access to implements that make more effective weapons.
And as Mr Ryan points out, the chance of an attack from the needles circulating in the system already is possible. "But, they're much more unsafe and highly likely to be infected with blood-borne viruses, than under a regulated and controlled needle and syringe program in the prison setting."
Widespread health implications
Harm reduction methods have been implemented in the community to deal with the harms associated with illicit drug use. And it seems that inmates, as part of the community, should be afforded the same access to them, especially since law enforcement efforts to prevent drug use have failed.
NSP programs have been implemented in countries across Europe, including Switzerland, Germany and Spain. And they've also been operating in Kyrgyzstan and Iran. Assessments of these programs have shown a reduction in needle sharing, as well as hepatitis C infections.
Another issue for Australia as a whole is that the majority of prisoners are released back into the community. And without access to NSPs, they bring with them the potential to pass on blood-borne viruses, as well as habits that increase the hazards of injecting drug use.
"In the end, evidence will prevail, and our better selves will acknowledge that prisoners are entitled to the same level of healthcare and protection as people in the community," Mr Ryan concluded.
"I'm somewhat optimistic that a moral and evidence-based approach to this will ultimately prevail."
Receive all of our articles weekly