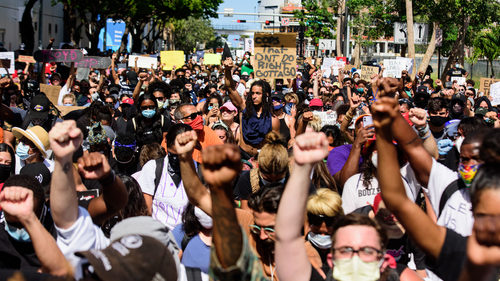 In the face of global condemnation, and the nation outraged over the death of George Floyd at the hands of police, the US Democrats have introduced sweeping legislation to hold officers accountable for their criminal conduct.
Called the Justice in Policing Act of 2020, the 132 page bill's stated purpose is "to hold law enforcement accountable for misconduct in court, improve transparency through data collection, and reform police training and policies." Among other things, the law would make it easier to prosecute officers by eliminating the "qualified immunity" defence for both police and corrections staff where their actions have been deemed unlawful, including where they have used excessive force against citizens.
Sweeping reforms to make police more accountable
The legislation also strengthens civil rights protections by making police liable for constitutional violations that are enacted "knowingly or with reckless disregard".
It would also restrict the use of lethal force to situations in which it is deemed "necessary" and after all reasonable alternatives have been exhausted, along with banning all chokeholds and carotid holds, and it also prohibits racial profiling in federal law enforcement agencies.
The move by the Democrats comes just days after the local authorities in Minneapolis, where George Floyd died in handcuffs after an officer knelt on his neck for nearly nine minutes, have vowed to disband the local police force.
While the local authorities have not released details of their plan, it is clear that they are intent on reform, with a spokesperson saying that incremental changes over the years have not been successful.
Disbanding the Minneapolis Police
While the moves afoot in Minneapolis can be seen as a very positive step towards change, the new legislation being championed by the US Democrats would make reforms enforceable nation-wide.
The Democrats hope to bring the legislation to the House of Representatives floor by July 4, but the bill would need to be passed by Republicans, who control the US Senate and support President Donald Trump.
President Trump himself is actively against the reforms, taking to Twitter to accuse his "radical" rivals of trying to abolish the police.
But the Democrats do have a great deal of public sentiment on their side, as national protests against police brutality continue, and the issue remains in the spotlight, with widespread international interest.
Here in Australia, tens of thousands of people have taken part in public gatherings of protest around the country, or expressed solidarity for Black Lives Matter via social media, and it has been an opportunity to acknowledge that change is desperately needed here too, where systemic racism in the justice system has caused the death of hundreds of indigenous Australians.
Despite a Royal Commission into Indigenous Deaths in Custody three decades ago, little has changed for Indigenous Australians who find themselves in trouble with the law.  Very few of the recommendations from the Royal Commission's final report have been implemented, and a further 432 indigenous people have died either in temporary police custody, or while serving prison time.
No Australian police officers have ever been charged over these deaths.
In the US, former Minneapolis police officer Derek Chauvin has been charged with second-degree murder over George Floyd's death and three other officers have been charged with aiding and abetting.
Derek Chauvin had been a serving police officer for 19 years, during which 18 formal complaints were made against him. Sixteen of the complaints were closed without discipline. He has been involved in three police shootings, one of them fatal. He is expected to enter a plea on 29 June 2020.
Receive all of our articles weekly