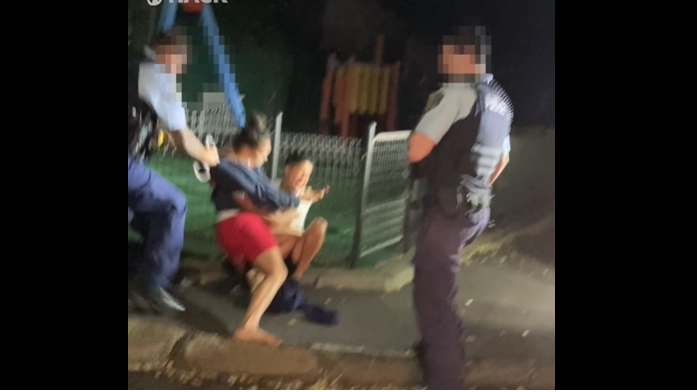 Two First Nations teens were driving through Darlington on the night of 25 March, when one of them, Tarneisha Widders, started to have a panic attack. So, the pair pulled over on Vine Street in the inner city Sydney suburb, and the distressed 19-year-old got out to get some air.
Soon afterwards, a NSW police car turned up. Two male officers got out and began questioning Widders as to what she was doing. The Anaiwan and Biripi woman claims that once she suggested they were racial profiling her, one of them grabbed her throat and pressed her against a fence.
Widders' partner, Lili Bayles, moved in to protect her friend who was sitting on the ground up against the wire gate, when one of the officers took hold of the back of her jacket, dragged her across the pavement and pushed her away.
Onlookers, who appear to be filming, question the police as to why they're arresting the young women, and repeatedly call on the officers to "de-escalate" the situation.
One of the witnesses later moved in and attempted to assist Widders, but again she was moved away from the distraught woman.
Six other officers subsequently turned up to assist with the mental health incident and surrounded the woman having the anxiety attack.
Widders was told she was under arrest, but the reason why this was the case was never explained. And the teenager was later released without charge.
Escalating matters
A NSW police spokesperson told Triple J's Hack last week that the officers had spotted Widders behind some cars with a jumper pulled over her head, and when they asked what she was doing, she attempted to walk away from them.
The spokesperson further set out that the woman couldn't produce any identification or provide an address as to where she was staying. And the officers claim that Widders became aggressive and spat at them.
However, lawyer representing Lili Bayles, National Justice Project director George Newhouse, said in a statement last Thursday that the video shows that police officers shouldn't be the first responders to a mental health crisis, as they are ill-equipped to deal with such matters.
"Instead of receiving compassionate care and medical attention," the human rights solicitor continued, "these two young women were handcuffed, thrown aside, arrested, and searched."
Newhouse further made clear that his not-for-profit legal service is calling on both the Law Enforcement Conduct Commission (LECC) and the NSW Director of Public Prosecutions to investigate the incident to ascertain whether the officers involved committed a crime.
A targeted approach
The overpolicing of First Nations people has been under renewed focus since last June. At that time, Newhouse was involved in representing a 16-year-old First Nations boy, who was thrown face first onto the ground by a police constable after the teen had sworn at the man in a Redfern park.
And in an indication that the use of excessive force by police against Aboriginal people is a systemic problem, NSW police commissioner Mick Fuller told reporters that the officer that swept the boy's feet out from under him before throwing him down was simply having "a bad day".
Image Credit: Triple J's Hack
Receive all of our articles weekly