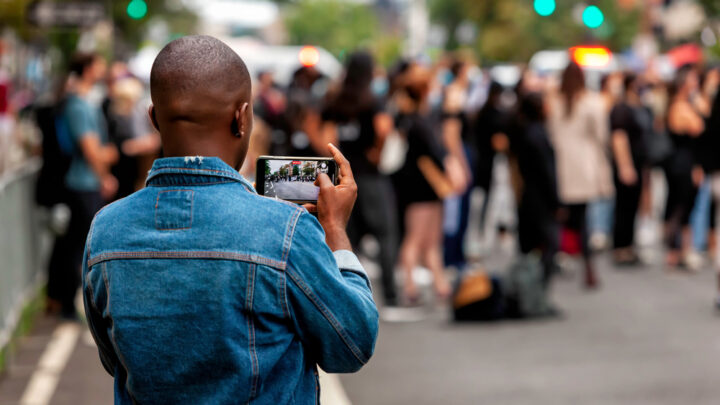 A few weeks back, the brutality involved in the western Sydney arrest of David Ridgeway on 29 December 2020 was being called out, and questions were raised as to why the Aboriginal man is now being remanded for assaulting police, when the footage capturing the incident shows otherwise.
The video footage is precisely why the excessive use of force by the officers could be challenged. The clip was taken by some concerned members of the public who saw three officers following the 47-year-old down a laneway and decided to film the incident on their camera phone.
According to Justice Aunties founding director Tracey Hanshaw, police incidents like this targeting First Nations people are "a daily occurrence". But the difference now is it's "getting captured on film". And she further thanked social media for allowing people to upload the footage so it's seen.
As Hanshaw points out, footage of police misconduct appearing on social media platforms is ever-increasing. And these technologies have empowered citizens with the ability to keep police accountable, and this has been especially so in exposing police violence against Aboriginal people.
Cops on film
"The single best police accountability measure that I've seen in the past two decades has been the mobile phone," NSW Greens MLC David Shoebridge told Sydney Criminal Lawyers.
"The ability for ordinary members of the public to capture in real time what police are doing has been the strongest police accountability tool by any measure."
Shoebridge knows this well as he's long been holding NSW police to account from within parliament.
Last year, this involved holding a press conference highlighting an incident captured by a camera phone that saw a local constable throw a 16-year-old Aboriginal boy face first onto the ground in a park in Surry Hills.
Lawyer representing the boy George Newhouse told the media that the family was demanding charges be laid against the officer, so a court could decide on the matter, rather than a police internal investigation. And if that wasn't going to happen, they'd be launching civil action.
Of course, none of this would be possible without the trusty camera phone. Indeed, the National Justice Project, which Newhouse directs, launched the Copwatch app in 2018. It's an application that makes it easier for citizens to capture police on film as suspect incidents are taking place.
Perfectly legal
As Sydney Criminal Lawyers principal Ugur Nedim explains, "[a]lthough police in NSW may try to prevent members of the public filming them, they have no legal right to do so unless the filming results in police being hindered from doing their job."
The lawyer added that camera phone footage has led to an increase in disciplinary actions being taken against police.
Footage taken by the public in the US last year captured a Minneapolis police officer kneeling on the neck of African American man George Floyd, until he became lifeless and died. And these images sparked a reawakening of the Black Lives Matter movement globally.
France drafted laws last year aiming to limit people's ability to publish images of police officers with intent to cause them harm, in an effort to curb the posting of phone footage capturing police misconduct incidents.
However, protests involving tens of thousands saw the Macron government drop the proposal.
"People have a right to film and record police interactions when they are happening in public, provided they don't interfere with or jeopardise police activities," Shoebridge made clear.
"Many police get angry when they're filmed. Some of them even make threats against members of the public when they're being filmed," the Greens justice spokesperson concluded. "Those threats are almost all unlawful."
Receive all of our articles weekly