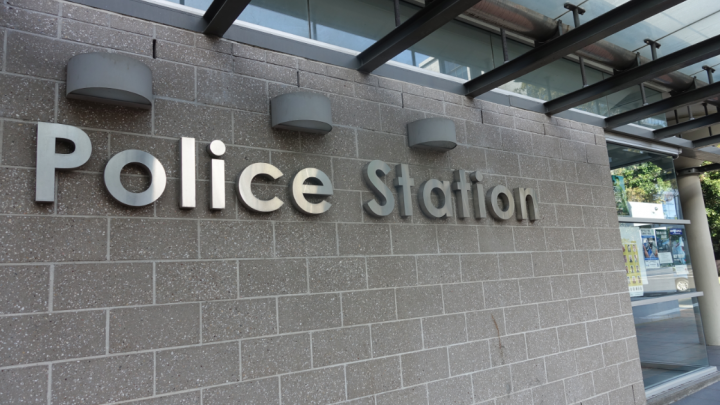 Quanne Diec left her parent's Granville home for Strathfield Girls High School on the morning of July 27, 1998. But the 12-year-old vanished before she got to Clyde Station.
On Sunday, police charged a 49-year-old man with the murder of the school girl. Vinzent Tarantino turned up at Surry Hills police station at 3.40 pm and confessed to police.
The former Kings Cross security guard allegedly enticed the girl into his car with the intent to hold her for ransom. He is said to have caused the girl "a substantial injury", then deciding to take her life sometime within the thirteen hour period after he abducted her.
Police released CCTV footage in 2000 showing Quanne being followed by a figure as she walked past an Australia Post sorting facility on Factory Street, Granville, just 400 metres from her family home. Other footage suggests she never made it to the other end of the facility.
Tarantino lived just a few hundred metres from the Diec family at the time of the abduction. Police allege he was aware of Quanne's movements and deliberately targeted the girl.
Detectives praised
Superintendent Scott Whyte from Rosehill Local Area Command told reporters on Monday that Tarantino had given himself up as a direct result of Strike Force Lydney: the 18-year long investigation into the disappearance.
"I think it's appropriate to pay tribute to the work of the investigators," Whyte said. "Some of the state's top investigators have worked tirelessly on this job."
According to Whyte, the Diec family does not know Tarantino, but police were aware of him, as he's been a main suspect since the girl vanished.
The superintendent added that the girl's remains had not been located, but it is a top priority for police "to try and bring Quanne home for her parents to be able to get some closure."
A spokesperson from NSW Police Unsolved Homicide Squad told Sydney Criminal Lawyers® that this case "stayed with Rosehill for the past 18 years." It was managed by local detectives and assisted by the homicide squad.
"The investigation was reanimated last year," the spokesperson said, saying that it was a consequence of "this latest effort of the detectives" that the suspect was brought to justice.
A strange development at the hearing
Tarantino – who also goes by the name Gerada – appeared via video link at Sydney's Central Local Court on Monday, charged with murder and detaining a person for advantage.
He was also charged with custody of a knife in a public place, after allegedly being found in possession of a 35 centimetre kitchen knife when he turned up at Surry Hills police station on Sunday.
Tarantino did not apply for bail and it was formally refused by the court.
In a bizarre twist, the accused – against the advice of his Legal Aid lawyer – told Magistrate Les Mabbutt that his brother and his partner had allegedly been murdered in retaliation for his actions. However, he didn't go into detail about how or when these other incidents occurred.
The strange submission has led some to question whether his confession is indeed genuine.
Aftermath of the abduction
Police officers began searching a house in Granville – located just a few streets away from the Diec family home – on Monday morning. A neighbour told Fairfax Media that Tarantino left the house at a young age and had never returned to visit his parents.
During the 18-year investigation, police had hypnotised witnesses, set up mannequins and even drained the nearby Duck Creek waterway, but failed to come up with any answers.
Despite all of this, Quanne's parents, who were born in Vietnam, have never given up hope. Her elderly father Sam has crisscrossed the country in the years since his daughter's disappearance trying to confirm reported sightings of his daughter.
The NSW government upped the $100,000 reward on offer for information leading to the location of Quanne to $200,000 in 1999.
Unsolved NSW cases
The breakthrough has been celebrated by the NSW Police Force, who say that all their hard work has been rewarded.
It comes as police push for the public to come forward with any information that could solve cold case crimes. There were 92 unsolved murder cases on the books as of July this year.
The NSW police website has a rewards offered page that lists dozens of unsolved cases and the amount a person may be eligible for if if they "provide information that leads to an offender being charged and convicted."
There's a million dollar reward for information that leads to the resolution of the William Tyrell case, who went missing two years ago in the rural township of Kendall.
There's also half a million on offer for information leading to the conviction of the person who murdered 17-year-old Michelle Bright in Gulgong in 1999.
Murder of Lynette White
NSW police say they have recently made headway in the murder case of Lynette White. The 26-year-old mother was stabbed to death by an assailant in her Coogee apartment on June 8, 1973.
In August this year, detectives pulled back the carpet in the apartment and found blood stains on the concrete. They're hopeful that fresh forensic analysis might reveal the identity of the murderer.
The similarities of this case with the murder of Maria Smith in her Randwick home on April 22, 1974 have led to a joint investigation of the murders under Strike Force Tourmaline.
The cases were reinvigorated last year after detectives received new information, and they're hoping the Strike Force will led to the capture of the serial killer who is believed to have perpetrated both murders.
The spokesperson from NSW Police Unsolved Homicide Squad said that although they don't have figures on hand, police do solve many cold cases crimes.
"If a case hasn't been solved it never is closed," the spokesperson said. "It remains open, but it's not always active."
Vinzent Tarantino is due to appear at Parramatta Local Court on January, 19 next year.
Receive all of our articles weekly