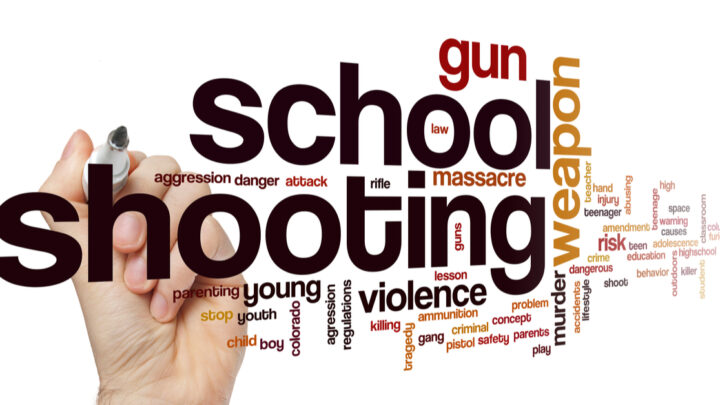 Recently in the United States, a District Court Judge ordered the parents of a 15-year old boy who has been charged with killing four students at his Michigan high school to stand trial. 
Both parents face charges of involuntary manslaughter. American legal commentators say this is a rare case – parents are not usually considered responsible for the actions of their children. 
At a preliminary hearing (similar to a committal hearing in NSW which determines whether the prosecution has enough evidence to support charges and proceed to trial) heard that Ethan Crumbley's parents James and Jennifer gave Ethan the gun as an early Christmas present. 
The court also heard that Jennifer Crumbley sent Ethan a text message the day before the shooting asking if he had showed teachers a "pic of your new gun." 
The text was one of several between mother and son Ethan after school officials left a voicemail informing Ms Crumbley that Ethan was looking up ammunition on his phone. A text message from Jennifer to her son said: "Lol. I'm not mad at you. You have to learn not to get caught."
The parents have also been accused of failing to intervene when their son showed signs of mental distress at home and at school. 
Mental health issues
Evidence presented in the preliminary hearing included social media posts made by Ethan, text messages with friends, drawings and journal entries which clearly showed a young man battling with his mental health. 
The court also heard that Ethan's parents were summoned to the school on 30 November 2021, the day of shooting, and confronted with a drawing found on Ethan's death depicting a gun and a person who appeared to be dead, shot twice. It included the words: "The thoughts won't stop. Help me." 
The school counsellor testified that he had urged the parents to get the young man help, but they said it was not an option because they needed to get to work. 
And that Ethan's parents refused to take him home after their meeting with school authorities – hours later, the young man allegedly opened fire at the school and killed four students, wounding six others and a teacher when he allegedly opened fire on 30 November 2021. 
Not guilty pleas
James and Jennifer Crumbley have both pleaded not guilty to all four charges of involuntary manslaughter. Each count is punishable by up to 15 years in prison along with a $7,500 fine. 
Their son Ethan has been charged with first-degree murder, assault with intent to murder, terrorism and gun charges for the deadly. He will be tried as an adult, and is reportedly pursuing an insanity defence.
Under Michigan law, if someone is found not guilty by reason of insanity, they don't walk free. They must be referred to a state psychiatric centre for custody and further evaluation. However, a judge has to approve the defence before it can be used. 
The suit, lodged on behalf of students and their families, names Oxford High School's dean of students, two counsellors and three teachers as defendants. Ethan and his parents also are named as defendants.
 Ethan's parents are accused of intentional, reckless and negligent conduct that led to the mass shooting. The Oxford High School staff and teachers are accused of gross negligence that led to the shooting by not removing the shooter from the school building earlier.
For now, the young man is alone in a cell within the Oakland County Jail's clinic – to keep him isolated from the other adult inmates. His criminal defence lawyers want him transferred to a juvenile facility, but prosecutors are blocking this, concerned he poses a potential risk of harm to other juveniles. 
Gun control laws in the spotlight
The case has brought gun control and ownership to the fore again in America – and it could potentially affect powerful change. 
Many Americans want change, to tighten gun laws, and restrict access to guns, despite the fact that the right to keep and bear arms in the United States is protected by the Second Amendment to the nation's Constitution. 
After it was discovered that the US Federal Government doesn't keep records on school shootings, the Washington Post embarked on its own research project. 
It found that since the Columbine High School massacre more than 292,000 children have been exposed to gun violence through school shootings at 310 schools. 
In the past several years, school shootings in the US appeared to have subsided, although there were more in 2021 (total 34) than in any other year since 1999, despite the fact schools were closed as a result of Covid-19 for the first two months of 2021. 
According to the publication's research, at least 157 children, educators and other people have been killed in assaults, and another 356 have been injured.
Receive all of our articles weekly