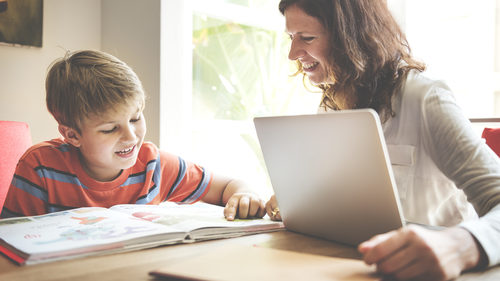 A lot of Mums and Dads have just found out that school teachers do a very difficult job. Teaching your kids to tie their shoelaces, or cook a meal, or clean the windows, might be one thing, but actually guiding them through the school curriculum is something else entirely.
But, along with most other aspects of our lives, COVID-19 has changed education too.
Schools are still open
Last month, the Premier of New South Wales decided to keep schools open for parents who need them, but encouraged families who could supervise students at home to remove their children from the collective learning environment, to avoid the spread of COVOID-19.
And with end the End of Term 1 only a few weeks away a lot of parents just decided to put their kids' health first, and grin and bear the complications of having them underfoot while trying to work from home too.
But as has become clear over the past couple of weeks, society is changing at a rapid pace as we cope with the COVID-19 crisis. As yet there is no decision on whether NSW schools will completely reopen for Term 2, or whether the status quo will remain. It's also entirely possible – depending on the spread of COVID-19 that schools will close.
What does the law say?
The law says that parents and guardians of children between the ages of six and 16 must enroll in either distance learning, homeschool, or a local school.
Homeschooling is actually permitted in New South Wales, and it is overseen by the NSW Education Standards Authority (NESA).  As many as 10,000 kids are registered for homeschooling.
Just to be clear though, homeschooling is not the same as the situation we're temporarily in. Students who are at home, but who ordinarily attend school, are 'home learners.'
For those parents and carers who have suddenly found themselves with students 'learning from home,' the New South Wales Department of Education has written guidelines for both parents and students.
Responsibilities of parents / carers
The department outlines that the priority obligation of parents and guardians is to support students at home, by:
establishing routines and expectations
setting aside a space for your child to work in
monitoring communications from your child's teachers
beginning and ending each day by asking about your child's learning
taking an active role in helping your children with their learning
encouraging physical activity and/or exercise
remembering that your child might be stressed or worried during this time
monitoring how much time your child is spending online
keeping your children social, but setting rules around their social media interactions.
Responsibilities of students
working in the safe, comfortable, quiet space in their home that has been set aside for them
regularly monitoring digital platforms and communication to check for announcements and feedback from teachers
completing tasks honestly and doing their best work
doing their best to meet timelines, commitments, and due dates
communicating with their teachers if they cannot meet deadlines or require additional support
collaborating and supporting classmates in their learning
complying with the department's Student use of digital devices and online services policy
communicating with school staff as different needs arise.
Schools are required to assist students and parents to access resources. If students don't have access to computer facilities or the internet, parents/carers need to make arrangements with the school for other learning tools.
While students are at home teachers will aim to provide support via email, online chat facilities in learning platforms, video conferencing facilities or phone call. Policies are in place to support this.
Keep up the studies
Because COVID-19 has presented a totally new situation for many families, the Department of Education is still refining it's policies, procedures and delivery. But the Department's overriding message to both parents and students is that continuity of learning is important right now, and that being at home because COVID-19, shouldn't provide a disruption to learning, until the official Easter holiday break. If the current situation continues for several months to come, then students who have not participated in school work could find themselves falling behind their peers.
For some parents, it's an interesting opportunity to be more engaged with their children's learning. For others, perhaps more so those who are paying thousands of dollars in private school fees the idea of having to be a teacher and a parent is much less appealing.
Receive all of our articles weekly