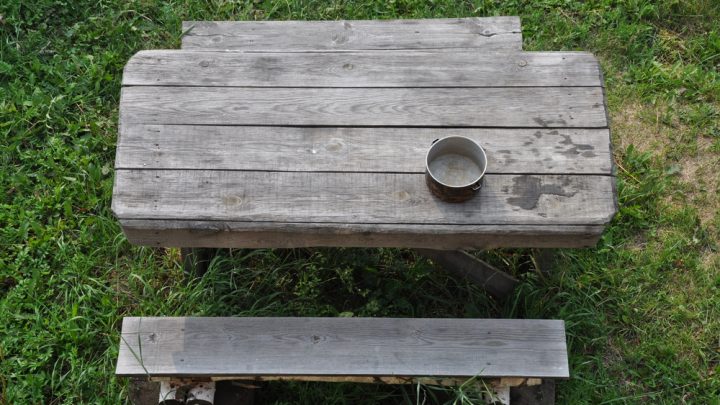 People are always finding new and inventive ways from getting from one place to another – motors have been attached to all kinds of objects, from chairs to luggage, and even the good old Aussie esky.
But it seems that picnic tables are the latest motorised transport craze, with footage of nine men enjoying a ride on two motorised picnic benches recently going viral.
The video depicts the men cruising down a Perth road whilst having drinks, before turning right at a busy intersection.
According to one of the passengers, the tables are capable of reaching speeds of up to 50 km/h, and handle 'like a go-cart.'
While the video provoked hundreds of comments from amused viewers, police failed to see the funny side of the prank; approaching the men while they were stopped at a service station and asking them to carry the tables home.
The men cooperated, but a subsequent investigation has indicated that the men could face criminal charges.
Speaking to the media, a police spokesperson said:
'Police are concerned for the safety of those riding on the tables with no protective clothing, especially when on roads alongside motor vehicles…There are overall safety concerns, particularly if a traffic incident was to occur, resulting in the persons subjecting themselves to potential injury.'
WA police say that the men could face a range of charges, including unlicensed driving, driving an unregistered vehicle, driving an unroadworthy vehicle, and drink driving.
But the police response has overwhelmingly drawn public ridicule, with one Facebook commentator saying:
'With everything that's going on in the world right now, I 100% agree that motorized picnic tables are of high concern and should without doubt be your main priority. Please yellow sticker that table immediately.'
Other Cases
This not the first time police have laid down the law for those caught driving novelty vehicles.
In September, a Launceston man found himself before a Magistrate after he was fined $400 for riding a motorised esky which could reach speeds of up to 20 km/h.
The man was charged with 'driving an unregistered vehicle' and sought to fight the matter in court, arguing that it does not qualify as a motor vehicle. He has reportedly sought to have the esky inspected by local mechanics to bolster his case, and is due back before the courts in December.
Another man was charged with drink driving, driving while unlicensed and driving an unregistered an uninsured motor vehicle after he was caught riding a motorised esky in Queensland last year.
Police observed the man cruising along a bike path, and subjected him to a breath test which returned a blood alcohol reading of six times the legal limit.
A search of the esky yielded 10 cans of beer, two casks of wine, and six cans of bourbon.
A spokesperson for the Queensland Police explained the law, saying:
'Due to the fact that it is a petrol engine, [the esky] falls under the ambit of a motor vehicle under the Traffic Act… Some people aren't aware that if they're riding a wheeled object, the footpath is also deemed a road under Queensland legislation.'
Charges for Riding Novelty Vehicles
Similar provisions exist in New South Wales traffic legislation.
Section 53 of the Road Transport Act 2013 ('the Act'), for instance, prohibits drivers from driving a motor vehicle on any road without being licensed for that purpose. The offence carries a maximum fine of $2,200.
And section 68 of the Act imposes a maximum fine of $2,200 for the use of unregistered vehicles.
Section 7 of the Motor Vehicles (Third Party Insurance) Act 1942 also prohibits driving an uninsured motor vehicle on a public street, prescribing a maximum fine of $550.
So before you modify a picnic table (or any other object) for use on a public road, remember that you could face heavy penalties under the law. It seems that the good old days of the lawnmower engine powered go-cart are well and truly over for the kids of today.
Receive all of our articles weekly