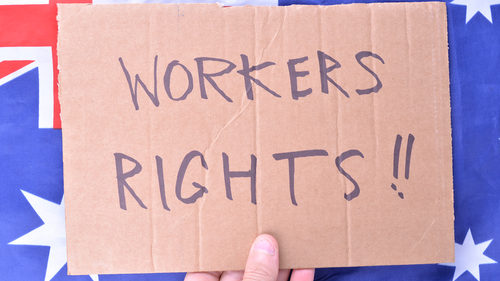 Prime Minister Scott Morrison has promised that laws will soon be enacted that "deal with criminalising" the worst cases of worker exploitation.
During question time, the Opposition quizzed the government on what action it would take to stop restaurants grossly underpaying their employees. The question came in the wake of the Migrant Workers' Taskforce Report and the highly-publicised case where a restaurant chain owned by celebrity chef George Calombaris was found to have underpaid workers by millions of dollars.
Coalition promises
In response to questioning, the Prime Minister said: "Right now, the Attorney-General is drafting laws to deal with criminalising worker exploitation."
Outside parliament, Attorney-General and Industrial Relations Minister Christian Porter told reporters the government is considering the application of criminal penalties to "most serious forms of deliberate worker exploitation".
"By adding criminal sanctions to the suite of penalties available to regulators for the most egregious forms of workplace conduct," he stated, "the Government is sending a strong and unambiguous message to those employers who think they can get away with the exploitation of vulnerable employees."
Shadow Industrial Relations Minister Tony Burke has likened wage theft to any other form of stealing, stating "If you have something that is knowingly, deliberately underpaying people, then I don't see how it should be any different from the worker taking money from the till".
"People have a legal right to be properly paid," he added. "And that a number of businesses think this is just 'oh yeah, just fix it up after or just pay the fine, not a problem', or that the Government thinks these are not the real issues where you need industrial relations reform is something that is shocking."
Mr Porter did not elaborate on the forms of exploitation likely to be criminalizing, saying instead there will be "consultations over coming months with stakeholders on a range of issues within the industrial relations portfolio".
The George Calombaris case
The Fair Work Ombudsman (FWO) obtained an enforceable undertaking from restaurants linked to Calombaris, requiring the payment of $7.8 million to employees, as well as a $200,000 "contrition payment".
Mr Calombaris previously stated that his company, Made Establishment, had underpaid 162 workers to the total of $2.6 million as a result of "historically poor processes." However, a four-year investigation by the FWO found the actual figure was more than triple and involved systemic failures to pay minimum award rates, penalty rates and casual loadings.
As part of the undertaking, Mr Calombaris is required to make public statements on the importance of complying with workplace laws. This is from a man who was previously outspoken against the payment of penalty rates.
That said, it should be acknowledged that Calombaris described the contrition payment as "light", adding "I'm open minded to submissions that there should be further penalties there, inclusive of potentially criminal penalties reserved for repetitious breaches".
And while his case has been in the media been spotlight, other major brands and personalities have also been exposed for underpaying or exploiting their staff, including Rockpool Bar & Grill chief Neil Perry, jewellery retailer Michael Hill, Sydney's Shangri-La Hotel, 7-Eleven stores and Merivale.
Former ACCC Chairman Allan Fels, who led the investigation into the 7-Eleven underpayment scandal, welcomed the call for the criminalization of wage theft.
"There should be the real prospect of goal sentences… in sustained, substantial and intentional cases," Professor Fels stated. "Nothing less would attack a systematic breakdown in our wage payment system."
Employer pushback
Employer groups have already signaled they will oppose such laws, saying that criminal penalties will discourage investment, entrepreneurship and jobs growth and thereby further harm an already weak Australian economy.
During a recent Queensland parliamentary inquiry the National Retail Association submitted that wage "non-compliance" was caused by "a failure of the wider system to educate workers in their rights under the legislation" as opposed to the failure for businesses to act in accordance with their obligations under the legislation.
Other industry groups, meanwhile, believe underpayment of wages does not amount to theft as our workplace relations framework is so complex it is extremely difficult to understand and apply.
However, such groups should know that any new offences will only penalise "clear, deliberate and systemic" breaches, as recommended last year by the Migrant Workers Taskforce.
Receive all of our articles weekly