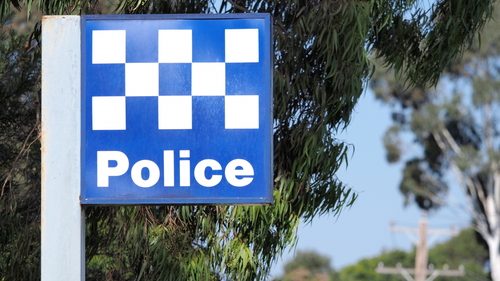 A Supreme Court jury has found former Northern Territory police commissioner John McRoberts guilty of attempting to pervert the course of justice.
Mr McRoberts faces up to 15 years in prison after he attempted to "deflect" or "frustrate" a 2014 criminal investigation into his former lover, travel agent Alexandra Xana Kamitsis, who was later sent to prison for fraud.
Travel agent fraud investigation
Ms Kamitsis was a "test case" in an investigation into 27 Darwin travel agents suspected of defrauding a pensioner concession scheme out of millions of dollars.
The travel agents were suspected of invoicing the NT Health Department at inflated costs for flights, before actually buying cheaper flights and keeping the extra money. Kamitsis was sentenced in 2015 to almost 4 years prison on fraud, but served only nine months before being released to home detention.
Relationship discovered
A fraud squad raid in November 2014 on Ms Kamitsis' now-defunct travel agency, Latitude Travel, resulted in the seizure of computers, mobile phones and substantial amounts of documentary evidence.
Analysis of Ms Kamitsis' phone uncovered more than 5000 text messages between here and Mr McRoberts between 2010 and 2014, included up to the day of Kamitsis' arrest.
McRoberts, a father of two, was in another relationship at the time, and Ms Kamitsis was married.
Denials
Mr McRoberts was confronted with the text messages after Kamitsis' arrest, but claimed the pair were only in a "social" relationship.
Analysis of the messages made it clear McRoberts not only lied about the nature of the relationship, but actively attempted to hinder the investigation into his lover.
Current NT police commissioner Reece Kershaw confronted his boss shortly thereafter, but McRoberts continued to deny both the intimate relationship and his attempts to thwart the police investigation.
McRoberts maintained his denials to senior police and the NT's former top bureaucrat Gary Barnes.
"Mr McRoberts told me that the rumour was untrue and that I knew him to be a professional and that he had the matter in hand. That there was nothing to worry about," Mr Barnes told the court.
Obstructing police operations
The court heard evidence that McRoberts blocked a search warrant on Kamitsis' premises, saying "This is not ready to go to an overt investigation", despite the Supreme Court approving it.
It was heard that McRoberts reviewed and then criticised the police file into Kamitsis, suggesting it was not enough for a prosecution.
"This file does not appear to me to represent two years of investigative work".
This is despite the fact countless prosecutions commence with very little evidence at all, but gather evidence after the defendant is arrested and charges.
The court heard McRoberts the questioned the decision to choose Kamitsis as the "test case", asking "Why do we start here?", and that he repeatedly argued that the matter should be dealt with by way of civil proceedings rather than police prosecution.
Detective Sergeant Jason Blake testified that he opposed McRoberts' plan to send "letters of cooperation" whereby the offender would tell police what they have done. Mr Blake told the court "We don't often write to fraud offenders, or alleged fraud offenders, asking them to quantify what they have been doing… The strategy of asking them to tell us what they've stolen didn't seem logical to me."
The court further heard that McRoberts tried to convince politicians and bureaucrats that criminal charges would damage the NT's tourism industry and reputation.
Circumstances of Kamitsis arrest
Police detectives were ultimately able to exercise their duties and arrest Ms Kamitsis when McRoberts was overseas on business.
Mark Payne, one of three rotating deputy commissioners, gave evidence that he authorised the arrest while his boss was in the air and out of contact.
The trial heard that McRoberts later angrily criticised officers for executing the arrest.
"The accused did what he did for an improper purpose … it was all a smokescreen," prosecutor Michael McHugh told the jury. He submitted the defendant knew that if he declared his sexual relationship with Kamitsis, he would have been required to step aside from involvement in the fraud investigation, rather than continue to derail it.
After nine hours of deliberations, the jury returned a verdict of guilty and the case has been adjourned for sentencing.
Receive all of our articles weekly