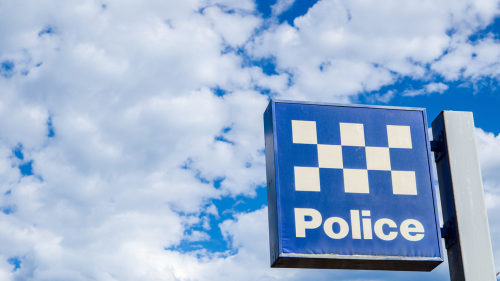 South Australian police detective, Eric Walsh, has been accused of leading fellow members of an organisation described as a "socially harmful cult" to have criminal charges brought against a critic.
Sergeant Walsh allegedly advised 30 fellow members of the organisation, known as Universal Medicine, to target healthcare activist Esther Rockett by making formal complaints to the New South Wales Police Force and a federal cybercrime body.
What is Universal Medicine?
Universal Medicine (UM) is an organisation founded in 1999 by former bankrupt tennis player, Serge Benhayon, who established the group after claiming to have received a spiritual epiphany while sitting on the toilet.
Mr Benhayon professes to be the reincarnation of Leonardo da Vinci, and calls himself the "Ascended Master". The group has more than 2000 followers and, while some of his teachings such as the belief in the omnipresence of extra-terrestrials can be seen as unusual, others are others of greater concern, including:
The view that disabled children are "reincarnations of evil, authoritarian figures from the past";
The performance of "esoteric breast massage" on females, which Benyahon claims assists in "serious gynecological disorders"; and
The use of "Ovarian readings" around women's genital area, which Benhayon claims assists in "rape recovery."
The critic
Ms Rockett was formerly an acupuncturist based in Byron Bay, Northern New South Wales.
Whilst practising in 2014, she published several articles and posted numerous Tweets that were critical of UM.
Mr Benhayon initiated defamation proceedings against Ms Rockett in 2015, reportedly refusing her attempts to settle the matter due to her spiraling legal costs.
By March 2017, Ms Rockett had amassed a debt of $70,000 and could no longer fund lawyers for her case.
Self-representing, Ms Rockett ultimately prevailed in court, with a Supreme Court jury finding that it was true that Mr Benhayonm was a "charlatan who preys on cancer patients", that he had inappropriately touched females, had an "indecent interest in girls as young as 10" and that UM is a "socially harmful cult".
Mr Benyahon was found to have taken millions of dollars from desperate, critically ill people – claiming they would be harmed in their next life unless the payments were made.
Benhayon was ordered to pay Ms Rockett's costs on an indemnity basis, which is higher than the usual party/party costs order.
Police officer targets activists
It has been reported that at the time of the proceedings, officer Walsh coaching UM members on how to make complaints to the Australian Cybercrime Online Reporting Network (ACORN) and Byron Bay police with a view to having Ms Rockett charged with cybercrime offences.
The officer is reported to have advised members to report that Ms Rockett's online publications had cost them their jobs, clients or family relationships, or left them in "fear of answering the phone, double locking the door [or] avoiding social media".
In online messages and emails, Mr Benhayon described the officer's conduct as "gold", however the cybercrime body and police found the claims to be baseless.
Claims of harassment by UM
Universal Medicine is reported to use the services of private investigations firm Phoenix Global, with a view to forcing those who are critical of the organisation to remove unfavourable content.
Mr Benhayon and UM members are reported have submitted numerous legal complaints to Google Australia with a view to having critical articles and websites, removed from the search engine, and to have otherwise targeted critics.
It is reported that in one case, the organisation labelled Bangalow-based businessman, Lance Martin, a cyber-bully and abusive partner after he agreed to participate in a story alleging that his marriage failed as a result of the group's interference.
Mr Martin asserts that he had to close down his business as a result of the attack on his reputation.
Receive all of our articles weekly