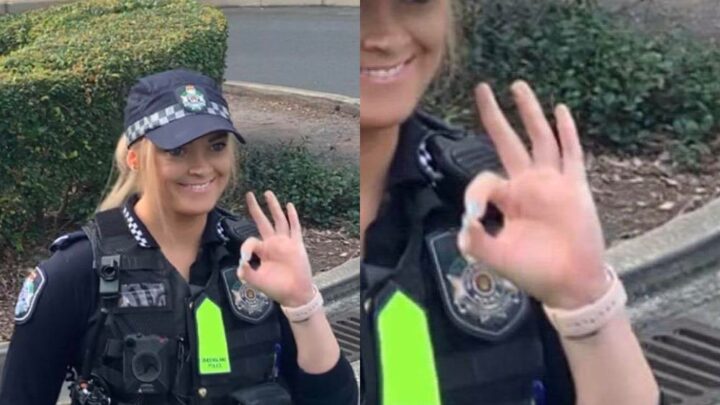 Brisbane last week hosted the Land Forces 2021 expo that saw hundreds of global weapons companies, spruiking the benefits of the killing machines they produce.
Over 1 to 3 June, more than 12,700 attendees, including former federal defence minister Christopher Pyne, wandered through the showcase.
To counter the trade in death exposition, a coalition of antiwar activists formed Disrupt Land Forces to demonstrate against weapons companies, like Thales, Rheinmetall and Boeing, for turning a profit by "exporting terror to the peoples of West Papua, Yemen, Mindanao and Sudan".
A group of the activists managed to storm the Brisbane Convention Centre to stage an impressive nonviolent direct action, which involved multiple protesters climbing on top of an armoured tank and unfurling large banners, whilst one demonstrator locked on with a device around his neck.
During the three days of protests out the front of the event, the Queensland police presence was heavy, as expected.
Legal observer group Action Ready listed multiple instances, where officers applied "excessive use of force" against demonstrators, including an incident involving a 12-year-old girl.
And, yet again, some of the police deployed to deal with the activists took the opportunity to indicate their allegiance to the cause of white supremacy, via the wearing of "thin blue line" patches, while one officer was photographed making the far-right "OK" hand gesture.
Fascists in dark blue
Action Ready posted a message regarding the Queensland police officer who was captured making the OK gesture towards demonstrators. The group indicated that since the broad media coverage of other such incidents over recent years, it's highly unlikely that police aren't aware of its significance.
Since 2017, this sign has been used by far-right groups, after it was co-opted on the 4chan website.
When the Anglo Australian terrorist who perpetrated the Christchurch massacre first appeared in a NZ courtroom, he made the symbol and held it up to media.
At the October 2019 IMRC protests in Melbourne, Victoria police senior constable Travis Gray was captured gesturing OK towards activists. And while police management tried to deny the officer was aware of the symbol's significance, it soon came to light that he was a white nationalist.
On the evening of 12 June last year, as Black Lives Matter protests took place at Sydney Town Hall and Hyde Park, an officer moving between the two rallies distinctly made the symbol to onlooking demonstrators, one of whom captured him doing so on camera phone footage.
At that time, there was an ongoing upsurge in the BLM movement, so to have an officer policing such an event and making such a symbol was highly divisive. And with the mounting instances of officers gesturing OK nationwide, the denial of the symbol's implications is getting rather weak.
Excessive force the norm
"There was a clear sense that the police considered their role was to punish protestors, with a range of novel powers exercised against anyone who looked like they were involved," the Action Ready legal observers from last week's protests told Sydney Criminal Lawyers.
"This included searches on site, searches at the organising location, infringements for jaywalking, public nuisance and mudflaps being too high on a vehicle," they continued. "Arrests were carried out with excessive force and use of handcuffs."
On 1 June, Action Ready released a statement outlining its concerns around the extreme force used by police from the onset of their deployment to deal with protesters, who had followed the required procedures in notifying authorities that the peaceful assembly was taking place.
Eight trained legal observers witnessed the shoving of protesters, the use of neck compression, the use of handcuffs when no resistance to arrest was shown, the issuing of cautions over offensive language, as well as noting officers removing their badges and body worn cameras.
"Police response to the events was heavy-handed, biased and restrictive on the right to peaceful assembly," the legal observers added.
"Individual officers were quick to lose their temper and were seen breaking confiscated property, including banner poles, swearing at protestors and escalating incidents."
Supplying Indonesian colonialists
Make West Papua Safe was part of the Disrupt Land Forces coalition. It indicates that some of the companies at the expo who are "making a killing" by supplying the Indonesian military are Thales, Rheinmetall and Boeing.
Since 2013, Thales Australia has been selling to Kopassus, which is Indonesia's notorious special forces, which has operated in West Papua for decades. Thales initially supplied three Bushmaster armoured vehicles to Indonesia, before setting up operations to manufacture them over there.
Currently, Indonesia is mounting a further crackdown in occupied West Papua, following the 25 April killing of Jakarta's head of intelligence operations in the region by local freedom fighters, whom president Joko Widodo has now classified as terrorists in their own land.
Founder of Make West Papua Safe Jason MacLeod told the ABC over the weekend that this terrorist listing has basically opened up the majority of the Indigenous population of West Papua to the classification as they all support independence from Indonesia.
Professor MacLeod further stated that Disrupt Land Forces was a "change in direction" towards targeting the commercial side of the "low intensity conflict", as for the last five decades campaigners have been targeting politicians who've consistently sided with Jakarta.
The thin blue line
Not only was an officer at the arms fair captured making a white supremacist symbol, but several were seen to be wearing "thin blue line" patches.
Action Ready had already photographed two officers wearing these symbols at Brisbane Watchhouse last September.
The thin blue line symbol consists of a nation's flag with a blue line running through it, which symbolises that law enforcement bodies are the barrier that serves to stop society descending into chaos.
The symbol gained racist overtones when it was displayed alongside the Confederate flag during the August 2017 Unite the Right rallies in the US city of Charlottesville.
Variations of the US version have now shown up in the UK, Canada and Australia, with each nation's respective flags being used.
The First Nations-led BLM movement in this country has been pointing to the systemic racism of local law enforcement systems. And the ongoing reports of incidents of police in the field signalling their allegiance to white supremacist ideologies is simply an overt statement of the obvious.
"Legal observers witnessed collusion between police and private security officers in the South Bank precinct, escalating the threat of violence toward protestors," the Action Ready legal observers concluded.
"We have raised concerns about excessive and punitive policing of protest events on previous occasions and have seen no positive changes."
Main photo: Queensland police officer making racist gesture at Disrupt Land Forces protest. Photo supplied by Action Ready
Receive all of our articles weekly
Author
Paul Gregoire
Paul Gregoire is a Sydney-based journalist and writer. He has a focus on social justice issues and encroachments upon civil liberties. Prior to Sydney Criminal Lawyers®, he wrote for VICE and was the news editor at Sydney's City Hub.