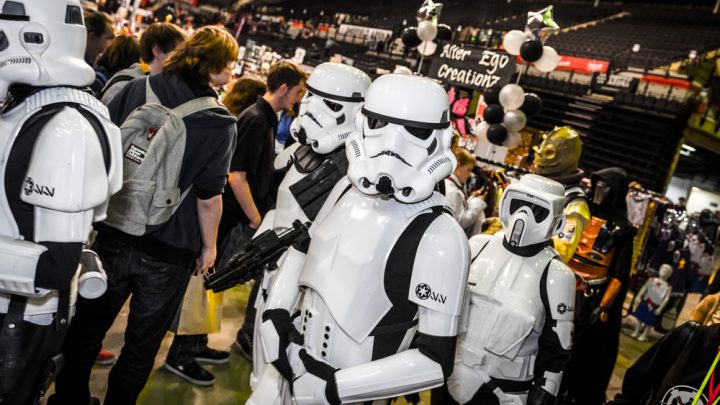 They spend millions every year on public relations, and are often masters at manipulating the media and politicians, but this time a PR stunt has left the NSW Police Force looking a little silly.
The stunt, captioned: "Keeping NSW & the galaxy safe. This little guy was arrested for selling stolen goods," was posted to the NSW Police Force Facebook page recently. It has Star Wars fans and the general public slightly bemused, mostly because police failed to have a quick think before setting it up.
The stunt depicts police as Stormtroopers, who are surrounding Jawa while he is on his knees being arrested by a uniformed police officer.
For anyone unfamiliar with Star Wars, the Stormtroopers (the army in white) are the evil guys – characters said to be based on the Nazi Party's Schutzstaffel (or SS, also known as storm troopers) who committed horrendous acts against Jews and other marginalised groups during World War II.
Jawas (the guy they've arrested) often come from indigenous tribes of mostly merchants or desert traders, making a living out of selling scavenged goods.
So some have seen the stunt as NSW police being the bad guys shaking down a member of an indigenous tribe – which is probably not the image police were trying to convey.
Post goes viral
The post has attracted 2.5k interactions so far, including more than 300 comments ranging from observations about the obvious lack of understanding about Star Wars, to those who believe it is a fairly accurate characterisation of police – misusing their powers against vulnerable and marginalised groups.
Some of the comments are:
"Watch a Star Wars movie before you decide to quote it please."
"This is completely inappropriate and disgusting. You are pictured arresting an indigenous character while the dark stormtrooper army looks on. Have you no awareness of the current acts of police violence enacted toward Australian indigenous people? "
"What a waste of police resources and money for a little comedy well what they feel is funny."
"Despite the dark side being firmly in control this photo is extremely funny. That's a WIN because you managed to get me to LIKE, COMMENT and SHARE"
However, others feel the whole thing has been blown out of proportion, that there are far more important things to worry about and that people should just "chill".
In any event, just goes to show how wrong you can get it when you don't fully understand the popular culture you're trying to emulate, and also how humour – no matter how well-intentioned -can backfire and make you look silly, or even trigger strong emotions.
It's now being suggested that NSW Police could learn a thing or two from their Queensland counterparts when engaging with the general public through social media.
The Queensland Police Service (QPS) has won praise from thousands of dedicated social media followers as well as journalists, for managing to strike a balance between humour and providing public information.
Receive all of our articles weekly