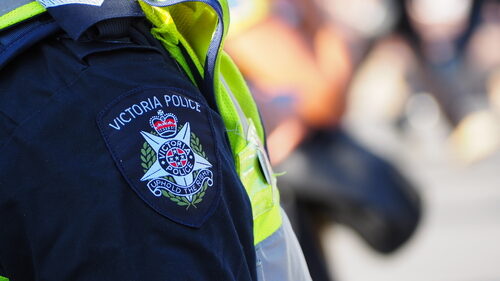 Victoria Police has launched an internal investigation over an incident during which an officer discharged a firearm through a car window in Melbourne.
Police allege the Public Order Response Team approached the 64-year old driver after he pulled into a service station just after 1.20am, and that he ignored directions to turn off his vehicle, instead allegedly driving his car at officers.
"An approaching police officer discharged his firearm while taking evasive action," Victoria police said in a statement. Police also say that one officer was injured in the incident.
Man faces criminal charges
It's understood that a chase followed through nearby residential streets, but the man was eventually arrested and then placed into hospital care for an underlying medical condition. He has been charged with six offences, including reckless conduct endangering life, dangerous driving while being pursued by police, failing to stop when directed to do so and committing an indictable offence while on bail.
He was also issued with a fine for allegedly breaching the Chief Health Officer's directions.
As is the case in any incident when an officer fires a gun, the Professional Standards Command is called in to investigate the incident. Those investigations are continuing.
Of 243 fines handed out in recent days, 28 were for failing to wear a face covering and 84 were for curfew breaches. There were 30 fines issued at vehicle checkpoints, with 12,714 vehicles checked over the 24-hour period. While many have been critical of 'heavy-handed policing' Victorian Chief Health Officer, Brett Sutton, said he believed the state's policing measures were working in terms of enforcing the lockdown measures.
There have been several reports of many people caught doing the wrong thing, including a surfer who travelled 140kms in search of good waves. However, Stage 4 which came into effect in Metropolitan Melbourne earlier this month, does have very strict rules and regulations, which, psychologists say, could be harder for people to adhere to, second time around.
Victoria's strict Stage 4 restrictions
Under the Public Health Orders for Stage 4:
In metropolitan Melbourne residents must not leave home between the hours of 8pm and 5am.
People are only allowed to leave home for four reasons: shopping for food and essential items, care and caregiving, daily exercise and work. Shopping for food and necessary supplies must be within 5km distance from your home, except if the nearest supermarket is further than 5km.
Only one person per household can leave to go shopping per day.
Workers in industries that have been allowed to remain open need to carry special permits, otherwise everyone who can is encouraged to work from home. Remote learning has also returned for students. Schools are only open for children who need them. Teachers will not need to wear a face covering while teaching, but students attending classes will. Both teachers and students will need to wear a mask on the way to and from school.
You can leave your house if you are at risk of family violence or to apply for an intervention order, and to attend court or a police station.
You can also leave your house to access medical services.
There is no 'bonk ban' so people can visit an intimate partner.
Mandatory face coverings
It is mandatory to wear a face covering or mask whenever leaving home, and there are only a few exemptions to this rule, for example, people with a medical reason are exempt, children younger than 12 are exempt, and anyone who has a good reason, for example, they are out running for exercise, are exempt.
All non-essential businesses have been closed and restaurants and cafes are only permitted to serve takeaway. Cleaners, tradespeople, gardeners, etc are not allowed to work in people's homes, except if there is an emergency, such as plumbing or electrical. Weddings are banned and religious services must be conducted online. Funerals are only permitted to have 10 people in attendance.
The Stage 4 restrictions were implemented on August 2 and are expected to last 6 week, provided the community transmission numbers begin to rapidly decline.
The economic fallout
Economic predictions suggest that the cost to the economy of Victoria's response to the 'second wave' of COVID-19 could cost the economy about 12 billion dollars. Many small businesses are not expected to survive and psychologists say that anxiety levels are increasing, with many people highly concerned not only about the transmission of the virus, but what the future holds.
Social impact
Parents of newborns have had reduced access to social support, many people will be grieving the loss of a loved one alone, nursing home residents have endured months of isolation. Domestic Violence and family violence is also highly likely to increase under this time of  additional pressure on already fragile people.
While we don't yet know the full extent of the mental health fallout from COVID-19, mental health services say that many people are already suffering from depression, fear, loneliness and a sense of hopelessness, and return to lockdown could make this worse for many people.
Receive all of our articles weekly