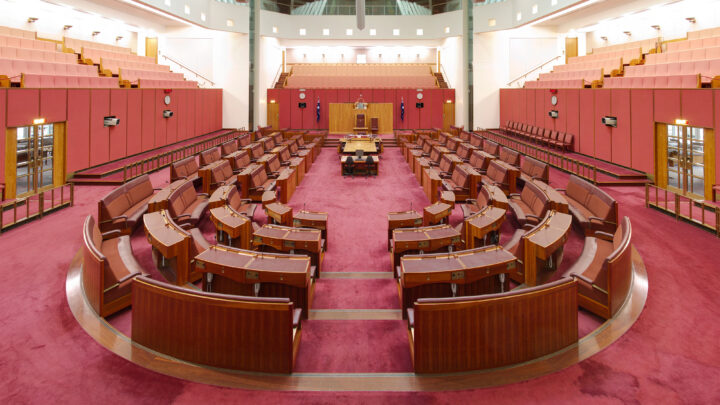 Our male politicians have been front and centre of the issues surrounding unacceptable behaviour in parliament since the beginning of this year, but recent incident highlights the fact our female politicians need are also part of the toxic culture within Australian politics.
While the statistics suggest that men are the main culprits when it comes to harassment, discrimination, bullying and misconduct in politics, women are far from blameless.
And the recent incident has led the politician in question to publicly apologise and retract her comment.
'At least I kept my legs shut'
Greens MP Lidia Thorpe directed the comment 'at least I keep my legs shut' towards Liberal Senator Hollie Hughes during question time in parliament, and was overheard by other senators.
NDIS Minister Linda Reynolds – herself previously on the receiving end of criticism for labelling alleged sexual assault victim Brittany Higgins 'a lying cow' – was answering questions about International Day of Person with Disabilities, when Ms Thorpe interrupted to voice concerns over reports regarding two Aboriginal women who had died in custody.
The microphone was turned off after the Senate president ruled the comments as out of order.
But the conversation continued with Coalition senators and Ms Thorpe reportedly arguing, and Ms Hughes becoming visibly upset.
Shortly afterwards, a media furore erupted over the comments, which Ms Hughes believed were a reference to her autistic son.
To her credit, Ms Thorpe publicly apologised on her own accord shortly after making the comment, which is more that can be said for Linda Reynolds who refused to apologise until being put under relentless pressure to do so.
Ms Thorpe said she thoroughly rejects any suggestion that "I directly or indirectly referenced Senator Hughes' family."
Politicians behaving badly
There are two issues here – firstly the poor behavioural standard, seemingly widely accepted, which apparently entitles Senators to just go about making (sometimes nasty) personal jibes at each other, while they are supposed to be representing members of the public who, let's not forget, pay their salaries.
Secondly, there is the fact that the comments derailed the discussion entirely and made media headlines, all of which was totally unnecessary and could well have been avoided if our politicians behaved with more professionalism and focused on their jobs, rather than on heckling and mocking each other.
If our politicians behaved with more respect for one another, and with more personal decorum and focus while carrying out their duties within the senate, might we see swifter, more decisive action on issues that really matter to Australians?
Third incident within a week
It's the third incident within a week of the release of the Set the Standard Report which has lifted the lid on the toxic workplace culture within the Federal Government and associated workplaces.
NSW Health Minister Brad Hazzard made unprovoked and unnecessary sarcastic comments towards a female journalist in Coffs Harbour and earlier in the week Victorian Senator David Van issued an "unreserved apology" after he was accused of making growling dog noises at Tasmanian Senator Jacqui Lambie, on the very same day the Set the Standard report was released publicly.
At the time, the Prime Minister said he was "disappointed" to hear the reports of the incident involving David Van.
Well, if Scott Morrison is "disappointed," then you can only imagine how most of the Australian voting public typically feels about the lack of civility and politeness shown by our politicians, whom are supposed to be representatives of the voting public. And furthermore, how alarmed we are to hear that the Federal Government is not a safe place to work.
The Set the Standard report found that almost 40% of respondents in parliamentary workplaces had personally experienced bullying and 33% of people had personally experienced sexual harassment, with 1% experiencing an actual or attempted sexual assault.
All of the incidents over the past 12 months have led many to ask whether or not our politicians are genuinely concerned about the findings of the Set the Standard report, or in any way contrite given that some very serious incidents have allegedly occurred during their watch.
Let's not forget that Federal MP Linda Reynolds, whom Brittany Higgins worked for at the time of her alleged sexual assault, was forced to apologise and settle a defmation suit brought by Miss Higgins after Ms Reynolds called her a 'lying cow' over comments Ms Higgins made about how she perceived the sexual assault was handled at the time.
The Set the Standard report identified a number key risk factors within Parliament House and its associated workplaces including that expected standards of behaviour "either do not exist or can be unclear and inconsistently enforced."
The report stated that this "leads to confusion about the standards that apply and to misconduct being tolerated. This is compounded by a lack of clear policies and uniform training." It further noted that: "The lack of clear standards leads to confusion about expected behaviour and also contributes to the normalisation of misconduct and "of people being unwilling to intervene or speak out."
Sex Discrimination Commissioner Kate Jenkins' report makes a number of significant recommendations for change, and now the onus is in the Federal Government to decide which of those recommendations it will adopt.
What happened to respect and tolerance?
However, while clear and enforced policies and procedures are paramount to ensuring any misconduct is reported, acknowledged, investigated and resolved, and that victims are appropriately supported, our politicians also need to use their own personal judgement, and begin to behave in ways which display much more respect and tolerance – for each other, for opposing views, for the jobs they are elected to perform and for the democratic process itself.
The current standard of behaviour, which is played out again and again in our media, is far from acceptable. The Australian people don't need more reports and investigations and statistics, any more than we need more platitudes from the leadership vowing to implement change.
What we need is individual accountability and a much, much higher standard of behaviour from our politicians themselves.
Receive all of our articles weekly
Author
Sonia Hickey
Sonia Hickey
is a freelance writer, magazine journalist, and owner of 'Woman with Words'. She has a strong interest in social justice and is a member of the
Sydney Criminal Lawyers®
content team. Sonia is the winner of the Mondaq Thought Leadership Awards, Spring 2022.