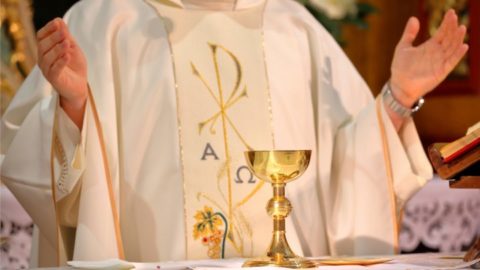 Former Adelaide Archbishop Phillip Wilson has walked free after a judge upheld his appeal against conviction for concealing a serious indictable offence – being sexual assaults committed by fellow priest and convicted child sex offender, James Fletcher.
The former Archbishop did not appear in court, but watched he judgement via audio-visual link from a remote location.
The successful conviction appeal meant the DPP's appeal against the leniency of Mr Wilson's sentence was refused.
Facing a maximum sentence of two years in prison, Mr Wilson had been sentenced to spend at least six months in home detention before being eligible for parole.
The background
The former Archbishop was charged in March 2015 with one count of concealing a serious indictable offence as a result of accusations he had covered up the actions of a notorious child sex offender.
That offender was priest James Fletcher, who was convicted in the mid-2000s of committing sexual offences against children in the New South Wales Hunter region in the 1970s.
One of Fletcher's victims, Peter Creigh, reported that he informed Wilson in 1976 at the age of 15 that Priest Fletcher had sexually abused him years earlier – when he was a 10-year-old altar boy.
Mr Creigh said he raised the matter again with Wilson some months later, but nothing was done. He said Wilson neglected to report the matter to police or to assist in their investigations years later.
Mr Fletcher was arrested and charged in 2004 with sexually assaulting another altar boy, and the ensuing investigation revealed a long history of molesting boys.
Fletcher was subsequently found guilty of the offences. He died in prison in 2006.
The appeal hearing
District Court conviction appeals are called hearings 'de novo' – which means the evidence is considered afresh.
These appeals typically involve the judge considering the Local Court transcript of evidence (testimony), the judgement and any exhibits tendered, before deciding whether the evidence was sufficient to establish the alleged offence/s.
Mr Wilson's criminal lawyers submitted that the prosecution had failed in the Local Court to prove beyond a reasonable doubt that their client was told about the abuse, that he remembered being told about it or that he believed it was true if he was indeed told.
Since the charges were laid against their client in 2015, the criminal defence team has reportedly made four different attempts in various courts for Wilson's case to be thrown out, arguing among other things that his diagnosis of Alzheimer's would make it impossible for him to face a defended hearing.
Appeal successful
Their final attempt was, however, successful.
District Court Judge Roy Ellis remarked that the former Archbishop was honest and consistent in his testimony, describing him as, "…clearly an intelligent and articulate witness."
The judge found Peter Creigh's evidence to be "inconsistent", finding the prosecution had indeed failed to prove its case to the required standard.
Mr Creigh broke down at the announcement of the decision, and victims' groups have expressed concerns it sets a dangerous precedents and will deter victims from coming forward.
Concealing a serious indictable offence in NSW
Concealing a serious indictable offence is a crime under section 316 of the Crimes Act 1900.
The section provides that:
"If a person has committed a serious indictable offence and another person who knows or believes that the offence has been committed and that he or she has information which might be of material assistance in securing the apprehension of the offender or the prosecution or conviction of the offender for it fails without reasonable excuse to bring that information to the attention of a member of the Police Force or other appropriate authority, that other person is liable to imprisonment for 2 years."
A 'serious indictable offence' is one that carries a maximum penalty of 5 years or more, which applies to most assault and sexual assault offences.
'Concealing a serious indictable offence' is a 'summary offence', which means it is dealt with in the Local Court, rather than committed to a higher court such as the District or Supreme Court.
New laws seeks to make it compulsory to report child sexual abuse
Laws have now been introduced in NSW will seek to make it a specific crime to fail to reduce or prevent a threat of child sexual abuse, or to protect a child from sexual abuse within an organisation.
The offence will be punishable by two years' imprisonment.
The laws are in response to findings of the Royal Commission into Institutional Responses to child sexual abuse, and are aimed at better protecting children while they are in the care of schools, churches, sports clubs and government organisations.
Failing to report known instances of child abuse will also be a crime under the new laws, and will carry a maximum sentence of two years behind bars, increasing to 5 years if there was an inducement not to report.
Catholic Church's reputation in tatters
Another high-ranking official of the Catholic Church, George Pell, is yet to stand trial over allegations of historical child sex offences.
A number charges against him have been dropped ahead of the trial, and Pell has taken a leave of absence from his senior position at the Vatican to attend court in Australia.
In August this year, it was reported that advertisements running in some Catholic publications including Catholic Weekly and Annals Australasia, have invited Pell supporters to make donations to a fund to "help pay Cardinal Pell's legal fees".
This year, Pope Francis de-frocked a Chilean Priest and publicly pledged a "zero tolerance" policy for sexual abuse in the church.
However, the Pope faced renewed criticism for suggesting the Catholic Church was being persecuted over claims of child sexual abuse.
He has not yet asked Cardinal Pell to resign, saying that he prefers to see justice run its course.
What now for Wilson?
Upon being found guilty earlier this year, the former Archbishop resigned his position.
He was, at the time, the highest ranking Catholic in the world to be convicted of covering-up child sexual abuse.
While the former clergyman has now been acquitted, it's unclear whether or not his position within the church will be re-instated.
The Crown has indicated it will appeal the decision.
Receive all of our articles weekly