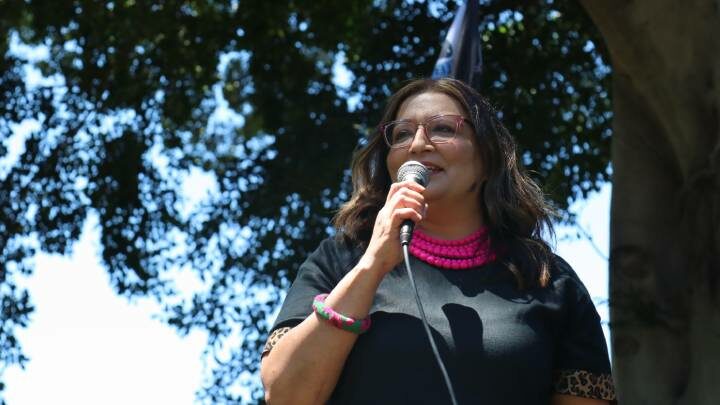 Australia prides itself on being a vibrant multicultural society. The nation isn't so proud of its high levels of racism, however.
But for some reason, those holding onto positions of governance – the majority being white and overwhelmingly male – aren't doing much about it.
This may have something to do with the fact that the nation was birthed via the dispossession of and genocide upon First Nations people, who today make up 30 percent of the Australian adult prisoner population, but under three percent of the overall populace of the continent.
Another key reason for the pervasive racism could be that following 1901 federation, parliament passed a series of bills ensuring only white people could migrate and remain on the continent. Even today, the decades-long White Australia Policy doesn't get called out as white supremacist in nature.
Indeed, the just released third Islamophobia in Australia report reveals that right after the 2019 Christchurch massacre – which saw an Anglo-Australia man gun down 51 Muslims worshipping at mosques – there was an uptick in the number of reported anti-Muslim incidents in this country.
Empowering all
So, in light of all this, Australian Greens Senator Dr Mehreen Faruqi last week released her party's vision for building an anti-racist and genuinely multicultural Australia.
Key aspects to the policy include providing federal politicians and public servants with anti-racism training, the development of a national anti-racism strategy, a strengthening of laws that criminalise hate speech, and establishing a national database on racial disparities and discrimination.
The Australian Greens also want to hold a referendum so that the public can decide on whether to amend section 44 of the Australian Constitution, so that individuals holding dual citizenship can run for federal parliament.
The flipside of the policy is that it seeks to establish a genuinely multicultural society, so that the diversity that one finds on street corners across the continent will be reflected in positions of power, whether they be political, social or financial.
Forging change
Senator Faruqi has long spoken out about the persistent racial abuse that she's been subjected to since entering politics.
The Greens politician became the first Muslim woman to ever sit in an Australian parliament in 2013, when she entered the NSW upper house. And in 2018, Dr Faruqi became the first Muslim woman senator this country has ever seen.
The senator underscores that in terms of overt racist incidents in public it's often First Nations women and women of colour who are bearing the overwhelming brunt of this attention that usually comes from complete strangers on the street.
Sydney Criminal Lawyers spoke to Greens Senator Mehreen Faruqi about the racism that's been occurring over the pandemic period, the less overt forms of racism the policy will tackle and the unique aspect to the racism that does pervade much of Australian life.
Last week you launched the Building an Anti-Racist Australia policy on behalf of the Greens, which includes producing a national anti-racism policy.
However, of late, the issue of racism has been somewhat overshadowed by the COVID pandemic. 
In your understanding, Dr Faruqi, how significant is the issue of racism in Australia right now? And why is this the right time to set such a policy in place?
The COVID-19 pandemic, of course, has been a very difficult time for people in Australia and across the world. And it has actually heightened the impact of racism in Australia.
We know that the Chinese Australian community was targeted and subjected to xenophobia and racism when COVID came to our shores.
In western Sydney, we saw how migrant communities were treated in a discriminatory way with overpolicing and a military presence.
And we saw how international students and migrant workers were actually left high and dry without any government support.
These are all examples of how racism has manifested during the pandemic, and we know racism causes immense harm and trauma to people, communities and to society.
The dispossession and violence against First Nations people that started on invasion, continues to this day within the systems and structures of this country.
And something that really worries me as well, is that, more recently, we've seen a rise in far-right extremism, with racism growing and actually becoming normalised.
So, to be very honest, every time is the right time to start building an anti-racist Australia. And it's high time that we start it now.
A key part of the Greens anti-racism strategy is to provide federal MPs and Commonwealth employees with anti-racism training.
Indeed, your party points out that in a number of cases, it's Australian leaders who've played a pivotal role in propagating racial prejudice.
Can you expand on this point?
Sadly, our parliaments are not at all representative of the diverse communities that live in our streets and suburbs. They're still full of what they call the pale male and stale.
But what's even worse is how some political leaders have been openly complicit in fuelling racism.
That's from putting up motions for the racist slogan "it's okay to be white" to talking about banning Muslim migration to the wearing of a burqa in the Senate.
Insults can be slung across the chamber, which can often be racist.
But there are other politicians, who even though they haven't been openly fanning the flames of racism, have been dog whistling about migrants and refugees for years. And then others stand on the sideline and remain silent.
All this has created a normalisation of hate and racism in society and so, it has to stop. There should be no more tinkering around the edges about this: it's time to have an honest reckoning with toxic racism.
It's time to challenge white supremacy, superiority and privilege in the echelons of our leadership, because MPs need to be forced to unpack their privilege: even with their white fragility, and even if it makes them uncomfortable.
It's time for them to learn about the racist, colonial past of Australia, and how pervasive it still is in institutions from justice to health and education.
That's the training the Greens want all MPs and all Commonwealth employees to undertake. We want to create more understanding and challenge the notion that the way we act in parliament and the way Australian institutions deliver services are colour blind – because they're not.
Another priority of the Greens is to strengthen hate speech protections or make its expression illegal in jurisdictions where it currently isn't.
Hate speech is one of the most overt forms of racism. Your policy, however, seeks to tackle all forms. So, what are some of the less obvious ways in which racism is playing out in the community?
Hate speech, especially on social media, is a form of racism that's been used quite extensively to attack people who some think don't belong in this country because they don't fit their image of what an Australian should be.
The less obvious forms of racism would include resume racism, where you're less likely to get called back for a job interview if you have a non-Anglo name. There are numerous studies in Australia that have shown this.
But, of course, there are even more direct forms of abuse and violence than just hate speech. These involve attacks on people of colour, especially Muslim women wearing hijab. They've been subjected to this quite often.
People don't usually think about government policies that discriminate against people of colour or Indigenous people.
For example, there's the cashless debit card, which I have not been shy in calling a racist policy. There's the overincarceration of First Nations people, with over 500 black deaths in custody. And then there is the cruelty with which refugees are treated.
There's also the growing threat of white supremacy and far-right extremism. At the end of the day, it was extreme right-wing Islamophobic ideology that motivated the terrorist on March 15 2019 in Christchurch, when an Australian man brutally killed 51 Muslims in mosques.
That is racism. And whether it's overt in hate speech or violence and abuse or other forms of racism that are under the radar, at the end of the day, racism does kill people.
You've spoken out about the online racism you've been subjected to as a public figure. The recently released third Islamophobia in Australia report reveals anti-Muslim prejudice continues to be of significance.
But, prior to this, there were periods where people from Asia were targeted and before that people from the Mediterranean were. And, of course, the Greens stipulate that any sort of anti-racism package must have First Nations people central to it.
From your perspective, why is this racist streak – which we don't normally like to label as white supremacy in this country – so strong?
The most recent report on Islamophobia is really scary for a lot of people living in this country, because it shows us how much it is rising and how quickly.
The report tells us that Islamophobia has quadrupled since the Christchurch mosque killings. You would have thought that after those killings, things would have gone the other way. But that's not the case.
This question you ask is one I've contemplated for some time, because it's not as if racism doesn't exist in other colonial countries, but it's the sheer pushback against recognising it in Australia, that's quite unique to us.
While the White Australia Policy was officially dismantled some decades ago. Its legacy is ongoing, and racism is widespread.
Australia has a real racism blind spot and for too long decisionmakers have chosen to pretend that we don't have a problem and people who highlight the impact and the existence of racism are attacked, marginalised and labelled divisive.
But it's racism causing the divisions in our community. The reason for that is that if people in power acknowledged that racism exists, they might be obliged to do something, which could involve sharing some of the power they hold, and they don't want to share that.
We also know that the corridors of power and the decision-making tables are full of privileged white people, many of whom are men. Most of these men have never experienced the corrosiveness of racism. So, it's quite easy for them to ignore it.
A few years ago, with the resurgence of the Black Lives Matter movement, countries around the globe were having conversations about defunding police and statues of imperialists were coming down.
But what shocked me was that over here, those who went to the rallies were blamed for spreading COVID, which we know wasn't true.
So, this real reluctance to even start a conversation is a real issue.
And lastly, Dr Faruqi, the Greens policy has two sides to it. The other being building a genuinely multicultural Australia.
This would include establishing a Multicultural Commission, as well as passing a Multicultural Act at the federal level?
So, what would a strengthening of multicultural Australia look like?
Multiculturalism in Australia is frankly skin-deep. The economic benefits of multiculturalism are being seen with the business advantage, as well as people bringing food and culture, and the major parties can call on these votes.
But the real issues that face us aren't being talked about, such as racism and exploitation at work. They have been unaddressed for decades.
Multiculturalism has to be more than politicians using communities of colour as photo opportunities during festivals, like Ramadan, Eid or Diwali, so they can show off the best multicultural country, when we know Australia is not that.
We know that multicultural people, people of colour and people from different ethnic backgrounds are locked out of parliaments and decision-making. That's a very sad indictment upon a country, where almost 50 percent of us are from somewhere else.
It's a hugely multicultural country, but you wouldn't know it if you worked at the workplace where I do.
So, the Multicultural Act and Commission are part of the change that will provide the framework for removing those barriers of participation to diverse communities in terms of socioeconomic and political life in the place we all call home.
Receive all of our articles weekly