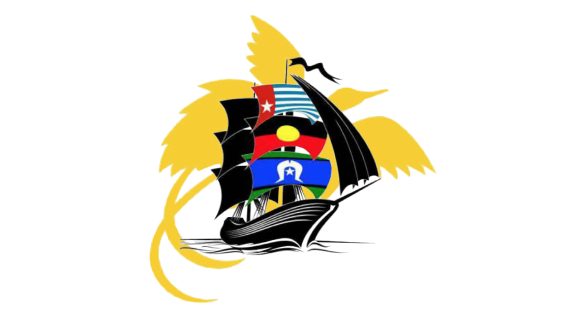 The Manus Freedom Flotilla is about to set sail from the lands of the Boon Wurrung people of the Kulin Nation and take a two and a half month journey to Manus Island with the aim of drawing global attention the 500-odd asylum seekers and refugees the government is still holding there.
The flotilla will launch from St Kilda Beach in Narrm (Melbourne) on 4 May. It will sail via Sydney, Brisbane and Cairns, before making its way onto Manus Island. Currently, the flotilla consists of five boats: one from Victoria, two from Tasmania and two from Queensland.
The boats will be crewed by First Nations people, West Papuans and non-Indigenous people, who are all sailing against the ongoing injustices that have been perpetrated upon the detainees, some of whom have spent as much as five years of their lives in inhumane limbo.
When these people first arrived on the island, they were greeted with a video featuring then immigration minister Scott Morrison. The devout Christian man explained to these people who'd fled their homelands that even if they had a valid claim, they would never be settled in Australia.
And just last week, it came to light that typhoid fever has broken out amongst the men now being held in three refugee transit camps on Manus. The Home Affairs Department promptly washed its hands of the situation asserting that it's "a matter for the government of Papua New Guinea".
Our neighbour under siege
This is the second freedom flotilla that core members of the group have organised. The first set out in July 2013 bound for occupied West Papua. And it successfully focused both global and national attention on the plight of the West Papuan people.
Since 1963, West Papua has been occupied by Indonesia. In 1969, a UN brokered farce of a self-determination referendum gave only 1,026 locals no choice but to vote for Indonesian rule, under threat of duress. And today, the region is one of the most militarised zones in the Pacific.
Since late December last year, Jakarta has been cracking down on West Papuan villages in Nduga regency. Images appeared online confirming that Indonesian forces had been using outlawed chemical weapons on the locals, while 1,500 villagers have been displaced.
Climate injustices
Another key aim of the flotilla is to raise awareness about climate justice struggles, such as rising sea levels. The thermal expansion of the ocean in the Pacific has already seen five islands disappear, while waters could engulf the island nation of Kiribati to the extent that it is soon uninhabitable.
And as those on the flotilla make their way north across the Pacific, they'll be engaging with locals who've been affected by colonial land exploitation, illegal logging, the emerging marine ecological threat of deep seabed mining, and the Morrison government's favourite project the Adani coal mine.
Sydney Criminal Lawyers spoke to Manus Freedom Flotilla logistical coordinator Izzy Brown about the injustices being perpetrated by the Australian government, the effect that colonisation has had on Indigenous people throughout the region, and the impact the coming voyage will have.
Firstly, the Manus Freedom Flotilla is going to set out from St Kilda on 4 May. Izzy, what's the purpose of the flotilla? What message is it trying to get across?
With the flotilla, we're trying to draw attention to the Australian government's brutal treatment of refugees.
We'll also be highlighting what's happening in West Papua. Some of the West Papuan refugees that have been on Manus are here in Australia working on the campaign.
And we'll be drawing attention to other issues along the way. So, we'll be going to areas that are affected by climate change, deep seabed mining, land grabbing and Adani.
On the way, we hope to do solidarity actions and work with people with the issues that they're facing. We want to draw the connections between all these issues and the Australian government's hand in them.
So, are there West Papuan asylum seekers on Manus at the moment?
Yes, there are. Some of them came in the 60s, 70s and 80s. And some of them managed to get PNG citizenship just a couple of years ago. There's a lot of them who have come across the border.
Australia was intervening back then. They were putting West Papuan refugees that came across onto Manus. There's a community that has been living there for a long time. And some of them are now in Australia as well.
There are quite a few West Papuan people who are participating in the flotilla.
Today, there are still around 500 asylum seekers and refugees being held at the three centres on the island: East Lorengau Regional Transit Centre, West Lorengau Haus and Hillside Haus. Some of them have been detained on the island for up to five years.
How would you describe the actions of the Australian government in holding them there?
What the Australian government is doing is criminal. They're holding people hostage. They're using innocent lives for their own political gain. It's time to stop and take action. And that's why we're going to such an extent to draw attention to this.
The way they're treating people is wrong. We've got to stop putting people in indefinite detention, even here in Australia, as well as Nauru. So, that's why we're taking direct action.
A number of the flotilla participants are First Nations people. They're speaking out against the government preventing asylum seekers on Nauru and Manus from coming to this continent.
What's their view on a colonial government imprisoning people to stop them from arriving on land that was never ceded?
Exactly. That's exactly the issue. It's their land. They should have the right to be able to welcome people to it.
It's because of the colonial government – and the apartheid that's in place – that Indigenous people can't welcome these refugees to this country.
We're still under colonial rule. And that's a really big issue that we're trying to draw attention to with this campaign.
We want to make that affiliation between what Australia has done in Papua New Guinea with the Indonesian occupation. How colonisation has affected Indigenous people across Australia and the Pacific and pull those links together.
The Aboriginal people should be able to welcome these people here if they want to. And our apartheid government is standing in the way.
The flotilla will arrive on Manus Island in late July. On the 22nd of that month, you'll be holding the Manus Solidarity Day of Action. What will take place then?
Uncle Kevin Buzzacott is the original founder of the first freedom flotilla we did to West Papua. He's given us ashes from the Aboriginal Tent Embassy and a kangaroo skin with a picture of everyone coming around the sacred fire and talking peace. He wants us to take that over.
We've also got loads of letters and gifts that other people have given us to take to the people on Manus. We want to present that to the refugees and the Manusian people as well.
We plan to hold an event where we can bring everyone together in a harmonious way. And we're hoping that people can do solidarity actions around the world at that time to really bring home that coming together for peace.
You'll also be presenting the asylum seekers on Manus with Original Passports, which are First Nations documents. In the past, some Aboriginal people have passed through Australian customs using them.
What will be expressed with this gesture?
This is an idea coming from Uncle Kev. He was saying that what we're trying to say is that we're welcoming them to our land. And the Australian government should not have jurisdiction over who can come and go from this country.
In 2013, your group sailed to West Papua, as the West Papua Freedom Flotilla. How was it received. And what would you say its impact was?
We got a lot of international media from it. The Australian government certainly showed their true colours. Julie Bishop said Indonesia had the right to bomb our boat. Bob Carr carried on and said that Australia would offer no consulate assistance. But, we went anyway.
Indonesia refused us visas. So, West Papuan exiled leaders here in Australia gave us West Papuan visa stamps in our Original Nations Passports.
So, it certainly hit a sore point, especially around the time of Sovereign Borders. We got a big response from our government and the Indonesian government.
It also really strengthened the solidarity with Indigenous Australians and West Papuans by taking the sacred waters from Lake Eyre and ashes from the tent embassy.
It was received in West Papua with massive marches and ceremonies. It was really amazing.
So, in terms of strengthening connections and getting a lot of airtime for the cause, it was a successful campaign.
Indonesian authorities have been cracking down on West Papuan villagers in the Nduga region of the occupied country. This has included the use of internationally outlawed white phosphorus munitions.
West Papuans have been living under a repressive Indonesian rule since the 1960s. Yet, the Australian government remains silent about their plight. What do you think about the government's lack of response?
Right now, there's a whole lot of refugees fleeing from Nduga. There are people – children – starving in the forest. That's happening now, and Australia has been silent on the issue.
It has had a bit of a run on SBS. But, in terms of the Australian government taking any action in solidarity with the West Papuan people, that's been non-existent.
Australia's been involved in training Indonesian troops, and funding the Indonesian government, which has been used on the military to carry out attacks on West Papuan people.
The Australian government's response has been disgusting. And it's been supporting the Indonesian government all the way.
That's why we need to continue taking action and draw attention to what's happening, especially with the latest phosphorous bombings in the villages.
Even with the response to the floods that happened recently in Sentani, no foreign aid was allowed in. A whole lot of people have been displaced because of those floods. The Australian government did nothing.
And lastly, Izzy, the flotilla is about to launch early next month. How can people support it?
There are lots of ways people can get involved. We're holding lots of fundraisers, gigs and events as we travel up the coast. We'll also be doing info nights when we arrive in different places.
We've got a crowdfunding campaign going at the moment. People can support that. Every dollar counts with every nautical mile up the coast. People can also donate food and supplies, as well as promoting the different actions that we do along the way.
If you're in a place that we're passing through, and you want to get involved and organise an event, we would love that too.
There's a lot of things people can do in terms of organising solidarity events once we're on the water. That will really help with the impact of the campaign.
Receive all of our articles weekly