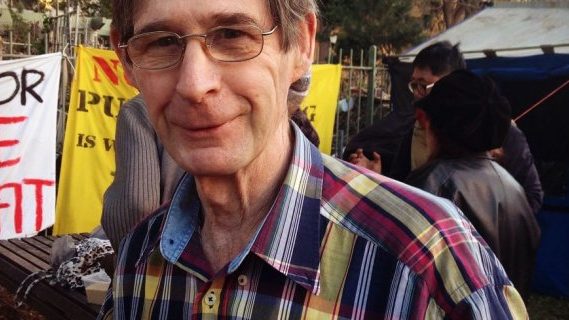 Waterloo Green is a set of six public housing towers set amongst an area of parkland in Sydney's inner city. It's home to about twelve hundred people.
From late June, the Waterloo Tent Embassy was set up in the southern corner of the park. It's been the headquarters of the Waterloo Public Housing Action Group (WPHAG), as they've been doing battle with the NSW Baird government over plans to demolish the existing towers and redevelop the area, replacing the public housing with privately owned high-rises.
It's not only Waterloo Green that's under threat. The whole of Waterloo Estate – a series of high and low rise public housing buildings between Phillip and McEvoy Streets – is designated for demolition.
About four and a half thousand people live in the estate and 70 percent of them are senior citizens. Ten thousand new dwellings will replace the public housing, and the state government has plans to build a new metro station in the area.
The WPHAG
The group has been running a petition since January which has gained widespread support both locally and across the state. The petition – that will be presented to the NSW parliament – is calling for negotiations, as the time for consultation is over.
Over its time in operation, the WHPAG has garnered the support of Sydney Lord Mayor Clover Moore, NSW Greens MP Jenny Leong and the Socialist Alliance Party.
There are currently 60,000 people on the waiting list for public housing in NSW, and the waiting time is around 10 years. Last year, the Baird government's proposed changes to the Public Housing Act drew broad criticism, as those amendments were seen to be whittling away at public housing tenants' rights.
As of last Sunday, the tent at Waterloo Green has come down, as organisers decided they'd gone as far as they could go from there. But the WPHAG continues its fight nonetheless.
Richard Weeks is the chairman of WPHAG. The former teacher – who's about to turn 70 – has been leading the group since it began in January this year. Sydney Criminal Lawyers® spoke to Mr Weeks about the group's campaign has been so far.
NSW Social Housing Minister Brad Hazzard sent a letter to residents at Waterloo Estate on December 15 last year. What did that outline?
Basically, the content of the letter was telling us that the minister was delighted to advise us that the Waterloo Estate would be redeveloped. Then down further in smaller paragraphs, it stated that the tenants will be moved out, the project would take approximately ten to fifteen years and that we'd all be able to come back again.
After about ten or fifteen years?
Yes. That's what it stated in the document. And it was pretty hard to get any information from the government department on the matter because they wouldn't comment on it. So people got a bit upset because there was not a great deal of transparency. It was a notice of intent and it appeared by the dialogue that it was quite obvious it was going to go ahead.
But in February 2016, Mr Hazzard held a meeting at one of the large community centres in Redfern and invited all the residents to attend. About three hundred attended the meeting, of all different nationalities. He then proceeded to announce what the project involved. Mainly talking about the relocation of the tenants – not much about the redevelopment. He was adamant that he was there to look after everybody and make life better for us.
People were generally being confused with this and some of them verbally attacked him for not being transparent and brought up old issues and mistrust of the government. And so the meeting itself was pretty much a non-event because nothing was achieved and there were a lot of irate people.
And what's the Minister done since that meeting?
Since then, he's set up an organisation called Connect, which is a transition body between housing and the government to advise the general public about what the redevelopment is going to involve. But the staff that does that, they really don't know much themselves about what's involved. What's it going to look like? What's sort of a redevelopment it will be? What's the density of the area?
Then rumours came down that there are going to be 75,000 people per kilometre as opposed to about 1,000. And everyone got visions in their minds that there's going to be a forest of wall to wall towers.
You started a petition in January this year. How has the support for that been?
Really good. We've exhausted the Waterloo area with signatures. But it was a petition that targeted the whole of NSW and we've moved into other housing estates around the state – out into country areas – and we're still waiting to get the volume of them back again. Then, we will be presenting them in parliament.
But bearing in mind, one of the main points on the petition was that we wanted negotiation not consultation, and more transparency.
How many signatures do you have?
I'm not quite sure how many we've got at the moment. We've got over 4,000 from this area. I'll probably have a better idea at the end of this month exactly how many we've got when we present them to parliament.
So who are the Waterloo Public Housing Action Group? And what have you achieved so far?
It's a committee set up to involve the people in the negotiations with the government.
So far, we've got a good response from it. Because the Land and Housing Corporation (LAHC) senior management approached us and asked what we wanted. And we've had several meetings with the director of LAHC and senior members of FACS.
I said there's only really two things we're concerned about with the petition. One is that we were considering a class action through the Civil and Administrative Tribunal with regards to maintenance. A lot of the maintenance problems we've had around here were attributed to the previous maintenance company that weren't doing their job properly. But since then the government has fixed that.
Through our negotiations a lot of this came to their attention and perhaps they weren't aware of it. I take my hat off to them. They asked me to hold off on the class action and they'd fix the problems.
And I said I want to have a discussion with the minister to negotiate some sort of way that he can be more consultative with the people in the area. Rather than go with the masses, he can go collectively through the various community groups and have a round the table discussion on it and get more transparency or more understanding of what's happening.
Well to date, he's done all of those things. He came to us, talked to us and we'll be having another meeting with him on September 8 to discuss it further.
And what's going to happen to the tenants of Waterloo Estate?
The government has told us no one will be move out for ten years. There will be some people moving out and then they'll be able to come back within ten years and that area will be able to be redeveloped. They'll be leap frogging everyone into their new homes on the estate to keep the community intact.
So will all the public housing buildings in the area be torn down?
Absolutely. They explained to us that they don't get grants from the federal government for public housing. They've also explained that out of the four and a half thousand people here, especially in the low rise and the walk-up buildings, if they pulled out two hundred people in those areas, they can replace that with accommodation for about 1,000 people.
And what about social housing in the area?
What they've told us is that 60 percent will be private, 30 percent will be social housing and 10 percent will be affordable housing.
[If the social housing], is the same as public housing we don't have a problem with it. But if it's going to be another form of community housing then we do have a problem, because then it's not run under the auspices of a government portfolio, a ministerial department, or even LAHC. It will be run by a private company. They can own the property and the land out right, which can interfere with the rate of payments for rent.
And lastly, what's the next step for WPHAG?
Negotiations. We've got them ongoing. And if they fail, we've got the petition that gives us voice in parliament. But when I raised the issue and we collected quite a large number of applications for a class action regarding maintenance and failure of duty of care, I gave my word I'd hold off on that. If we get negotiations with the minister and some assurance from the premier that what they discuss with us and what we can compromise on is beneficial to the project and to the community that would be thrown in the rubbish bin.
Thanks you very much for speaking with me today. And good luck with it all.
Well thank you for your input into it.
Receive all of our articles weekly
Author
Sydney Criminal Lawyers
Sydney Criminal Lawyers®
is Australia's Leading Criminal Defence firm, Delivering Outstanding Results in all Criminal and Driving cases. Going to Court? Call (02) 9261 8881 for a Free Consultation.