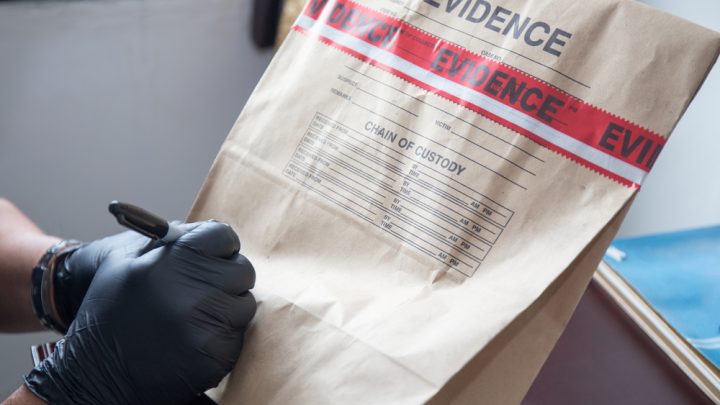 Police have a number of different ways they gather evidence against suspects.
While some are straightforward, others involve a more complex process that can potentially affect the reliability of the evidence obtained.
Convictions that rely on a confession by the accused may appear clear cut, but depending on how the confession came about, the evidence in these cases can be less straightforward than may be assumed.
A number of recent high profile convictions in Australia, most notably those of Brett Peter Cowan, the killer of Queensland schoolboy Daniel Morcombe, and convicted Tasmanian murderer Steven Standage, have arisen from confessions which were obtained in Mr Big-style undercover operations.
But is it fair to rely on evidence gathered in this way, or should it be declared inadmissible?
What are Mr Big style operations?
"Mr Big" is a term that has been given to a specific police undercover method to extract a confession from suspected criminals, especially murderers.
First pioneered by Canadian police in the 1990s, Mr Big methodologies have been used to convict suspects for a range of serious crimes, and are used most commonly in cold cases.
Police work to trap the suspect into making a confession by posing as criminals or gang members and promising them membership or entry to a gang.
Usually the suspect is told they need to make some kind of confession of their criminal experience to obtain the gang leader's trust, and prove themselves.
These operations can continue for years, with alleged criminals being pulled into gangs and being showered with attention and gifts until they eventually make a confession.
They may form close relationships with one or more undercover police officers, and take part in false drug deals, robberies and assaults, during the operations.
In the case of Brett Cowan, undercover police operatives worked for years to entice him to not only confess to killing Daniel Morcombe, but to take them to the location of his remains.
In other cases, suspects have been offered financial gains or the promise of work in exchange for confessions, or have had threats of benefits including work being taken away if they didn't confess.
Although this type of police work has been around for decades, recent rulings by the Canadian government have raised serious issues around its reliability and viability as a means of obtaining confessions.
What are the problems with this type of evidence?
Last month, the Canadian High Court made a ruling that evidence obtained in Mr Big style operations was unsafe and therefore inadmissible in court unless the prosecution could justify its use.
This ruling is expected to have implications for a number of previous cases, and those which are yet to be finalised.
The basis for the ruling was due to the fact that in order to get the confession by this route there is often a large amount of manipulation, persuasion, and in some cases intimidation by police, which could lead to unreliable confessions. Many criminals convicted by this method state that they made false confessions under pressure and with the enticement of money, social acceptance or entry into the gang.
The ruling by the Canadian Supreme Court was made after an appeal on behalf of convicted murderer Nelson Lloyd Hart.
In 2007, Hart was convicted of murdering his twin daughters after he made a confession to undercover officers. His conviction was overturned based on questions surrounding its reliability and the lack of any other supporting evidence to demonstrate his guilt.
A number of Australian lawyers have publicly agreed with the Canadian ruling, including Melbourne Law School professor Jeremy Gans, who said that it is easy for police to go too far when trying to obtain a confession – which can lead to inaccurate or unreliable confessions being made.
The theory behind enticing a suspect to make a confession and providing an apparently safe environment for them to do so makes it easy for those under investigation to be lured into exaggerating or making false claims in order to receive the benefits.
Although the problems raised by the Canadian Supreme Court can be applied to police operations all over the world, there are no plans to make confessions from Mr Big operations inadmissible in Australia.
In 2007 a challenge to the High Court in Australia was overturned, and the court ruled that evidence obtained from Mr Big-style operations was admissible in Australia in spite of the obvious risks of inaccuracy and false confessions.
The ruling by the Canadian Supreme Court will again open the discussion on the problems surrounding Mr Big-style operations, and it will be interesting to see if it leads to similar changes in Australian courts in time.
What do you think, should evidence gained from Mr Big operations be used to secure convictions against suspects, even though it might appear that the confession was made to gain entry into a gang or to obtain come sort of other benefit?
Receive all of our articles weekly