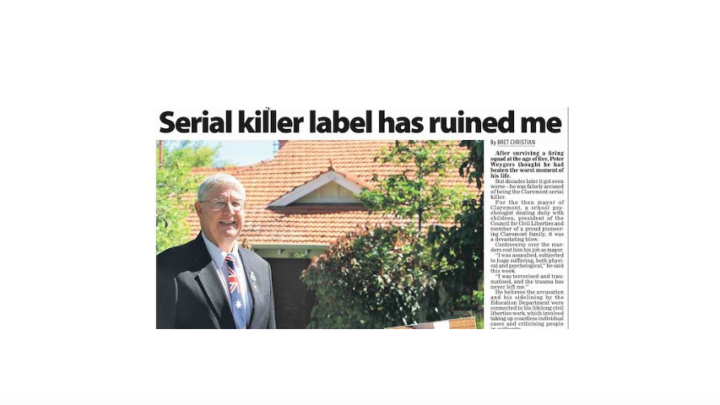 The long unsolved mid-1990s Claremont murders are indicative of a much wider crisis of often lethal, violent crimes perpetrated against women in the Australian setting.
Over a 15 month period commencing in January 1996, three young women went missing whilst on nights out in the wealthy Perth suburb, with only two of their bodies ever being located.
In September last year, more than two decades after the killings took place, Perth technician Bradley Robert Edwards was convicted over the deaths of 23-year-old Jane Rimmer and 27-year-old Ciara Glennon, with the killer now in his early 50s subsequently sentenced to life imprisonment.
However, the WA Supreme Court found there wasn't enough evidence to convict him with the murder of 18-year-old Sarah Spiers, whose remains have never been found.
The Western Australian Police Force (WAPOL) investigation into the matter was one of the largest criminal inquiries in this nation's history, and as per the usual practice of police forces across the nation, several persons of interest – besides Edwards – were named publicly.
One of those individuals was then Claremont mayor Peter Weygers. And as is the case so many times after police publicly call out someone in this manner, the long-term councillor's reputation suffered gravely despite his innocence. And this included losing his seat in office in 1997 council elections.
Life destroying stigma
"Weygers name was instant mud throughout Perth and WA, and to some people it still is," said Civil Liberties Australia (CLA) CEO Bill Rowlings. "There was no way he could ever be re-elected to local government office again after serving for more than a decade as mayor."
Not only did Weygers hold that position, but he was also the president of the WA Council for Civil Liberties. And this meant that he argued against some aspects of the response to the murders that would have impacted citizens' civil liberties in general, which led to further derision.
"Weygers state parliament ambitions were dead in the water," Rowlings further told Sydney Criminal Lawyers. "The Council for Civil Liberties of WA was turned into a pariah organisation, which lasted for 20 years before a new organisation – Civil Liberties Australia – could gain a foothold."
In a 2016 Cambridge Post article, Weygers told the paper that as well as losing his position as mayor, he'd been assaulted over the claims, and he continues to suffer both physical and psychological trauma. And not only that "the good name of civil liberties" had been attacked through him.
Rowlings recalled that when he visited Perth in 2007 to set up CLA in that state, he found that the first thing people raised when mentioning civil liberties was Weygers, as the man continued to suffer the "person of interest stigma" despite the investigation involving him having ceased long ago.
A practice of convenience
The 2016 NSW Police Force Media Policy sets out what information can be publicly released during an investigation. This includes descriptions of suspects if it doesn't hinder investigations. It also stipulates that information implying someone not charged is guilty should never be released.
However, the policy specifically mentions persons of interest only in terms of releasing their photos. And this is in relation to cases where a person not known to police is captured in an image, like CCTV footage, in the vicinity of a crime taking place, and officers are seeking to find them.
According to Rowlings, in cases like Weygers, police are naming them to put pressure on the individuals, as they want to see if it leads to a response, such as "fight or flight".
"And they frequently do it on the slightest of reasons, not even on reasonable suspicion," he added, "though the practice is still not justified even if that level was established, because it is just suspicion, and no more."
Accusations after acquittal
"The instant a person is named by police their good reputation is shattered – gone forever," Rowlings continued. "People read the headlines, and never read the follow-up five years later when police have been forced to pay compensation for the errors of their ways."
The civil liberties advocate pointed to the example of WA barrister Lloyd Rayney, who was charged over the 2007 murder of his wife, Corryn Rayney.
The lawyer was subsequently acquitted of the murder in 2012, and the following appeal of the decision was dismissed the next year.
However, Rowlings advises that during a subsequent 2017 civil compensation case over the defaming of Rayney, "senior WA Police were still saying they thought he was guilty".
Yet, Rayne went on to be awarded one of the largest compensation claims in Australian history: $2.62 million.
Holding them to account
CLA wrote to WA police commissioner Chris Dawson in January calling on WAPOL to publicly apologise to Weygers.
It also recommended the practice of naming persons of interest be brought to an end, noting that it's estimated to result in WAPOL having to hand over between $1 to $2 million in compensation payouts annually.
This is part of a broader CLA campaign calling for an end to police naming persons of interest nationwide. It claims that there is no need for the practice to continue, as police can announce that they're looking for "someone", rather revealing their name under flimsy circumstances.
However, getting the various state and territory police forces across Australia to agree to cease the naming practice might be difficult, as while it can destroy the lives of those innocent people named, this "bullying tactic" obviously serves police interests.
So, Rowlings recommends making police forces and individual officers directly accountable for their actions, rather than simply getting away with ruining citizens' lives out of convenience and then letting the public compensate their victims.
"The best solution is to make the police force – WAPOL in this case – responsible for paying the compensation out of their annual budget," the CLA chief executive suggested.
"A system whereby the irresponsible officer, who makes the 'suspect' claim, also has to pay some of the compensation, would quickly shut down this bad habit police in Australia have adopted over the past couple of decades," he concluded.
Receive all of our articles weekly