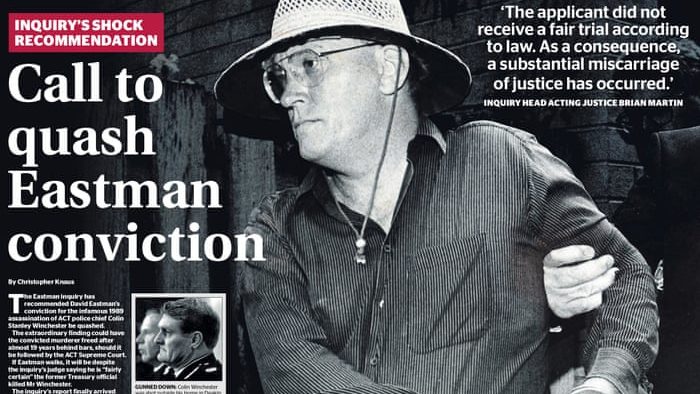 An ACT Supreme Court jury found David Eastman not guilty last November of the assassination-style killing of AFP assistant commissioner Colin Winchester. The police officer was gunned down as he was getting out of his car in the Canberra suburb of Deakin on 10 January 1989.
This was the second time Eastman had stood trial over the murder of the ACT chief police officer. The now acquitted man was originally convicted of the crime in November 1995, which saw him sentenced to life imprisonment, and subsequently serve close to 19 years behind bars.
Eastman unsuccessfully appealed his conviction on a number of occasions. And a judicial inquiry in 2005 found that he was fit to stand trial. However, a second inquiry ruled that it wasn't a fair trial and Eastman's conviction should be quashed, which the ACT Supreme Court did in August 2014.
Headed by Acting Justice Brian Martin, the second judicial inquiry asserted that there had been a miscarriage of justice, as "the issue of guilt was determined on the basis of deeply flawed forensic evidence in circumstances where the applicant was denied procedural fairness".
And 73-year-old Eastman is now set to sue the ACT government for wrongful conviction, under the ACT Human Rights Act. This will be the first time damages have been sought against a wrongful murder conviction in an Australian jurisdiction under the provisions of rights legislation.
Flawed evidence and non-disclosure
"The David Eastman case shows the classic symptoms of wrongful conviction," Civil Liberties Australia CEO Bill Rowlings told Sydney Criminal Lawyers.
"There's over-eager police with tunnel vision calling in dodgy forensic 'expertise' desperate to charge someone due to community pressure, combined with overwhelming mass media coverage before and during a trial, and a prosecution that fails to abide by the rules," he explained.
The "deeply flawed forensic evidence" Justice Martin referred to in his May 2014 report was that provided by forensics expert Robert Barnes, who put forth that he'd found gunshot residue in Eastman's car with a profile matching gunshot residue found at the scene of the crime.
However, the inquiry found the residue evidence was based on faulty methodology that could link the residue in Eastman's car to the scene, as well as a number of other rifles. Plus, the prosecution failed to disclose that other experts had raised doubts about Barnes' evidence at the time.
"All that culminated in a misinformed jury delivering a guilty verdict on skewed evidence that cost an innocent man 19 years of his life," Rowlings made clear. "He served most of those years in NSW's toughest jail: Goulburn."
A costly retrial
As Eastman's conviction relied on flawed evidence, and the still admissible evidence against him was slim, Justice Martin recommended that his conviction be quashed and he not stand retrial. However, on reversing the verdict, the ACT Supreme Court left the question of retrial up to the prosecution.
"A state authority – the ACT DPP in this case – forced a costly retrial to try to salvage something from the wreckage of the police bungling and the legal errors," Rowlings emphasised, adding that the failed retrial, along with the wrongful conviction and appeals, cost taxpayers' more that $30 million.
The long-term civil liberties advocate further outlined that "if only politicians, police and bureaucrats could learn to admit they sometimes get it tragically wrong", then a great cost to taxpayers and Mr Eastman himself could have been avoided.
Setting a new benchmark
According to Rowlings, the Eastman compensation case could set a new precedent for "much higher" payouts, than those issued in the past, as it will be the first time such a case has been based on "clearly legislated legal rights" that the state has already admitted to breaching.
Section 23 of the Human Rights Act 2004 (ACT) provides that an individual "has the right to be compensated" if they've been punished over a conviction that's subsequently reversed on the grounds of new evidence that "shows conclusively that there has been a miscarriage of justice".
Rowlings pointed to several similar cases, including that of Henry Keogh, who was paid $2.6 million by the SA government, after serving 19 years in prison for a murder he didn't commit, and that of Lloyd Rayney, who the state of WA paid the same amount over a false murder conviction.
And he also cited the case of Sue Neill-Fraser, who's "in her 10th year of wrongful imprisonment in Tasmania". Ms Neill-Fraser last month lodged a notice to appeal her conviction over the 2009 murder of her partner Bob Chappell.
"Eastman is lucky that he lives in the ACT," Rowlings said, as he can "take action under its Human Rights Act to force appropriate compensation for the government taking away his personal liberty and other rights for nearly 20 years".
A lack of rights guarantee
The Eastman case highlights the fact that Australia has no legislation protecting citizens' rights at the federal level. Currently, the ACT and Victoria are the only Australian jurisdictions to have enacted bills that protect rights under the law, while Queensland has one coming into effect next January.
Indeed, Australia is the only western democratic nation that doesn't have a bill of rights at the national level, which means not only are citizens' rights and liberties not guaranteed under law, but government can legislate void of any proper checks to ensure human rights standards are met.
Mr Rowlings explained that a national charter of rights and responsibilities is well overdue in this country. And such legislation would work to clarify which rights are protected, as well as serve to hold the state and the elites accountable when abuses of power occur.
"Citizens of New Zealand, the UK, Canada and the USA all have such a bill of rights," Rowlings concluded. "A government with compassion for its people would have enacting a bill of rights as the number one national priority."
Receive all of our articles weekly