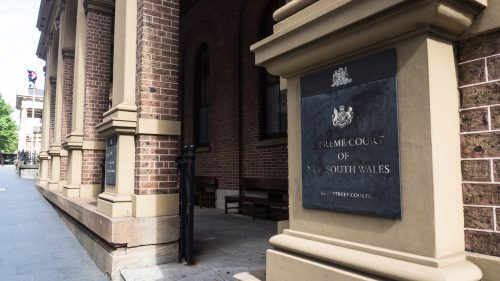 Former Auburn Deputy Mayor Salim Mehajer was sentenced in June 2018 by Her Honour Magistrate Shurr in Downing Centre Local Court to spend a full term of 21 months in prison, with a minimum term of 11 months.
The sentence was for 77 counts of electoral fraud stemming from a 2012 NSW Government election, when Mehajer and his family were found to have had bombarded the Electoral Commission with a large number of "suspicious" forms which were later determined to be false.
The failed businessman already had a criminal history – having been found guilty of assaulting a taxi driver and a reporter.
He is also facing charges of drug supply, perverting the course of justice and making false statements.
Applications for bail
Magistrate Shurr initially refused Mr Mehajer's bail application, which was made immediately after his criminal defence lawyers filed an appeal against their client's conviction and sentence.
Mehajer made a further bail application before Her Honour Judge Syme in Downing Centre District Court the next month, which was refused.
Yesterday, Mr Mehajer's Supreme Court Bail Application came before His Honour Justice Davies who, after receiving materials and hearing submissions, found that:
"The offences entirely bear out Judge Syme's assessment that the applicant has an arrogant disregard for the law".
"In my opinion, his behaviour in custody resulting in the custodial offences mentioned is a clear indication that the applicant is not prepared to abide by the law or by rules or regulations."
His Honour noted that since his previous bail application, Mr Mehajer had been cited for:
Assaulting a prison officer,
Refusing a drug sample or failing a drug test,
Illegally using a phone or fax,
Illegally delivering or receiving an article,
Disobeying a reasonable direction, Failing to comply with routine, and
Actively avoiding routine.
Mr Mehajer remains remanded in custody until the hearing of his appeal
End of the road for bail?
Section 74 of the Bail Act 2013 prohibits a person from making a further bail application in the same court for the same offence unless he or she establishes grounds for the application.
The grounds for a further application are that:
the person was not legally represented when the previous application was dealt with and the person now has legal representation, or
material information relevant to the grant of bail is to be presented in the application that was not presented to the court in the previous application, or
circumstances relevant to the grant of bail have changed since the previous application was made, or
the person is a child and the previous application was made on a first appearance for the offence.
Additionally, section 67(1) of the Act provides an avenue for a bail application in the New South Wales Court of Criminal Appeal (NSWCCA) – which is a division of the Supreme Court – after a refusal of bail by the Supreme Court.
The section allows for a person to have a fresh hearing before three Justices of the NSWCCA, which will be successful if two of the three Justices grant bail.
An application can be made where:
(a) a new trial has been ordered but has not commenced,
(b) an order has been made under section 8A(1) of the Criminal Appeal Act 1912 to continue committal proceedings,
(c) a stay of execution of a conviction is in force,
(d) a High Court appeal is pending, or
(e) a bail decision has been made by the Land and Environment Court or the Supreme Court.
Mr Mehajer's situation may fall under subsection (e).
If your loved-one is in need of a bail application, call us anytime on (02) 9261 8881 to arrange a free first conference at one of our nine office locations, including the Sydney CBD, Parramatta and Liverpool.
Receive all of our articles weekly