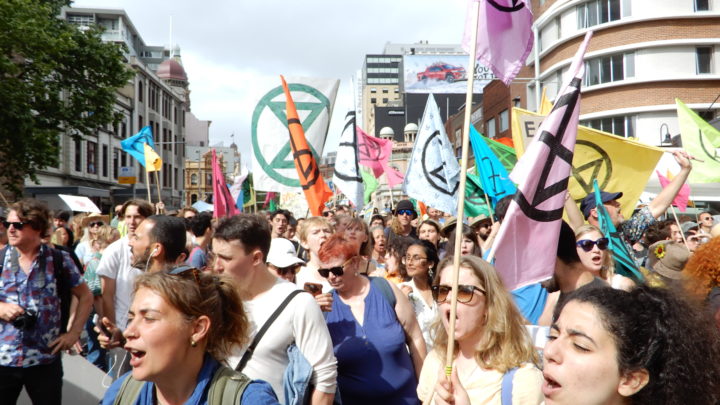 A week-long series of protests calling for effective action on the climate crisis, Spring Rebellion kicked off on Monday. Led by climate activist group Extinction Rebellion, a coordinated series of demonstrations will utilise nonviolent direct action to get the message across.
Extinction Rebellion (XR) protesters gathered at Central's Belmore Park on Monday afternoon to disrupt business as usual in the Sydney CBD. And sit-ins were staged at the five-pronged intersection at Railway Square, as well as on Broadway close to Central Park.
It was the second sit-in that saw NSW Police Riot Squad officers move through the sea of demonstrators ordering them off the thoroughfare. But, a large number of climate strikers resisted, and those who did paid with their liberty.
Around 30 people put themselves on the line, attempting to force the Morrison government's hand on its refusal to take worthwhile action on the pending climate and ecological crisis. The arrested included a Blue Mountains scientist in his mid-70s and four teenage girls under 16 years of age.
It's time for civil disobedience
The UN Intergovernmental Panel on Climate Change (IPCC) released a report last October that outlines humanity only has until 2030 to make drastic changes to greenhouse gas emissions so as to keep global temperatures from rising above 1.5 degrees Celsius.
Extinction Rebellion is a global movement that aims at bringing a halt to the climate emergency by using nonviolent acts of civil disobedience. It declared an open rebellion in the UK in October last year. And in April this year, it brought sections of London to a halt for over a week.
The XR demands are that the government declares a climate and ecological emergency, that it takes action to bring greenhouse gas emissions to net zero by 2025, and that Citizens' Assemblies are set up to lead government on decisions around climate justice.
XR chapters began forming across Australia soon after the movement began in the UK. XR researchers have asserted that around 3.5 percent of the population need to mobilise on the issue in order to bring about effective change.
It's time for rebellion
Along with their actual bodies, XR mobilisers on Monday used a bright pink rainwater tank filled with protesters locked inside to block traffic on Broadway. It was drawing attention to the rivers that have run dry in the Murray-Darling region.
The Spring Rebellion is a global event. Prior to Sydney, demonstrations began in New Zealand. Then a wave of XR actions spread out across Australia, and onto countries such as India, the US, and right across Europe. And these events will continue for the rest of the week.
Sydney Criminal Lawyers spoke to Extinction Rebellion spokesperson Elly Baxter just after the demonstration about what else is in store for Spring Rebellion, the state of the environment across the globe, and her thoughts on Peter Dutton's desire to see XR rebels serve time.
So, the protest today that gathered at Belmore Park and proceeded to occupy the intersection at Railway Square and a further section of Broadway marked the first action of the Spring Rebellion. Elly, how would you say today's protest went?
It wasn't the first action. The first action was the picnic at Farm Cove. It was a nondisruptive, family-friendly action.
It was specifically at Farm Cove, because based on the IPCC predictions, it will be underwater by the end of the century. So, we had this beautiful family picnic. And there were children playing there, where within their lifetime it will be underwater.
That event was really about community and regenerative culture, which is critical to Extinction Rebellion's purpose.
This afternoon we had the rally at Belmore Park, which was followed by the march and sit-ins on the street, as well as the deployment of a rainwater tank that some rebels were locked into. And as part of that action, we saw more than 30 arrests.
As you've said, around 30 demonstrators were arrested. Why would you say they were willing to be taken into custody like that?
People have gotten to a point where they're so frustrated and frightened about the potential of the climate and ecological crisis that they're willing to sacrifice their liberty to bring attention to the state that the world is in.
Governments are refusing to act. We've tried every regular track. We've signed petitions. We've written letters. We've met with our local members. We've gone to rallies. And it hasn't worked. Emissions just keep going up.
Until the government steps up and takes drastic action on the climate emergency, we will continue to act, because we have no choice.
Today was just the first day of the week-long Spring Rebellion, what else is planned to take place?
On Tuesday morning, we'll be declaring a Bee-Mergency. It's all about bees: how critical they are for our ecosystems, and the unique threat that they're under due to the climate crisis.
They're suffering from colony collapse. Their habitats are being destroyed. And they're far more susceptible to diseases.
What's so important about bees is not just honey, but they're the pollinators that keep our crops growing and cultivating. So, without bees our farmers are absolutely ruined, and we can't grow enough food to feed humans.
That's why bees are so important. And we are having a special action for them, led by a contingent of beekeepers, who have just come down from the Mid North Coast.
Extinction Rebellion is demonstrating against the lack of action on the climate crisis. Just how dire would you say things are right now?
At the moment, based on the Intergovernmental Panel on Climate Change report, we're pretty much locked in to 1.5 degrees of warming, which is awful. But, it is to some extent manageable.
But, what we're on track for is more than 4 degrees warming, and that's not compatible with life. We are facing the sixth mass extinction in the Earth's history. And we are losing 200 species to extinction every single day.
It is so serious. It is so dire. The Artic is on fire. The Amazon is on fire. Dubbo is about to run out of water. We cannot express more clearly how serious this is. And our government brings lumps of coal into parliament and treats it as a joke.
As you've just mentioned, Scott Morrison took a lump of coal into parliament in a gesture of support of the fossil fuel industry. How would you rate the performance of his government when it comes to climate change?
What's so clear is that we're an international disgrace. He was not even welcome to speak at the climate change conference that the UN held.
The amount of emissions we produce per capita is among the highest in the world. And you'll hear lines like 'Australia is only responsible for 1.3 percent of emissions. But, we export more coal, more fuel, more iron ore than almost any other country in the world.
Our exported emissions are somewhere between 12 and 17 percent of global emissions. We need to leave this stuff in the ground. And we're not.
We're an international laughingstock.
Have you seen that the NSW state government is moving to pass laws that would prevent courts and planners from stopping coalmines from going ahead on the grounds that the exported emissions – scope 3 emissions – would damage the climate further?
Scope 3 emissions are a really critical part of environmental planning. And we're deeply concerned about that legislation.
For example, the mine in the Bylong Valley was knocked back due to scope 3 emissions. That was an extremely important step forward, in terms of at least slowing the growth of carbon emissions.
If this was to come through, it makes a mockery of environmental protection laws. It's a joke. It's a rubber stamp to allow multimillion-dollar vested interests to pillage the Earth and just produce more and more carbon.
Peter Dutton recently said that he thinks the laws should be changed so that climate activists who interfere with business as usual face mandatory sentencing and have their welfare payments cut off.
What do you think about these suggestions from the home affairs minister?
I'd like to see the High Court's take on people's welfare payments being cut off for peaceful protest, as a start.
But, look, those statements are simply the most authoritarian and illiberal statements that I have every heard from a government minister. They're appalling.
The cornerstone of democracy is the right to protest. The government is supposed to report to us, the people. At the moment, they're reporting to fossil fuel companies, and vested interests. And it's not good enough.
And lastly, where do you see this all heading from here? Elly, should Dutton get used to these sorts of actions?
We're not slowing down, that's for sure. We see mines continuing to be approved. We see towns running out of water. We see people being dispossessed from their lands.
We won't be stopping.
More information about actions taking place across Sydney as part of the Spring Rebellion can be found here.
Last updated on
Receive all of our articles weekly