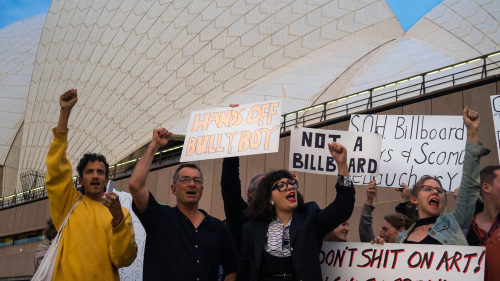 The mid-April climate emergency protests in London shut down parts of the city for over a week. Instigated by the Extinction Rebellion (XR) movement, these acts of nonviolent civil disobedience led to the arrests of over 1,000 protesters. And local police had to admit they didn't know how to cope.
XR is a growing global movement. And as things continue to warm up climate-wise, action on the street looks set to heat up as well. The most potent example is the Global Mass Strike for Climate, which is set to take place in around 150 countries worldwide on 20 September.
Of course, demonstrating in Australia is nothing new. In 1970, nationwide Vietnam War rallies saw 200,000 people march, which signalled the end of Australian involvement in the conflict. However, in 2003, when 600,000 people took to the streets over the invasion of Iraq, little changed.
But, Australian governments do take seriously the power to bring about change that protests can muster. And that's why over recent years, there's been a trend amongst them – including the Coalition government in NSW – to enact laws to give them greater capabilities to break up rallies.
So, as more people are mobilising right now – and they're willing to put themselves on the line and get arrested for the cause – it's an advantageous time to swot up on the rights and responsibilities of protesters.
The elusive right to protest
"In NSW, there's no express right to protest," said Harry Wynter, a member of the Extinction
Rebellion NSW legal working group. "But, there are various state, federal, and constitutional rights associated with protest actions."
As examples, Mr Wynter pointed to the implied right to freedom of political communication contained in the Constitution, as well as the common law right to public assembly. "If you read these rights together, they may take the form of a lawful protest action," he made clear.
In terms of ensuring a protest is legal, Wynter explained that under section 23 of the Summary Offences Act 1988, organisers can lodge a form with the police commissioner, notifying them of the intention to hold a "public assembly" in cooperation with police.
Although, "this doesn't offer any special protection for protesters to break the law," Wynter advised, "so individuals still have to be wary of their general conduct."
Falling short of the law
There are a number of offences a protester is more likely to break. These include resisting or hindering police, obstructing traffic, offensive conduct, and unlawful assembly, which is five or more people compelling another to do something, or stopping them from doing what they must do.
Although breaching the peace is not an actual offence under NSW law, police are empowered to arrest and detain people to prevent it. A breach of the peace can include loud noise and disruptive behaviour. But, as it's not defined in the police powers legislation, it can lead to misunderstanding.
The legislation that contains NSW police powers to arrest and search is the Law Enforcement (Powers and Responsibilities) Act 2002 (NSW), which is also known as the LEPRA. Since 2005, it's contained part 6A, which confers police emergency powers to deal with large-scale public disorder.
These wide-ranging powers were a response to the 2005 Cronulla riots. And while they're not supposed to be used on peaceful protests or industrial actions, they were invoked at the officially authorised 2008 Camp for Climate Action protest against the expansion of the Newcastle coal port.
Taken into custody
Section 99 of the LEPRA outlines the circumstances in which police officers can arrest people without a warrant. These include preventing an offence, stopping a person from fleeing, suspecting that identification information provided is false and to protect the safety and welfare of others.
An officer can use as much force as is necessary to arrest a person. So, if they struggle, a greater use of reasonable force can be legally applied. Although, unreasonable force constitutes an assault. And an officer may handcuff an arrested person if they're concerned they may try to escape.
Resisting arrest is an offence in NSW. Section 546C of the Crimes Act 1900 (NSW) stipulates that resisting police is a crime that carries penalties of up to 12 months in prison and/or a fine $1,100. Struggling, spitting at police and making threats can all constitute this offence.
On arrest, an individual is required to truthfully provide their name and address. An arrested person does not have to answer any initial questions or undergo an interview, and it's best not to. The first thing an individual should do under these circumstances is get in contact with a good lawyer.
Suspect on reasonable grounds
Section 21 of the LEPRA stipulates that an officer can stop, search and detain an individual without a warrant if they suspect on reasonable grounds that the person is carrying illegal drugs, a dangerous weapon, stolen property, or anything used, or intended to be used, in a crime.
An officer must have a reasonable suspicion to search a person. And this has to be based in fact, so it's a good idea to ask what the reason is. Reasonable grounds to search a person can't be looking dodgy or the way that they're dressed, or even if they're in an area known for crime or drug use.
Section 27 of the LEPRA allow officers to search an individual following their arrest if they reasonably suspect they're carrying something that presents a danger, could assist escape, has been used or is intended to be used in committing an offence, or is evidence of a crime.
And when it comes to mobile phones, officers do have the power to seize them, but only after they've either carried out a search or an arrest. However, if police want the password of a device, they must apply for a court order to be legally able to demand it.
The dreaded strip search
The use of strip searches is on the increase in NSW. And the NSW Police Force has admitted that due to the unclear laws set out in the legislation, officers have been routinely breaching protocol when it comes to this highly invasive and traumatic procedure.
Section 33 of the LEPRA provides that searches must be carried out in an enclosed area and not in view of anybody of the opposite sex. Body cavities must not be checked. The search shouldn't involve the removal of any clothing unnecessarily and an officer should never touch an individual.
The golden rule when undergoing a search of any kind is never give consent. The reason for this is later down the track if the search is found to have been carried out illegally, then having provided consent overrides this finding and makes it legal.
"Only rebellion will prevent an ecological apocalypse" *
As for Extinction Rebellion demonstrations, Mr Wynter explained that one of the core principles of the movement is nonviolent civil disobedience. And he encourages people to undertake training in nonviolent direct action with a local XR branch. This training includes what to do on arrest.
"Ideally, XR will have criminal lawyers on stand-by to advise protesters who are arrested before they give statements to police," Wynter concluded. "Although, we're still working on that capacity. Anyone with experience who would be willing to help is encouraged to get in contact."
*Quoted from an article by political activist George Monbiot
Receive all of our articles weekly