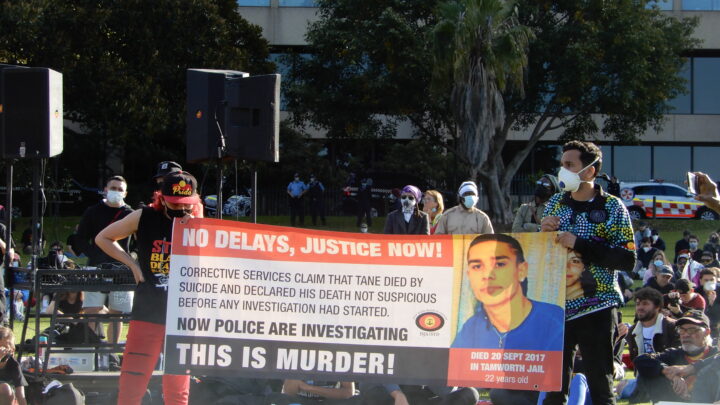 Colin and Nikola Chatfield were two of the many family members who stood before the 2,000 strong crowd at Sydney's 5 July Stop Black Deaths in Custody rally to speak out about the death of their son, Tane, in a NSW correctional facility.
Just after 9 am on 20 September 2017, Tane Chatfield was found hanging in his cell at Tamworth Correctional Centre. The 22-year-old Gamilaraay, Gumbaynggirr and Wakka Wakka man subsequently died in a hospital bed two days later.
This week saw the coronial inquiry into the young man's death in custody take place at the NSW Coroners Court in Lidcombe, with Tane's parents appearing before the press on the morning of the last day of proceedings to declare the prison system killed their son.
Corrective Services NSW has always maintained that there was nothing untoward about the death of the young father-of-one. However, at the end of a week of hearings, the court has heard evidence of negligence and breaches on the part of authorities.
Tane's parents continue to assert that their son – who'd been held on remand for two years – suffered brutality at the hands of guards. And they're now calling for major policy changes to address the overrepresentation of First Nations people inside and ongoing custody deaths.
Justice for Tane
"Through this inquest I've learned that Tane left a paper trail that allows total strangers to tell me about the final hours of my boy's life," Nikola Chatfield, Tane's mother, said in a statement on the last day of the inquest.
"But that paper trail still doesn't give any insight into his beautiful personality, or the fact that he was a young man locked up on remand and fighting for his innocence."
Ms Chatfield points out that there are thousands of Aboriginal and Torres Strait Islander people being remanded in Australian correctional facilities nationwide, which can be a death sentence, whether that be through suicide or the brutality of guards.
The First Nations people of this continent are the most incarcerated people on the planet.
In March this year, 12,902 Indigenous inmates made up 29 percent of the adult Australian prisoner population, yet Aboriginal and Torres Strait Islander people make up less than 3 percent of the overall populace.
And of the First Nations inmates detained in March 4,638 – or 35 percent – were being held on remand. This means at that time, over a third of Indigenous inmates had either not been found guilt of the crime they'd been charged with or remained unsentenced in regard to their conviction.
"This is a horrible thing that I don't want anybody else to have to go through," Colin Chatfield, Tane's father, told those gathered at the 5 July demonstration. "We want justice for our boy, for all the cold cases, and the rest of the black deaths."
The coronial inquiry
The inquest into the death of Tane Chatfield commenced on 13 July before NSW deputy state coroner Harriet Grahame. And over the course of the week, the court heard about negligence on the part of Corrective Services NSW and Justice Health staff in the last hours of Tane's life.
Former cellmate Darren Cutmore recalled on Monday that Tane was "happy as can be" on the night prior to his being found unconscious. While Tamworth Correctional Centre officer David Mezanaric said Tane had two unexplained seizures the night before he was taken to hospital.
While on Wednesday, it was heard that when Tane was taken back to Tamworth gaol the next morning, the prison nurse wasn't given his discharge papers. This meant she was unaware of his seizures. And if she had known about them, she wouldn't have sent him back to his cell alone.
The death toll continues
Following the first day of proceedings in Lidcombe, reports emerged of another Aboriginal death in custody having taken place at WA's Acacia Prison. And according to the Guardian's Deaths Inside database, this would bring the total number of First Nations custody deaths to 438, since 1991.
As a result of the 25 May killing of George Floyd at the hands of Minneapolis police, there's been a wider focus in this country on the decades-long campaign to bring about an end to Aboriginal deaths in custody.
Right before the 6 June Black Lives Matter rallies swept the nation, Gomeroi activist Gwenda Stanley explained that the Stop Aboriginal Deaths in Custody movement is calling for an independent investigative body that can look into these incidents.
While at the 7 July rally, Mr Chatfield said that the nation needs to change the laws so that corrective services and police don't continue to investigate their own, as not one police or prison officer has been convicted in relation to any of the over 400 deaths since the early 90s.
And he added that these circumstances are a loophole that European authorities have been using since they first arrived on these shores, so as to enable those working in law enforcement and corrections to avoid being held to account for any deaths occurring in their custody.
"But, with all your votes, signatures and petitions, we can get the law changed and have independent investigations," Chatfield told those gathered at the Domain. "We only need 5 percent of voters to change this law."
The road ahead
Last Sunday, the Chatfield family, their supporters and ISJA led a silent march through the Sydney CBD, calling for justice for Tane.  As they walked through the city, the demonstrators held placards drawing attention to numerous other Indigenous people who've died in custody.
The procession made its way to the square out the front of the Corrective Services NSW offices in Chippendale, where the Chatfield family spelt out "Tane" using candles.
"Through this inquest we have seen plenty of people trying to cover each other's arses. But no one involved has come to me and said it was disgusting how my boy died," Nikola Chatfield declared as the inquest was coming to an end.
"I have only got one sorry throughout the inquest. But sorry does not bring back his life from a prison system in Australia that kills our people. We need change now and we need justice."
Receive all of our articles weekly