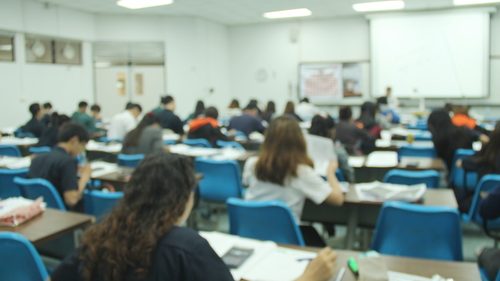 We recently reported on the female school teacher in Armidale, New South Wales who avoided a prison sentence despite pleading guilty to 3 counts of aggravated sexual assault and 6 of sexual intercourse with child under her care while employed at the school.
Many see that case as an example of the relatively lenient treatment of female sex offenders when compared to their male counterparts, which has led to criticism that little is being done to deter women from praying on teens in their care or under their authority.
Another case
Recently, a female school teacher at a prestigious high school in Adelaide pleaded guilty to persistent sexual abuse of a child after plying her student with drugs and alcohol, allowing him to drive her car without a licence, encouraging him to skip school, sending him explicit text messages and encouraging him to have sexual intercourse with her at several places including a public carpark and the home she shared with her husband and two children.
An Adelaide court heard that 42-year old Sonia Mackay 'exploited' her 17-year old student's 'caring nature', 'stole his innocence' and left him feeling 'ashamed and abused' through her manipulative and predatory conduct.
Victim impact statements
The court was read Victim Impact Statements (VIS's) by the teen and his parents.
A VIS is a voluntary statement made by a victim or their family members about the effects of the offending conduct upon them.
In her statement, the student's mother described how the teacher asked for her son's phone number under the guise of 'helping him with homework', then proceeded to send him sexually explicit messages.
"When I heard that she had instigated sex with my son in a public city car park and that she had come to our house while we were out and wanted to have sex with him in his childhood bed, it left no doubt in my mind that this was a selfish game to prop up her raging ego," the mother stated.
"You manipulated my son's emotions, you carelessly destroyed him."
"You hid the relationship from the school, yet all along took calculated thrill risks to meet your own selfish needs," she added.
"Besides being his teacher, she was also a mandatory reporter, someone who is trained to report child sexual abuse exactly like this.
The victim told the court he was left embarrassed and ashamed, and felt he had lost two years of his life.
"My dreams were shattered and stolen from me … and I can now see how I was purely being used," he said in his VIS.
Offender remorseful
Ms Mackay expressed remorse for her actions, telling the court:
"I acknowledge I committed an unlawful sexual relationship with a student. I know what I did was wrong," she read.
"I know I abused [his] caring nature at a time when he needed support," she added.
Prosecution submissions

The prosecutor submitted that Ms Mackay manipulated the teenager and went so far as to threaten self-harm in an attempt to keep the relationship going.
He pointed out that the offending only ceased when it was brought to the attention of the school's principal.
The young man's DNA was later found on the teacher's bed sheets.
The case has been adjourned until next month, when the judge is expected to hand-down the penalty.
Persistent sexual abuse of a child
Persistent sexual abuse of a child is an offence under section 50 of the Criminal Law Consolidation Act 1935 (SA)('the Act'), which carries a maximum penalty of life imprisonment.
The section explains that an 'unlawful sexual relationship' is one whereby an adult engages in two or more unlawful sexual acts with or towards a child over any period.
What is unlawful sexual intercourse?
Section 49 of the Act lists the situations whereby sexual intercourse is unlawful in South Australia.
One of those circumstances is where the complainant is under the age of 17 years. This is known as the 'age of consent'. It differs from the age of consent in NSW, which is 16 years.
The section provides that unlawful sexual intercourse also extends to the situation where a person is in a position of authority over a person under the age of 18 years.
Such a relationship arises where the person:
is a teacher and the child is a pupil of the teacher or of a school at which the teacher works; or
is a parent, step-parent, guardian or foster parent of the child or the de facto partner or domestic partner of a parent, step-parent, guardian or foster parent of the child; or
provides religious, sporting, musical or other instruction to the child; or
is a religious official or spiritual leader (however described and including lay members and whether paid or unpaid) in a religious or spiritual group attended by the child; or
is a health professional or social worker providing professional services to the child; or
is responsible for the care of the child and the child has a cognitive impairment; or
is employed or providing services in a correctional institution
The first category clearly applies to Ms Mackay.
What to do if charged with a sexual offence
If you are suspected of, or have been charged with, a sexual offence in NSW, contact Sydney Criminal Lawyers® anytime to arrange a consultation with an experienced lawyer who will take you through the applicable laws, your options and the best way forward.
We have nine conveniently located offices across the Sydney metropolitan area and beyond, including criminal lawyers in Parramatta, Liverpool, Sydney CBD, Newcastle and Wollongong.
Receive all of our articles weekly
Author
Sydney Criminal Lawyers
Sydney Criminal Lawyers®
is Australia's Leading Criminal Defence firm, Delivering Outstanding Results in all Criminal and Driving cases. Going to Court? Call (02) 9261 8881 for a Free Consultation.