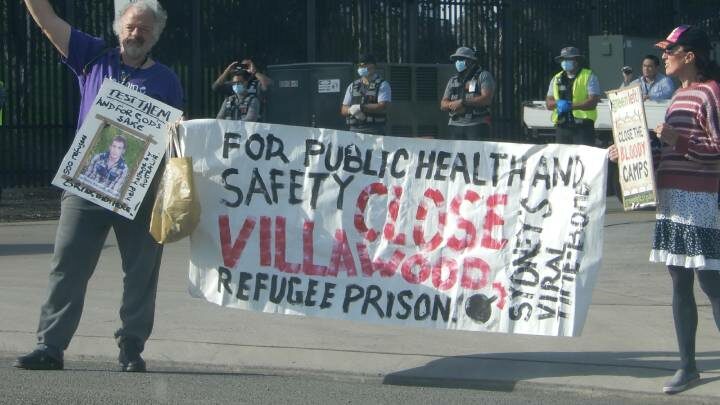 According to Refugee Action Coalition spokesperson Ian Rintoul, seven Villawood Immigration Detention Centre detainees were placed in isolation over the weekend, after they'd been exposed to a guard who tested positive to COVID-19.
The news emerging from inside the detention centre in Sydney's southwest – which was holding 479 noncitizens on 31 July – also suggested that more detainees may have been in contact with the guard whilst they were symptomless.
The Australian Border Force confirmed on Sunday that a contracted service provider had tested positive at the Villawood facility, adding that contact tracing and deep cleaning were taking place, and "to date, no detainee has tested positive to COVID-19".
The Villawood case is the second such incident in as many weeks, as two security guards working at the Melbourne Immigration Transport Accommodation (MITA) facility were reported COVID positive on 4 September. And vaccinations had only begun being rolled out at MITA three days earlier.
Serving time for no crime
Currently, there are over 1,400 people classed as "unlawful noncitizens" sitting in Australian onshore detention facilities during a public health crisis that continues to worsen. And while politicians are talking about opening up, the Delta variant is just entering closed environments, like prisons.
Around half the detainees in the nation's onshore immigration detention centres are either refugees or asylum seekers, meaning they've committed no crimes, while the other half are residents slated for deportation, so they've already served their time, often for minor offences.
Advocates have been pushing for refugees to be released into the community since the pandemic began in March 2020. In terms of the Medevac refugees, the government detained them right through the first wave of the virus only to release the majority of them unexplained afterwards.
Immigration detention centres are known to house numerous detainees in rooms sleeping in bunkbeds. And while over 100 asylum seekers continue to be held in hotels – known as alternative places of detention – these facilities aren't designed for warehousing people during a pandemic.
Clear warnings
Then Human Rights Commissioner Edward Santow warned in June that the pandemic continues to be a threat to people held in the country's immigration facilities, especially as nations like Singapore and Taiwan were then seeing a in new wave of virus cases due to the onset of Delta.
Santow noted that other countries had reduced detainee numbers in their immigration facilities: the UK by 39 percent, Canada by 66 percent, and the US by 69 percent. However, in Australia, the immigration detention population rose by 12 percent during the first six months of the pandemic.
"The government should follow expert health advice by placing people who present a low security risk in community-based alternatives to closed detention," Santow suggests, "much as other comparable jurisdictions have done with success."
However, in the same way it has done with inmates, government has not released refugees and asylum seekers in response to COVID but has left them inside these facilities where an outbreak has the potential to spread rapidly, both within them and then back out into the wider community.
Receive all of our articles weekly