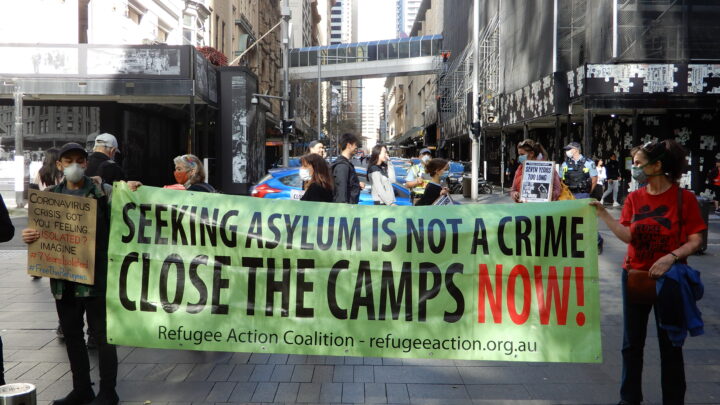 The 19 July 2020 marked seven years since asylum seekers arriving in this country by boat were sent into indefinite offshore detention without hope of being settled here.
And on Sunday, as protesters gathered at Sydney Town Hall to demonstrate against the Australian immigration detention regime, 180 asylum-seeking detainees remained in Port Moresby with another 220 on Nauru.
Organised by the Refugee Action Coalition (RAC), the Seven Years Too Long: End Detention Offshore Onshore rally also focused on the 65 former offshore detainees being held in Melbourne's Mantra Hotel and the other 120 men stuck inside Brisbane's Kangaroo Point Hotel.
And then there's around 1,200 more immigration detainees housed in Australian onshore immigration centres, with rising concerns about their safety as the presence of the deadly COVID-19 starts again increasing in the community, with no protective measures being taken in detention.
RAC spokesperson Ian Rintoul told the demonstration that the 19 July 2013 is a "day of infamy in Australian history", as it's the date when the Rudd government announced its new policy, that required all people arriving by boat to be sent offshore, with no recourse to ever be settled here.
Blood on our hands
Whistleblower Nicole Judge told the crowd that she'd been hired by the Salvation Army to work on Nauru prior to the indefinite offshore detention policy change. And at the time Rudd made his announcement, she was on the island.
"On July 19 2013, they said that anyone who arrives in Australia by boat will never ever reach Australian shores," Judge recalled. "That ignited a huge debate with how we treat asylum seekers, how long they should be in detention for, and why they couldn't come to Australia."
"That night the Nauru detention centre was burnt down," she continued. "Seven years ago, I was in the Menen Hotel locked inside, so that I couldn't get on the computer to talk to the media."
The former offshore support worker said she believed that after the centre burnt to the ground there would be no choice but for asylum seekers to be transferred to Australia. However, "it only got worse from there", and today, she's aware of people who've been on Nauru for seven years.
Judge was later transferred to Manus Island. And following the death of Iranian man Reza Berati – "who was murdered by Australian staff" – she broke her confidentiality agreement to speak at a Senate inquiry about the conditions in detention.
Seeking asylum is legal
Since the February 2014 death of Berati, twelve more detainees have died in Australian offshore immigration detention. The last was Fariborz Karami in June 2018. The Kurdish Iranian, who died on Nauru, is the eighth detainee to have been known to or suspected of taking his own life.
Despite the government's official line, it's completely legal to seek asylum in a foreign country if a person is fleeing persecution in their country of origin.
So, these so-called "illegal" boat arrivals have been intercepted at sea and placed in harsh indefinite detention for committing no crime at all.
Receive all of our articles weekly