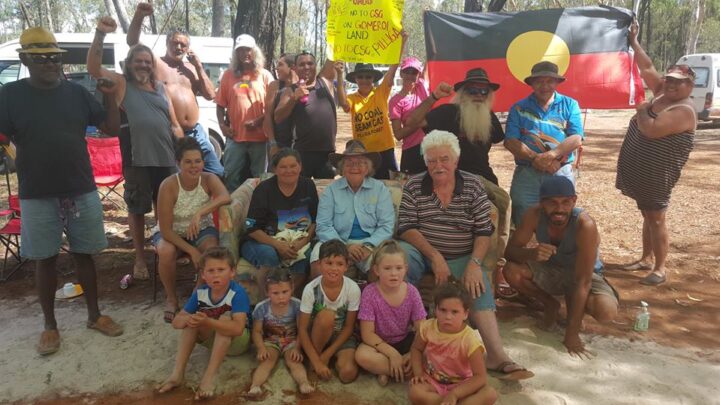 Gomeroi traditional custodians spokesperson Dolly Talbot makes certain that the fight to stop the proposed Shenhua Watermark coal mine from desecrating thousands of years old sacred sites is far from over, despite a recent court setback.
Last week, the Federal Court ruled against a challenge brought by the Gomeroi people to the decision made by federal environment minister Sussan Ley not to protect their ancient sites located within the footprint of the mine proposed for the NSW northwest Liverpool Plains.
The minister made her decision in July last year, despite having found that the Gomeroi sites – which include burial grounds, grinding grooves and scar trees – hold immeasurable cultural value for First Nations peoples.
And the outcome of the case has, yet again, raised questions around the feasibility of the legal framework set up under the Aboriginal and Torres Strait Islander Heritage Protection Act 1984 (Cth) (the Act), as these laws are obviously not living up to their mandate to preserve.
Statutory bias
Ley made her decision not to protect the sacred sites from destruction four years after the Gomeroi traditional custodians filed their application to have the area designated as significant, and therefore protected, under section 10 of the Act.
Despite the sites holding undoubtable value for First Nations people, the minister came to the conclusion that the economic and social considerations of the wider community trumped their cultural worth.
The Environment Defenders Office (EDO) backed the Gomeroi claim. EDO chief executive David Morris said the "outcome highlights the fact that our federal culture and heritage laws are not fit for purpose", with short-term mining benefits outweighing the protection of ancient cultural heritage.
The proposed $1.2 billion Watermark coal mine would be run by China's state-owned Shenhua Group. The mine would cover 35 square kilometres and operate on a 24/7 basis for 30 years in order to extract 10 million tonnes of coal to be shipped out via the port in Newcastle.
NSW state bias
The Federal Court decision comes on the back of some controversial actions by NSW authorities in protecting colonial monuments in Sydney. A photo of NSW police officers surrounding the Hyde Park Captain Cook statue on the night of a planned Black Lives Matter rally in June went viral.
And a local Sydney activist is being prosecuted for sticking an A4 piece of paper on the Hyde Park Governor Macquarie statue using craft glue. While the monument is only seven years old, the man in question was denied bail, strip searched and held at Surry Hills lockup overnight for "defacing" it.
Sydney Criminal Lawyers spoke with Aunty Dolly Talbott about the significance of the sacred sites for Gomeroi people, the impact the mine is going to have on the local area, and the next move the traditional custodians are set to play.
Firstly, on 22 July, the Federal Court ruled against your challenge to the decision to let the Shenhua Watermark open cut coal mine go ahead. Aunty Dolly, what was your position?
I acted on behalf of the Gomeroi traditional custodians in the court challenge to environment minister Sussan Ley's decision to refuse to protect Aboriginal cultural heritage sites from the Shenhua Watermark coal mine, which was defended by the Environmental Defenders Office.
The minister has the power to protect Aboriginal cultural heritage under the Aboriginal and Torres Strait Islander Heritage Protection Act.
Whilst she was considering the application for the protection of the site, she said the areas were of immeasurable cultural value and connection to country for our people, and they were going to be irreversibly destroyed by the mine.
But, despite all that, she decided that the economic benefits of the mine to the local community, outweighed the loss of heritage in the area, and refused to make a deliberation for protection.
That's why we took her to court. We argued that the minister's power under the legislation doesn't allow her to consider such broad matters as the social and economic considerations of the community.
We thought that the minister took into consideration irrelevant matters and the decision was invalid.
But, unfortunately, the Federal Court didn't see it that way and rejected our argument. The court found it was lawful for the minister to take into consideration the social and economic benefits.
We were pretty gutted by that, because we believe under the Aboriginal Protection Act, it should be solely based on our sites and what's important to Aboriginal people, without bringing social and economic benefits into it.
Last week was the culmination of a long battle. What has your fight to save country consisted of so far?
In 2015, we put in the application. And then we had to add to that. It has been a lot of information gathering from our elders – the people who have knowledge and understanding of all the sites.
We've also had a reporter from the minister's office come out onsite and interview the mob out there, as well as the minister come out.
There has been a lot of work in putting this section 10 together. They're not just a five minute thing where you write something down and that's the end of it. It's a long process to get to where we finally got it.
You're fighting to protect Gomeroi sites in the proposed area of the mine. What's at stake?
We're talking about men's and women's sites, burials and camp areas, a number of huge grinding groove areas, scar trees, and many other artefacts.
It's hugely significant to us as a people, and not just us Gomeroi people.
Our songlines connect up to other nations, who will also be affected if this mine goes ahead and our songlines are destroyed.
The Shenhua Watermark project consists of three open-cut pits. Besides the destruction of the sites, what other impacts would the project result in?
This is a megamine. Those three open-cut pits are huge. It's not just some little area that's going to be destroyed. This is going to be a megamine.
They're going to destroy about 847 hectares of koala habitat on the Liverpool Plains, at a time when the bushfires and the droughts have put them under threat as it is. There are fears that the koalas on the Watermark site in NSW are heading towards localised extinction.
The coalmine threatens vast areas of agricultural land. This is one of the best food bowls in Australia. The black soil is famous for growing food and resources.
Not only that, it's the water. That area has been in drought for many years. And it's only just recently started to have some rain.
So, it's still in drought and the water is going to be greatly affected by the Shenhua mine.
So, the coal is going to be extracted and shipped overseas?
Yeah. It's going to be shipped out. We're not going to get any great benefit from it here. It's just a money-making exercise.
They spruik jobs, but the agriculture in that area is already creating work. And the area is already saturated with six mines. So, let's face it, there's no shortage of employment.
With the saturation of mining already, enough is enough. It's way too much, especially when you have the effects on the water and the agricultural industry. It's just ridiculous short-term profit.
Minister Ley refused to agree that the sites should be saved under the terms of the Aboriginal and Torres Strait Islander Heritage Protection Act 1984 (Cth).
There's been much criticism of these laws. What's your opinion on them?
We need to think about the way these laws are designed. Aboriginal people need to be at the centre of decisions about our own sacred sites and cultural heritage.
There is always going to be economic and financial reasons not to protect our sites from development proposals.
The laws need to set the threshold to say that enough is enough. We need to prioritise Aboriginal voices over short-term economic and financial gain.
We need laws that are made independently from politics for a start. That means taking these important decisions out of the hands of ministers and having them keep our heritage site at arm's length.
There's a public inquiry already happening into the Juukan Gorge disaster and what can be learned there. It will be looking at the federal laws and how they can better protect sites like ours.
The submissions for that are in by the end of July. Everyone should make a submission. The EDO are making a detailed submission to that inquiry.
The Act is supposed to protect places significant to Aboriginal people, so that our heritage isn't destroyed for the sake of short-term economic outcomes from mining.
So, it's time something is actually done about them, because they simply don't work.
As you've just mentioned, the Federal Court ruling on the Gomeroi matter comes after the 46,000-year-old Juukan Caves site in the Pilbara was destroyed by Rio Tinto in May.
Meanwhile, in Sydney, the Berejiklian government has been prosecuting people for defacing colonial statues.
Do you see an imbalance here between how Australian governments are dealing with corporates destroying ancient First Nations sites, compared with the way they're approaching acts against recently erected colonial monuments?
Absolutely. It's always been the case. Let's not forget that Aboriginal sites have been destroyed in this country since day dot. And it happens all the time in Australia.
They're down there guarding the Captain Cook statue, but you don't see the police guarding any of our sites on the Shenhua mining site. It's ridiculous to be honest.
I've been out on country and they wanted to build another bridge to replace an existing one that goes over the river where I'm from.
I said, "Are you going to pull this bridge down?" The old bridge is located on a very old traditional campsite of our people.
But, they said they couldn't do that because it's heritage listed. And I said, "So, it's okay to put your bridge through our ancient camping area, but it's not okay to pull down your heritage listed bridge."
That is going back a few years. It's just gobsmacking that they think their heritage is so much more important than ours.
And lastly, Aunty Dolly, this isn't the end of your fight to save the Gomeroi sacred sites in the Liverpool Plains. What's your next move from here?
We've put in an appeal against Shenhua's management plan, because we don't believe some of the things should be in it. The management plan is just a tick box to destroy our sites.
As part of the management plan, they've got that they can remove the grinding groove sites and put them back in 30 years' time.
But the Independent Planning Commission said these sites could not be removed unless they were removed intact. We don't believe that's possible and neither do some of Shenhua's people.
It's a contradiction with the Independent Planning Commission saying that they can't move them, yet they've got the go-ahead to move them.
And there's another section 10 that has been registered with the minister for the environment that involves more sites and information for her to deliberate on.
So, it's not over yet. And like I've said before, we've made a lot of promises to elders who aren't with us today, and thankfully, with some that still are.
We're going to do our best to keep those promises and keep fighting. These fights are way too important to just give up. We have an obligation to try to protect.
Photos supplied by the Gomeroi Traditional Custodians
Receive all of our articles weekly