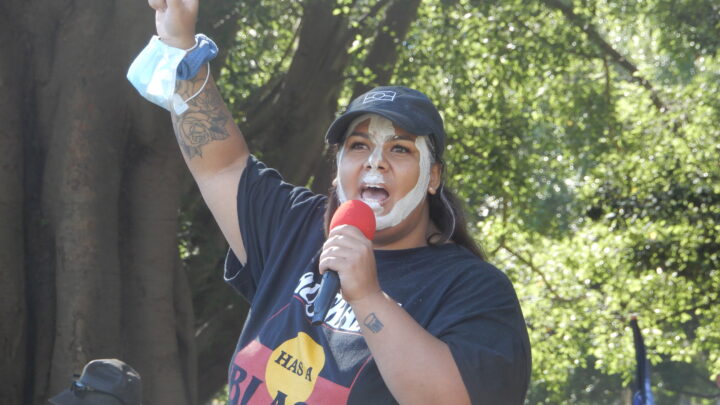 "Australia was founded on terra nullius. Terra nullius means that this country was uninhabited. Our people were declassified. Our humanity refused," said FISTT spokesperson Lynda-June Coe, as she addressed the demonstrators gathered on Gadigal land at Djarrbarrgalli-the Sydney Domain.
"We were the savages, the primitives," the Wiradjuri and Badu Island woman continued, "all of these racist terms your people have built these institutions upon: your governments, your police force, your health system. Every single system in this country is built on racism."
Coe was addressing those gathered at the Invasion Day rally 2021. She was speaking before a crowd of over 10,000 people. And as her words cut through the atmosphere, it was clear that the 26th of January protest was about much more than changing the date.
Australia is proud of its history, Coe suggested. Yet, she questioned how this can be when enacting the White Australia Policy was one of its first acts. And she posited that rather than the policy ever having been abolished, it's morphed into a culture that's long been based on white supremacy.
"The fact is, after 230 years of illegal occupation, your citizens are starting to wake up. Our black voices are starting to resonate," the activist made clear. "If your icons, like Cricket Australia, can refuse to celebrate Australia Day, then I tell you, these walls are going to start crumbling."
An evolving political landscape
Cricket Australia announced last week that it was dropping any reference to the 26 January being "Australian Day" in its material promoting matches set to be played on that date. The organisation said it needed to show leadership "in this space".
But in marked contrast, prime minister Scott Morrison continued to show he's a leader out of touch with people on the ground, as he made some comment about the first British boat arrivals not having a "particularly flash day" in 1788.
Morrison represents an Australian political establishment that's growing increasingly disconnected to the population it's supposed to represent. As Coe put it, growing numbers within the wider community are beginning to question the whitewashed version of history that never really added up.
As Gomeroi woman Gwenda Stanley told Sydney Criminal Lawyers after the rally, the change in attitude towards considering January 26 as a day for celebration is a direct result of a 2012 mandate set by the Aboriginal Tent Embassy, which stipulated launching a sustained campaign.
"We're looking at our own First Nations political party, and we're starting here in NSW," Stanley said, in terms of where the 9-year-old campaign has progressed to. "We want our own political party. Not those appointed by government, like those advisory councils, Ken Wyatt and all the rest."
Always was, always will be
"We're putting the NSW police on notice, because what they call the Domain… has never been ceded by Gadigal people," Tameeka Tighe told the crowd. "I'd like to see them arrest any black people here today, or continue to kill black people in the way they do in the illegally occupied country."
On the day prior to Invasion Day, NSW police minister David Elliott got on shock jock radio to announce that the police would be enforcing a 500 person pandemic limit on protests, which could have resulted in demonstrators being slapped with steep fines or even lead to arrests as in the past.
"They have no jurisdiction here and they will not harm black bodies today," said Tighe, a Gomeroi, Dunghutti, Biripi woman. "If David Elliott, the police minister, gave a fuck about black people, he would give justice to the 440 Aboriginal lives that have died in custody."
Since the Royal Commission into Aboriginal Deaths in Custody handed down its 339 recommendations in 1991, there have been over 440 First Nations deaths in the custody of Australian police forces and corrective services.
As Wiradjuri elder David Bell addressed the rally on Tuesday, he named some of the Aboriginal people who have died in the custody of NSW authorities in recent years: TJ Hickey, David Dungay Junior, Patrick Fisher, Tane Chatfield, Eric Whittaker and Nathan Reynolds.
Indeed, the First Nations people of this continent are the most incarcerated people on the planet. Right now, in NSW, Aboriginal and Torres Strait Islander people make up 25 percent of the adult prisoner population, while they only account for 2.8 percent of the state's overall populace.
"We stand here on unceded Gadigal land," Tighe added. "This colony is illegal."
Black Australia
"I'm talking about sovereign agency. I'm talking about self-determination and what that means to Indigenous people, especially here along the east coast," said Gomeroi man Ian Brown. "We were first contact people… and we're still affected by the ongoing threats of colonisation."
"This system is not broken," he underscored. "The system is doing exactly what it is set up to do."
As a member of Gamilaraay Next Generation, Brown is currently involved in the Gamil Means No campaign, which is calling for a halt to the plans of both state and federal government to allow Santos to drill 850 coal seam gas wells throughout the Pilliga Forest, which is Gomeroi Country.
Brown further stressed to the crowd that the First Peoples of this continent are a peaceful people who'd been living in harmony with each other and nature up until the time that the British brought warfare and gunpowder to this landmass.
"This system is already beginning to crumble," Brown concluded his speech. "The more people we bring to this movement. The more bodies we have on that frontline. The better it is going to be for everyone, not just First Nations people. Because the future is Black Australia."
"Abolish this system"
There were many more speakers on the day, with a number noting the sizable turnout of non-Indigenous people showing up in support of the movement. While other speakers pointed to the looming climate emergency, which reveals that the crisis in the system is affecting all.
"The way that the western system views the world has to change. You're running to your own doom. If anything, the system that's currently being upheld is suicidal," Lynda-June Coe maintained. "If you can't see it, you need to wake up, because we only live on one planet."
"Where are you going to go?" she asked. "Where are you going to colonise next?"
Receive all of our articles weekly