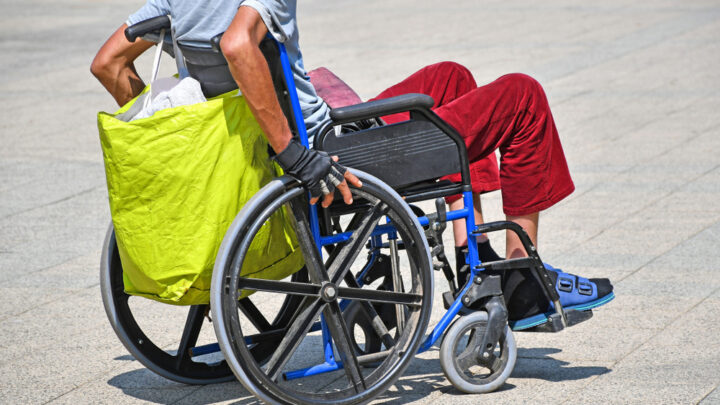 A magistrate in Liverpool Local Court has sentenced a man in relation to an incident during which he stole $100 from a man in a wheelchair who had just withdrawn his disability pension from an ATM.
20-year old Jarrod Elphick surrendered to Green Valley Police Station after CCTV footage capturing him stealing the money from 42-year old Julian Stewart, who suffers from celebral palsy, went viral on social media.
Elphick was formally arrested, charged and pleaded guilty to stealing from a person.
Three weeks later, and while on conditional bail, Elphick was re-arrested over an incident during which he repeatedly banged his head against a wall, causing a small hole, because his mother did not serve his dinner on time.
Elphick was charged with intentionally or recklessly destroying or damaging property over the incident, was granted bail, and later pleaded guilty to the offence.
During the sentencing hearing, Magistrate Thomas heard that during the stealing incident, an accomplice, 20-year old Nathan Laidlaw, acted as Elphick's lookout as the pair waited for Mr Stewart to withdraw his money from an ATM on George Street, Haymarket, before Elphick snatched the money from the disabled man's hand and fled from the scene.
The magistrate took into account Elphick's lack of a criminal history, his pleas of guilty to both charges, his remorse and prospects for rehabilitation before imposing an 18-month Community Correction Order involving 150 hours of community service work.
Mr Laidlaw has also pleaded guilty to stealing from a person but is yet to be sentenced.
The offence of stealing from a person in New South Wales
Stealing from a person is an offence under section 94 of the Crimes Act 1900 which carries a maximum penalty of 14 years in prison if referred to a higher court such as the District Court, or 2 years if the case remains in the Local Court.
To establish the offence, the prosecution must prove beyond reasonable doubt that you robbed, or assaulted another person with the intention to rob, or stole any chattel, money or valuable security from the person of another
Although the offences are contained in the same section of the law, stealing from a person is not the same as a 'robbery', which is where "the victim… [is] compelled by force or fear to submit to the theft".
Defences to stealing from a person include:
Necessity, and
Claim of right which means you genuinely believed you were legally entitled to the property.
Going to court?
If you are going to court for a criminal offence, call Sydney Criminal Lawyers anytime on (02) 9261 8881 to arrange a free consultation with an experienced criminal defence lawyer who will take you through the law, your options, any defences that may be available to you, and fight for the optimal outcome.
We have offices located across the Sydney metropolitan area, as well as in Wollongong and Newcastle, and can also arrange conferences by way of Skype, Zoom and over the phone.
Receive all of our articles weekly