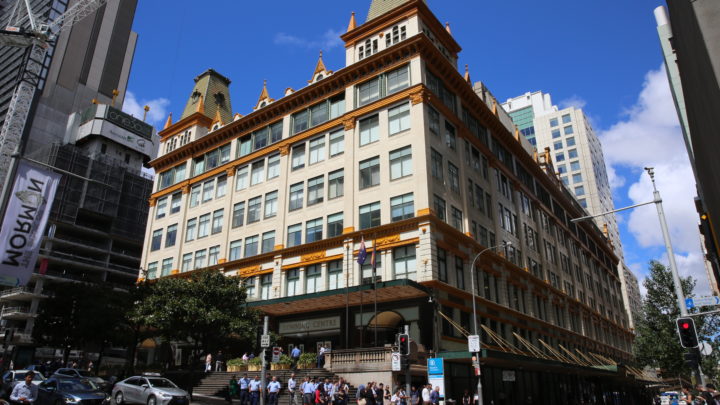 Between 1982 and 1987, Ian Robert Steele carried out 30 armed robberies in NSW. Known as "The Rabbit", the career criminal was notorious for hiding his identity via the wearing of a disguise or the dying of his hair, as he carried out hold-ups at banks, service stations and betting agencies.
Mr Steele was sentenced to 28 years behind bars for his historical crimes on 23 July last year. Following his release from prison in the UK, the offender in his late fifties was extradited to Australia in May 2017, after he'd severed the minimum of a life sentence for the 1988 murder of his girlfriend.
Over his time, Steele allegedly escaped from custody on six occasions. This included absconding from the cells at Darlinghurst courthouse, which led to him fleeing to Victoria, where he was shot in the head by police during a standoff in Melbourne's CBD.
While three years later, the armed robber simply walked out of Long Bay goal disguised as the warder.
A long time coming
On appearance in the Downing Centre District Court in May last year, Steele confessed to the 1986 robbery of the National Australia Bank on Sydney's Pitt Street. The crook had never actually formally been charged with the incident, which was the last ever gun-point heist he committed in Australia.
NSW District Court Judge Jennie Girdham told the court that during the "terrifying" robberies, Steele would threaten to kill staff and customers if they didn't cooperate. And the huge amounts of money he'd stolen were used to fund his heroin and amphetamine habits.
Violent theft
Robbery is a hybrid offence, which contains elements of both larceny and assault. The crime involves the unlawful taking of property without consent. And the perpetrator must intend on never returning the stolen items to the owner or person in lawful possession of them.
The illegal taking of the property must also involve violence for it to constitute a robbery. This can mean actual violence carried out during the crime, or the threat of violence, where the victim actually feared being harmed.
The violence or the threat thereof must be carried out prior to the stealing of the property, although the subject of the violence or threat doesn't have to be present when the taken objects are unlawfully acquired.
Part 4 division 2 of the Crimes Act 1900 (NSW) contains five sections that set out robbery offences of varying degrees of severity. The penalties that apply range from 14 years for a basic street-type robbery scenario to 25 years for inflicting grievous bodily harm whilst trying to seize property.
Robbery with a weapon
Subsection 97(1) of the Crimes Act contains the offence of armed robbery. It outlines that an individual armed with an "offensive weapon or instrument" who robs, or assaults someone in an attempt to steal from them, is liable to up to 20 years imprisonment.
Section 4 of the Act provides that an offensive weapon or instrument is "any thing that is made or adapted for offensive purposes", any thing used for offensive purposes, even if it's not regularly intended for such a use, or a dangerous weapon.
However, when an armed robbery is perpetrated using a dangerous weapon it becomes aggravated, or a more severe crime. Subsection 97(2) of the Act stipulates that aggravated armed robbery involves the use of such a weapon and can see an offender liable to up to 25 years behind bars.
A dangerous weapon is defined under the Act as a firearm or imitation firearm within the meaning set out in the Firearms Act 1986, a prohibited weapon listed in the Weapons Prohibition Act 1998 or a spear gun.
Schedule 1 of the Weapons Prohibition Act contains a long list of prohibited weapons, including flick knives, butterfly knives, bombs, grenades, crossbows, slingshots, blow-guns, as well as whips, which have a lash comprised wholly or partly by any form of metal.
As set out in the 1990 case R versus Readman, the seriousness of an armed robbery offence is escalated by the way in which a weapon is used. Elements that can increase the severity of an offence can be whether a weapon is loaded, if it's discharged or whether it's pointed at anyone.
Theft involving actual wounding
Section 98 of the Crimes Act contains the offence of armed robbery or robbery in company that involves actual physical assault or wounding, or the infliction of grievous bodily harm. This crime can see a perpetrator sent away for up to 25 years.
A seven year standard non-parole period (SNPP) applies to the offence of robbery with arms and wounding. An SNPP is a reference point for the sentencing judge when determining the minimum time a person must spend behind bars before being eligible to apply for release on parole.
Section 54A of the Crimes (Sentencing Procedure) Act 1999 sets out that an SNPP represents a non-parole period for certain offences that, "taking into account only the objective factors affecting the relative seriousness of that offence, is in the middle of the range of seriousness."
Further outstanding hold-ups
"I offer my deepest regrets and apologies for all those I have offended against in Australia and abroad," Mr Steele told the courtroom, after he was given permission to address it. "At this time, for what it's worth, I'm not the criminal thug that I once was."
At the time of sentencing, Judge Girdham said it was obvious that Steele has become institutionalised, as he'd spent 41 of his 59 years locked up in prison. And she added that he "embraces the very real prospect of never being released".
While the judge accepted that Steele had "changed morally" and displayed "genuine remorse", she said that doesn't change the fact that the offender caused "loss and harm to a lot of people". And her Honour imposed a 21 year non-parole period.
However, when it does come time for release, Steele shouldn't worry too much about what life holds for him on the outside, as Western Australian authorities plan to extradite him at the end of his sentence in relation to four armed robberies and the taking of two hostages in early 1983.
Receive all of our articles weekly