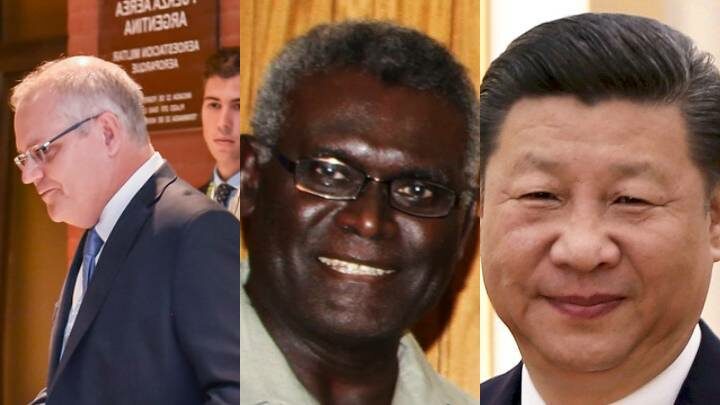 During the 2019 Pacific Island Forum, nations raised concerns about Australia's fossil fuel industry and the climate impact it's having on their environments.
Then deputy PM Michael McCormack, however, said this annoyed him, as these nations would be able to survive the worsening climate because "many of their workers" come to Australia "to pick our fruit".
The forum was held in Tuvalu: a nation that may be wiped off the map this century. The leaders, including Scott Morrison, discussed climate abatement. Negotiations almost collapsed twice though, as our PM demanded all mention of coal be removed from the policy agreement.
Indeed, Morrison's attitude during the forum was later described as condescending and un-Pacific.
Enter the April 2022 China-Solomon Islands security pact. The Solomons is a Pacific Island nation. It's considered one of the most vulnerable countries on the planet in terms of global heating. And on 19 April, it entered into this new security pact, which has sent shockwaves throughout Canberra.
The security alliance between Beijing and Honiara has led to grave concerns, as the secret agreement – with drafts having been leaked last month – seems to leave it open for China to establish a naval base just 2,000 kilometres from the Australian coast.
But there's more to this recent alliance with China, which is that in 2019 Honiara signed up to Beijing's multi-trillion dollar Belt and Road Initiative. This is a vast infrastructure network currently being established across the globe, that may provide real economic development for the Solomons.
A tale of neglect and recognition
Australia remains the Solomon Island's biggest aid donor. And our nation is partnering with the Solomons in a two-decade-long national development strategy that is said to have health, telecommunications and infrastructure at its core.
In November last year, when rioting broke out in Honiara, with attempts being made to storm its parliament, Australia sent in police and army troops to quell the unrest, which was facilitated by a 2017 security pact that permitted our nation to deploy personnel under such circumstances.
From the neighbouring island of Malaita, the rioters were upset that the Sogavare government had been neglecting their region for years. They were also opposed to the PM's having switched diplomatic ties from Taiwan to China in 2019, and local Chinese businesses were being targeted.
Besides our nation's belligerent attitude to the region when it comes to climate inaction, which is causing significant effects to all Pacific Island nations, as well as our local Torres Strait Islands, there's the issue that years of Australian aid hasn't led to economic development in the Solomons.
Turning to China's security deal, it's offering the same sort of support that the Australian deal offered. In times of social unrest, Honiara may request Beijing to send in law enforcement and military personnel to help deal with any significant disturbances.
As well, since the Solomons decided to take part in the Belt and Road Initiative, China has been building new roads throughout the nation, it's in the midst building a stadium for the hosting of the 2023 Pacific Games, and it's also constructing new telecommunication towers across the islands.
And along with all this is the promise of the Solomons being linked to a new global system that could potentially lead to better economic development outcomes, rather than continuing to depend on Australian foreign aid.
Kiribati has also signed onto the Belt and Road Initiative, as it switched diplomatic ties from Taipei to Beijing as well. Kiribati is a small Pacific Island nation consisting of 30-odd islands, which is one of the world's worst climate hit countries, with some of its islands already having disappeared.
Calculated oppression and diplomacy
As a government, the Chinese Communist Party is hardly beyond the realms of criticism, especially when it comes to the neighbouring peoples it has colonised.
Tibet is the least free nation on Earth, alongside Syria, while the Uyghur people are going through a process of mass incarceration and cultural genocide.
And the freedoms that the people in Hong Kong once knew have been stamped out by the implementation of Beijing's security law.
But when it comes to entering into economic development agreements with nations further abroad it does have a much better reputation than European colonisers.
Beijing has established economic development agreements and influence throughout Africa, and while this process obviously has underlying political motivations, the heaviest criticism about it is China tends to rely on its own workforce, rather than any charges of trying to colonise peoples.
Between 1863 and 1901, the colonies of NSW and Queensland brought 62,500 South Sea Islanders to Australia to work on sugar plantations in conditions akin to slavery. The majority were from Vanuatu and the Solomons. And these people were worked until they dropped and paid a pittance.
Then in 1901, straight after Federation, the Australian government passed the Pacific Islanders Labourers Act, which sought to deport most of the 10,000 South Sea Islanders, who were still in the country. It was part of a series of legislation that together is called the White Australia Policy.
Of our own doing
In 2015, then immigration minister Peter Dutton was caught joking with then PM Tony Abbott and social services minister Scott Morrison about how at a recent Pacific Island Forum, where our government refused to set a 1.5°C climate target, certain leaders had been running late.
"Time doesn't mean anything when you're, you know, about to have water lapping at your door," said Dutton, in a clear admission that despite his government's blatant refusal to take any climate action, it's well aware of the detrimental effects its policies are having on these nations.
Labor Senator Penny Wong has called the China-Solomons pact the "worst foreign policy blunder" since World War Two. Morrison started out by stating it was no big deal, while defence minister Peter Dutton has declared the nation ought to "prepare for war" in order to "preserve peace".
Yet, it's highly likely that if the Coalition had treated our Pacific Island neighbours with a modicum of respect and actually committed to policies that phased out fossil fuels and turned to renewables in order to preserve the survival of them, these nations wouldn't even be considering a pivot to Beijing.
Receive all of our articles weekly