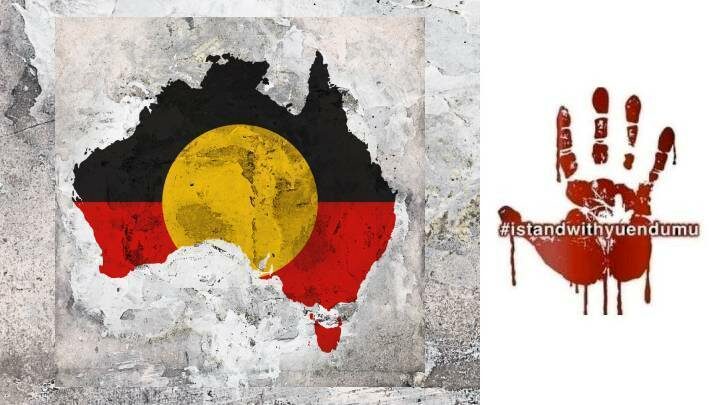 "I didn't do it. That was 200 years ago. It's not my fault" has been a common sentiment expressed amongst Anglo Australians for decades, and, although fading, most continue to abide by it as they concurrently reap the benefits of the ongoing colonisation of this continent.
"A war was declared on us," Senator Lidia Thorpe recently said in a recent interview. "Whether you like it or not, ships came here. They murdered our people. That's an act of war." The Gunnai Gunditjmara and Djab Wurrung woman then declared, "That war hasn't ended."
And indeed, it hasn't.
Newcastle University's Colonial Frontier Massacres Project recently released its final data. It found that at half the 415 massacre sites identified, state agents were involved, while pastoral and mining companies had bankrolled some of the mass killings, and a hell of a lot of civilians took part as well.
But the attempted annihilation of a people doesn't simply include direct killings. It involves the destruction of their way of life, the stealing of country and the acquisition of and profiteering from the resources upon and below those stolen lands and waters.
The settler colonial project in Australia also involved the forcing of Aboriginal and Torres Strait Islander peoples onto reserves to be surveilled, controlled and prevented from speaking language and practising culture, as well as the mass removal of children to be placed in assimilationist schools.
And as the senator said, "like it or not", this is continuing to this day, whether that be under different forms, or most prominently, in a slightly altered manner.
Prisoners of war
Right now, on this continent we live upon, the First Nations peoples are the most incarcerated group of people on the planet.
The latest Australian Bureau of Statistics figures for the December quarter 2021 show that of the 40,862 inmates in this nation's prisons, 12,624 were Aboriginal and Torres Strait Islander adults.
That means that close to 31 percent of the adults Australia has locked up at this moment are First Nations peoples, whom at the same time, based on the last available census data account for 2.8 percent of the entire nation's population.
Some white Australians like to comfort themselves with the idea that this simply represents the fact that First Nations people have criminal tendencies, when, in truth, they have been criminalised since the ships rolled into Kamay-Botany Bay in 1788.
One of the key aims in establishing Australian police forces was the suppression of First Nations people. And, as Melbourne University's Dr Amanda Porter explains it, these law enforcement agencies were modelled on the paramilitary police forces the British used to oppress the Irish.
"In the colony of NSW, the key institutions included the Border Police, the Mounted Police and the Native Police," Porter told Sydney Criminal Lawyers in 2020. "All three organisations were known for their extreme violence and savage acts of brutality."
The overpolicing and extreme use of force that Aboriginal and Torres Strait Islander people are subjected to continues to this day. They're more likely to be targeted, more likely to be arrested, and they're more likely to be sentenced to prison than non-Indigenous people.
First Nations people are at a heightened risk of dying once they come into the custody of police or corrections officers. This has always been the case. And at least 495 Aboriginal and Torres Strait Islander people have died in custody since 1991.
That year serves as a marker as it was when the Royal Commission into Aboriginal Deaths in Custody handed down its final report, making 339 recommendations, most of which have been ignored.
In fact, in 1991, First Nations people only accounted for 14 percent of the Australian adult prisoner population, which was disproportionately high in itself.
The continuing stolen generations
Currently, there's a bill before NSW parliament, which is designed to stop the ongoing disproportionate removal of First Nations children from their families by the NSW state. Drafted by Greens NSW Senate candidate David Shoebridge, the legislation has already passed the upper house.
Back in 2008, then PM Kevin Rudd apologised to the First Peoples of this continent for what is referred to as the Stolen Generations, which saw, for the majority of the 20th century, the forced removal of Indigenous children from their families, so as to be assimilated into white society.
However, this situation continues to this day, in what's commonly referred to as the ongoing stolen generations, which sees communities departments across the country continuing to remove First Nations children at disproportionately high rates compared to their non-Indigenous counterparts.
The 2022 Productivity Commission report outlines that last June, in this state, 43 percent of all children in out-of-home care were First Nations, while nationwide, 42 percent of kids in state care were Indigenous, yet in both cases they only make up about 6 percent of that overall age group.
The Shoebridge legislation is not only seeking to cut down on the removal of Aboriginal kids, but it also aims to remedy a situation whereby removed First Nations kids aren't being placed with family, community, or at least, nearby Indigenous peoples, as, while this the law, it isn't being followed.
The stealing and destruction of lands
The fact of the matter is that the whole continent of Australia was taken by force from the people who were living here pre-European invasion.
The takeover process commenced in 1788 and has continued on ever since, despite the idea that at federation all the land belonged to those of British descent.
The taking of the continent today referred to as Australia was justified under the international law of the time by classing it as terra nullius: that no one owned the land or it was empty. Yet over 500 different First Nations were occupying the landmass before British occupation.
Professor Lyndall Ryan, who led the massacre project, told the Guardian in March, that by the 1860s the killings became extended events, whereby "employees of major companies" with pastoral or mining leases would be sent out to kill the people living on the property they'd acquired.
And whilst it might not entail the direct shooting of people these days, mining companies and other entities continue to employ methods to gain more First Nations land and resources.
Examples include the Andrews government's assault on Djab Wurrung sacred land to build a highway extension in Victoria or Rio Tinto's destruction of the 46,000-year-old Juukan Gorge rock shelters in Western Australia to make way for iron ore mining.
Dr Robin Smith, also a participant in the massacre project, has reported that a 1981 attempted mass poisoning of 14 First Nations peoples in Alice Springs via a bottle of sherry laced with strychnine, which led to two lives lost, was likely another example attempt at a frontier massacre.
And recent documentary The Pilliga Project details how energy company Santos is about to drill 850 coal seam gas wells through Gomeroi Country, without that nation's approval. And the film features elders setting out how this project will literally poison and ultimately destroy their people.
There is a war
The most obvious recent expression of the continuing war on this continent was around the killing of Kumanjayi Walker by NT constable Zachary Rolfe, who shot the 19-year-old Warlpiri man twice in his side at point-blank range, whilst his partner was on top of him holding the teen down on the ground.
The coverage of the trial led to reports around how in remote Aboriginal towns in north and central Australia police armed with military-style weapons patrol Indigenous communities on their own land in a similar manner to the way Australian troops monitor sensitive areas in foreign lands.
Following his acquittal in March by an all non-Indigenous jury, it came to light that Rolfe had actually been an Australian special forces officer, who'd been patrolling local communities in Afghanistan in just the same sort of manner.
And when one might consider this situation could not get any more obscene, NT anticorruption commissioner Michael Riches soon after the acquittal said that he was considering launching an inquiry into the circumstances of Rolfe's arrest, charging and subsequent having to stand trial.
"A war was declared on us," said Gunnai Gunditjmara and Djab Wurrung woman Lidia Thorpe. "That war hasn't ended."
Receive all of our articles weekly