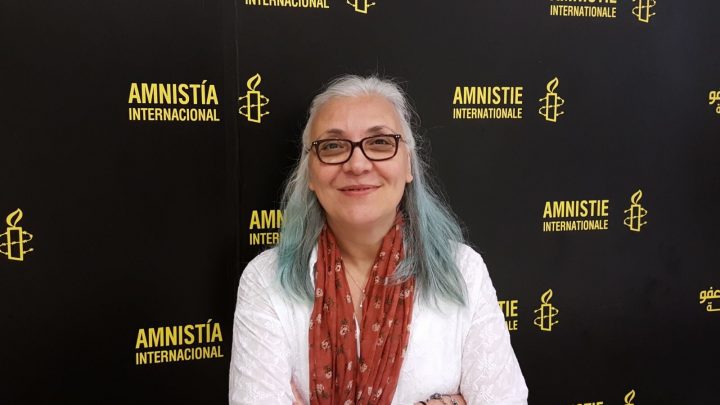 At around 10 am on July 5, Turkish police raided a routine professional workshop for human rights defenders at a hotel in Büyükada, one of the Princes Islands near Istanbul. The activists were arrested and are now detained and investigated by authorities for suspected links to an "armed terrorist organisation."
Amongst the ten people arrested is director of Amnesty International Turkey, Idil Eser, along with seven other Turkish human rights defenders from prominent organisations, and two workshop trainers: one from Germany and the other from Sweden.
In contravention of Turkish law, the detainees were denied access to lawyers for 28 hours – the maximum time permitted is 24 hours – and were also denied their right to contact family members.
Turkey's crackdown on human rights
The arrests are a continuation of the Erdoğan government's year-long post-coup purge of dissenting voices.
State of emergency measures that were enacted last July allow authorities to detain activists for seven days without charge, and this can be extended for a further week.
"These charges are absolutely incredulous to us, and of course, our investigations lead us to believe that they're absolutely false and are occurring as part of this bulk blanket crackdown," remarked Michael Hayworth, campaign manager at Amnesty International Australia.
Mr Hayworth explained the detainees are expected to have their bail hearings sometime this week.
"Prosecutors will determine whether to bring charges," he told Sydney Criminal Lawyers®. "And then they'll be charged and head to a bail hearing, like their colleague Taner a couple of weeks ago."
Discrediting rights defenders as treasonous
Idil Eser is not the only leading Amnesty International Turkey representative to have been targeted by authorities in recent weeks. Chair of the human rights organisation in Turkey, Taner Kılıç, has been held on remand since June 6.
A prominent lawyer, Mr Kılıç was arrested with another 22 lawyers based in Izmir, a city in the west of Turkey. He's being held on terrorist-related allegations which claim to link him to the US-based "Fethullah Gülen terrorist organisation," who the Turkish government allege are behind last year's coup attempt.
Turkish police claim the evidence linking Mr Kılıç to the Gülen movement is that he had the Bylock messaging app on his phone back in August 2014. This is the application that members of the organisation are said to use.
No evidence has been produced to substantiate this claim, and the accused lawyer denies ever having downloaded the app or using it.
"In Turkey, like in other countries, there's been a trend toward broad-sweeping – and in our view overreaching – terrorism powers," Mr Hayworth said, adding that these laws have been used repeatedly "to lock up a number of human rights defenders."
A social media foiled coup
The government of president Recep Tayyip Erdoğan faced a bloody coup attempt on July 15 last year, when a faction of the Turkish military launched a coordinated strike in several major Turkish cities. For several hours as the troops moved in, it looked like the government might be toppled.
But as news of the coup attempt spread across social media platforms, ordinary citizens took to the streets, which saw the coup fail within a matter of hours.
The government blames the attempt on cleric and businessman Fethullah Gülen, who left Turkey and moved to the US back in 1999. Gülen was once an ally of Erdoğan and his Justice and Development (AKP) party.
But since 2010, a series of incidents and investigations by Gülenist aligned police officers that have involved AKP-related bureaucrats and business people have led to a falling out between the two political entities.
The coup fallout
A week after the unrest, on July 22 last year, the AKP declared a state of emergency to deal with "all the elements of the terrorist organisation involved in the coup attempt." In an effort to eliminate voices of opposition since that time, the Erdoğan government has unleashed an unprecedented human rights crackdown.
The government has carried out mass arrests of perceived government critics, which has led to 47,000 people being held on remand. It has also carried out the mass sacking of around 105,000 civil servants.
Currently, Turkey imprisons more journalists than any other nation. The country now has a third of the globe's imprisoned reporters, which is more than 120 journalists.
"We've seen 156 media outlets closed," Hayworth said. "And we've seen hundreds rounded up, arrested and put away in Turkish prisons, for doing nothing else but peacefully expressing their views."
The corruption of power
It seems Turkey's president has lost sight of the parameters of his crackdown, and his own past experiences.
"Back in 1998, when Turkey was controlled by a different government, Amnesty International actually campaigned on behalf of now president Erdoğan," Mr Hayworth recalled. At the time, the head of state "was a prisoner of conscience" and he was locked up for reading a poem at a demonstration.
Yet today, the president has imprisoned both the director and the chair of the organisation that once tried to free him from prison. "So we've been calling on the Turkish authorities to acknowledge that human rights work is important," the Australian campaigner continued.
A nation at odds
On Sunday, a rally led by opposition Republican People's party leader, Kemal Kilicdaroglu came to an end after a 25-day march from Ankara to Istanbul. Mr Kilicdaroglu commenced the demonstration after his deputy leader was imprisoned in June.
The hundreds of thousands that gathered at the Istanbul rally were protesting the crackdown, as well as the April referendum, which grants the president new executive powers and abolishes the office of prime minister as of the next election in 2019.
Rescuing the voices of dissent
Erdoğan is playing a "classic sort of clampdown on dissent," according to Hayworth. And despite what his endgame might be, it's society that will suffer with free speech and other civil liberties under threat.
As for the trial of Amnesty director Idil Eser and the other nine people detained at the workshop, Hayworth said his organisation would be monitoring that closely. And also they're calling for the immediate release of the detainees, along with that of Amnesty chair Taner Kılıç.
"We want to ensure that every step of the process is going to be looked at with an incredible amount of scrutiny," Hayworth concluded. So as "to make sure that we can get these human rights defenders free as fast as possible."
Receive all of our articles weekly