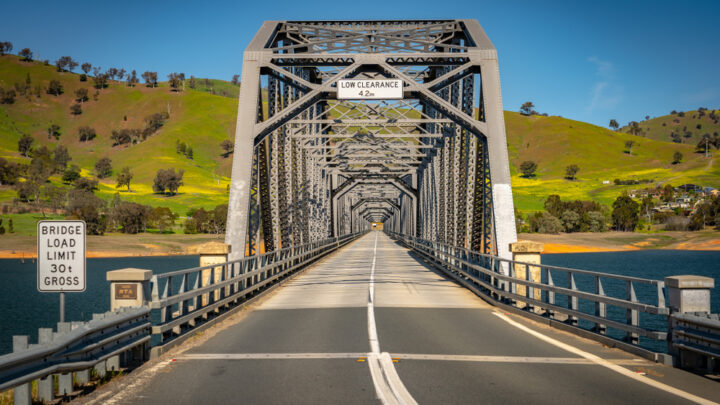 The New South Wales / Victorian border closed today, after hundreds of Victorians continue to be infected with COVID-19.
For those living on or near the border, with work commitments, friends and family on the other side, there is a lot of uncertainty about how they will manage the closure over the coming months. Here's what we know so far.
Who can cross?
There are more than 50 access points from New South Wales into Victoria and NSW police will be patrolling all of them –  including four major highways, 33 bridges and two waterways. Police are currently seeking health orders which give them the power to turn people around at any of these border points. .
While police manpower will be focused on the most obvious and easiest-access points, drones and other surveillance measures will be used to monitor all crossings.
Police and Health officials will also be on standby at airports and train stations to question anyone returning to Victoria.
In addition, anyone travelling from Victoria to the ACT will be denied entry unless they are granted exemption by either the NSW or ACT governments, and will be required to self-isolate.
Permits and exemptions
The rules around the border closure are not completely finalised, but are expected to be very similar to those that Queensland implemented a few months ago when it shut down it's shared border with New South Wales. This border is due to re-open to all but Victorians on 10 July.
Only permit holders will be allowed through along with emergency services workers, freight drivers and returning travellers. Permits are likely to be divided into two categories: one for people who live in border communities like Albury-Wodonga, and another for anyone who believes they need to cross the state line for "exceptional circumstances".
It's understood that exemptions will be available, for example, for compassionate purposes – that is caring for a sick relative, parenting requirements, receiving medical treatment or moving house.
As yet, there has been no clarification on whether the border closure will mean a 'bonk ban' for couples who live on either side, but as was the case at the height of the pandemic, the state leaders generally took the view that these close romantic relationships are vital in a time of crisis, and couples were allowed to cross to spend time together.
Heavy fines and prison time
However, anyone caught lying on an application for an exemption will be fined $11,000 or face up to six months in prison. Anyone who refuses to self-isolate upon return from Victoria will also face a heavy fine.
The Premier, Gladys Berejiklian says that more information on permits will be available on its website as soon as possible. The border will remain closed for the foreseeable future.
Coronavirus outbreak Victoria
127 new cases were recorded on 6 July 2020, 16 detected in a public housing tower block that has been locked down. All residents are due to be tested – about 400 tests have been conducted so far – and the official detention order given to residents says they will remain in the towers for 14 days. Five hundred police per day are involved in policing the social housing towers, working in pairs to patrol two to three floors each.
There are currently 645 active cases in Victoria and most New South Wales and Queensland residents will welcome the lockdown as school holidays begin, given that both states are popular holiday destinations for Victorians during the colder months.
With the remainder of Australia only just starting to reopen there has always been the risk of a second major outbreak, an occurrence that the Prime Minister Scott Morrison said the economy may not be able to handle, so containment of the virus is key.
Receive all of our articles weekly