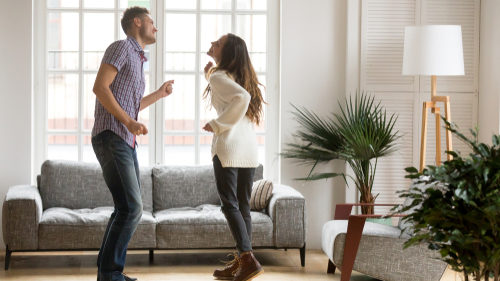 In the final days of March, in address to the nation, Prime Minister Scott Morrison acknowledged the fear and uncertainty being experienced by many Australians during the current coronavirus pandemic, and said compassionately: "No Australian should have to go through this alone."
Shortly after, strict social distancing regulations came into place, effectively limiting our access to the people we love. States and Territories have been left to implement their own measures under broad federal guidelines, and it's well documented that many of these have been vague. But one issue that is causing many couples around Australia a great deal of uncertainty is the question: Can you visit a partner you don't actually live with?
Social media community forums have been full of debate and misinformation, and for those couples who have a locked-down border separating them, the confusion is even greater. With hefty fines being handed out at the very broad discretion of police, it's an expensive risk to take to find out you've done the wrong thing.
What are the rules?
A couple of weeks ago, Victorian Premier Daniel Andrews put in place a bonk ban, and it looked like the southern state was going to follow New Zealand and criminalise the relationships of people who don't live together.
New Zealand was the first to introduce a bonk ban when the country went into lockdown, with Jacinda Ardern and her government quietly codifying a strict regulation that bans any kind of fraternising across households, with very limited exemptions – for shared custody of children, and when at least one of the partners lives alone. And although it's not clear how police are enforcing this, a lot of people have been left miserable – unable to see lovers for at least a month, perhaps much much longer.
So many Victorians let out a collective sigh of relief when, hours after his original announcement, Daniel Andrews back-tracked on the decision, giving permission for romantic couples who don't live together to visit each other.
New South Wales has made the same decision, with NSW Police Commissioner Mick Stewart explaining that seeing a partner you don't reside with comes under the category of 'care' and is therefore one of the 16 reasonable excuses you can leave home.
Across each jurisdiction
So, for anyone living in NSW or Victoria, the answer is yes. What about the other states?
Queensland – Yes, households can have two guests
Tasmania – Yes, for social support or care
South Australia – Yes. Stay at home rules are relatively relaxed in the state, although borders are closed.
Northern Territory – Yes, although the state has closed its borders.
WA – Yes, households can have one guest – the state has closed its borders.
ACT – Yes, households can have two guests
The exact wording of the new stay at home restrictions varies according to each state and territory, as does the interpretation of these.
Long-distance lovers
For partners with a locked border separating them, for example couples living in New South Wales and Queensland, then crossing the border also needs to be navigated. Queensland recently changed its application process, but there is still an exemption for 'compassionate reasons'.
Anyone crossing the border must apply for a new pass every single time they want to go interstate, and a pass is also required to return to New South Wales, even though the NSW border is not officially closed. Both New South Wales and Queensland, along with other states, also enforce mandatory self-isolation in some circumstances, so it's wise to check these state government websites for up to date information.
But ultimately, the news is good for couples who don't live together because in any other 'normal' circumstances, only de facto, marriage, divorce, and shared custody arrangements are recognised as 'relationships' under the law.
These provisions recognise that our close personal relationships are vital for our emotional wellbeing, particularly right now, as people face financial hardship, job losses and uncertainty, as well as isolation from their usual support networks such as work colleagues, friends and family.
The impact social isolation
Isolation or 'quarantine' is perhaps the oldest cure known to medical professionals. While it protects people who are not sick it can have dreadful side effects for patients who are cut off from family and friends only to face their greatest fear: dying alone.
But being isolated when you have no symptoms whatsoever is a completely new phenomenon for Australians, one which we don't completely know the side effects of.
But some mental health experts are already warning that extreme social isolation practices being enforced by governments right now could have disastrous long-term effects, including inducing a range of Obsessive Compulsive Disorders and germ phobias, increasing dependency on drugs and alcohol. After recessions, suicide rates usually increase, and there tend to be spikes in the number of people seeking treatment for anxiety and depression.
Receive all of our articles weekly