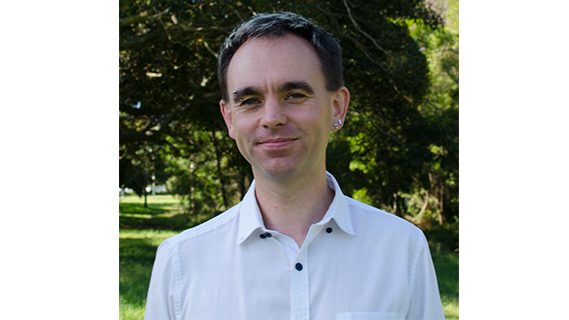 Currently, the Law Enforcement Conduct Commission (LECC) is this state's sole police watchdog. The statutory oversight body is charged with investigating allegations of serious police misconduct and monitoring NSW police critical incident investigations.
The LECC replaced the functions of the Police Integrity Commission, the police division of the NSW Ombudsman and the inspector of the NSW Crime Commission on 1 July 2017. This was in response to a 2015 Tink Report recommendation.
Although, according to progressive independent Bryn Hutchinson, the LECC is not broad enough in its mandate, nor is it sufficiently independent, to deal with the wide range of complaints made about police misconduct in this state annually.
And that's why Hutchinson is campaigning for a seat in the NSW Legislative Council. He wants to see the establishment of a fully independent police complaints handling system, which would ensure investigations into such matters were impartial, transparent and held police accountable.
Mr Hutchinson points out that in 1991, the Royal Commission into Aboriginal Deaths in Custody called for such bodies to be established, while in 2013, Community Legal Centres NSW called for the creation of a body that investigates civilian complaints against police in this state.
The 2013 Mardi Gras travesty
And Mr Hutchinson is no stranger to police misconduct, and the lack of transparent mechanisms in the system to see police held accountable, as he was on the wrong side of one of two police excessive force incidents at the 2013 Mardi Gras that gained national attention.
About an hour after the parade had finished, then 34-year-old Hutchinson attempted to cross Oxford Street against police wishes, just like a number of others were doing, and he was set upon and brutally beaten by several officers.
The former convenor of Community Action Against Homophobia was subsequently handcuffed, thrown in the back of a police van and charged with assaulting police. A charge that was eventually dismissed by the court a year later.
Along with the beating of 18-year-old Jamie Jackson, Mr Hutchinson's assault led 1,500 people to take to the streets weeks later to protest police violence. And a subsequent community forum heard stories about over-policing at the event, sniffer dog use, and police not taking complaints seriously.
Protecting rights under the law
Mr Hutchinson is running in this weekend's state election on a dual platform of police accountability and a Human Rights Act for NSW. At present, Australia is the only democratic nation in the world without a bill of rights protecting citizens' freedoms under the law.
And while the ACT passed its Human Rights Act back in 2004, Victoria enacted the Charter of Human Rights and Responsibilities Act in 2006, and just last month, Queensland passed its Human Rights Act, NSW citizens still have no such protection of their rights under state law.
Sydney Criminal Lawyers spoke with Bryn Hutchinson about the lack of accessible police oversight mechanisms in NSW, why an independent and transparent police watchdog is sorely needed, and how NSW citizens would benefit from rights protections.
Firstly, at the 2013 Mardi Gras you were assaulted by police officers and charged whilst trying to cross the road after the parade ended. Mr Hutchinson, can you explain what actually happened that night? And what the final outcome was?
That was the 2013 Mardi Gras. And it helps to have it in context, because that year there was a large police operation. There was about a third of the police force out that night policing Mardi Gras. And there ended up being quite a number of incidents that evening.
There were over 120 complaints about the police that year. There was a viral video that came out in terms of the other fellow that was assaulted that evening, Jamie Jackson.
My incident took place about 20 minutes after his and it was in the same area. And I know at least four people who went onto litigate police from that evening.
And it was also pivotal amongst the LGBTI community, in that the Gay and Lesbian Rights Lobby, the Inner City Legal Centre, ACON and Mardi Gras put out a position paper to deal with the fallout of how the policing had gone down that evening.
That was the kind of context. What happened to me was I went to cross the road and tried to negotiate my way across with the police, who essentially threw me to the ground and kicked and punched me. And then arrested me for assaulting them.
That then took 14 months to go to criminal trial. They pursued my case all the way through. They dropped the other one against Jamie Jackson, just a couple of weeks after my one was dismissed. That's what happened with that incident.
So, following this you took NSW police to court to sue them last year. What was the result of that?
The case is still ongoing. It went to the District Court and we weren't happy with the outcome of the single judge. So, it's gone to the Supreme Court and is now waiting further judgement.
You're running as an independent candidate for the NSW Legislative Council in this weekend's state election on a platform that includes police accountability.
There is one police watchdog in NSW, which is the recently established Law Enforcement Conduct Commission. Why isn't the LECC an adequate body for dealing with an incident like you experienced?
An incident like I experienced, and a number of other types of incidents, to be honest. I don't think its contentious. Many people agree that their extraordinary powers warrant greater accountability than the current situation.
The police have some of the greatest powers over people's physical well-being, than most government agencies. So, they need that greater level of accountability.
And the LECC was set up following a review that was undertaken just after the Mardi Gras incidents. So, some of those fed into the review process. Even though, it was a very short review, which has been one critique of that.
And the outcome has been a bit wishy-washy. It doesn't really meet international standards, in terms of independence.
Unless, the police engage in quite serious misconduct – that would result in 5 years imprisonment – it wouldn't be something the LECC would look at. Everything else is referred back to the local area commander to investigate.
Essentially, it maintains an internal investigative system. It doesn't promote trust or confidence in the police. It's not particularly accountable. It's not particularly transparent either.
There's a number of ways that you can have complaints investigated. For instance, going back to my case, the police commissioner launched an investigation into the misconduct the police engaged in, but I couldn't access that, because the police refused access.
And that's also been the case in the past – I don't know what the LECC is like – but in the past with its previous incarnation.
It's not a very open process. We had to make a freedom of information request or a GIPA application at the time. They wouldn't just release the results of their investigation. It's just little bits of money that people have to spend.
Those processes do not scream of an organisation that is willing to have its actions looked at. And that is to the detriment of the police. They're acting in the legislative environment they find themselves in. It means that they can't effectively police. They can't learn from incidents.
Independent investigations have people who feel they don't have to protect anybody. It's a trust issue for the police, as well as the community.
And independent investigations' findings are going to be respected to a greater degree, than internal investigations. And people can actually make suggestions for better policing and policing outcomes, which is the way to go.
You're advocating for an independent police oversight body that would investigate complaints about police. Can elaborate on how such a body should operate?
In terms of the model, that isn't the biggest issue. Yes, there are models we can look to. There are principles we can speak about.
I would say, as a number of organisations have argued, that we should have a body that's independent of police. That is institutionally and culturally independent, so that it's not influenced in anyway. So, the police can trust it, as well as the community.
It needs to be a body that can make binding decisions, when it finds that there has been misconduct, or even if there hasn't been misconduct as well, because it goes both ways.
It needs to report its findings publicly. At the moment, a lot of money is spent, and a lot of complaints are processed through a number of different streams, whether that's through the LECC or the coroner or at the local area command level.
There are a number of areas there that you could be garnering to better protect the community and for better policing.
You could have a system that is a one-stop shop founded on those principles that I've just mentioned, but also meets human rights standards.
You can look to the London Metro police, the Northern Irish police or the Washington DC police: there's a number of organisations that have an independent investigative body.
But, it's not the structure that is the issue, it's the political will. As I say, these principles are not foreign to a democratic public, it's the political will to put them in place that's needed.
I don't believe the funding would be an issue. We spend a lot of money on complaint processes that we already have. They have funding. That money is already there.
It's difficult to find the amount of money to spend on litigation and the paying of public money to people who successfully sue police. These things add up. And they can also be mitigated by having an independent body.
It could also recommend learning, training and cultural changes for the police, so that these things don't actually happen in the first place. Because having a body is the end stage, you ideally want a system that prevents things happening in the first place.
Over the last year, there's been reports about over-policing at events and the increasing use of strip searches.
Without the independent investigations body that you're calling for, how would you describe the way in which NSW police is operating?
As I've said, the police practice within a legislative environment that the politicians have created for them. There are good police officers and there are not so good police officers.
But, we know that the impacts of poor policing fall disproportionately on marginalised communities, such as Aboriginal and Torres Strait Islander communities, LGBTI communities, people with mental health issues and young people.
There are incidents that consistently come about in the press. And we know that the police have an issue with policing marginalised communities. And this is a deep issue. There are a number of reasons for this. You can't ignore it. And it can't be changed by just continuing in the way that it is.
When the police engage in misconduct, because there isn't an independent body to complain to, how it goes down is there's a media fracas generally about how the police have behaved.
Then people either want to side with the police or side with the victim, and say how bad it has been for them. This is a tribal response that could be dealt with in a far more effective policy arrangement way.
The police need to have more accountability. This is why I am standing. There are really worrying incidents that have occurred in a number of places in NSW.
And if you read over the police reports, there are some consistencies about them that tend to indicate that they don't need to be happening. That they're impacted by the culture of the police force.
The only way to change that is to get information, to make recommendations, to make that public and make politicians take responsibility.
You're also calling for the establishment of a Human Rights Act for NSW. What would you say are the consequences that not having a specific bill that protects citizens' rights in this state currently has?
Certainly, on a state level, policing is one of those things that are affected by not having a Human Rights Act. It clearly speaks about the relationship between the citizen and the state, along with rights and responsibilities.
Having a Human Rights Act would provide a framework for policy creation and the acts of government agencies.
Everyone in NSW interacts with a number of government agencies and is affected by policies: policing is one, and access to legal assistance is another area that could be affected.
There's also accessible housing, appropriate mental health resources and the rights of women and children fleeing domestic violence situations.
So, what would a NSW Human Rights Act that was based on international human rights instruments mean for this state?
It's about putting into law those declarations that Australia has signed, such as the International Declaration of Human Rights and International Covenant on Civil and Political Rights, or the principles underpinning them.
Australia is a signatory to these declarations. And it's done that to show its intention to uphold those principles. I don't see any reason why we should not put them into law.
And the government would then have to ensure that its laws are in line with human rights and the courts would be able to strike down legislation that wasn't in line with human rights.
This allows the citizens to hold power to account as well.
And lastly, Mr Hutchinson, you've pinpointed greater police accountability and a local bill of rights as key issues you'll be addressing if elected into the NSW Legislative Council. But, what other issues would you be focusing on for the people of NSW?
My professional background is in social work, so I am very interested in social justice issues.
Safe and secure housing in NSW is very important. I'd be very interested in seeing some action on having better and more housing stock.
Sustainable energy in NSW. Moving to more sustainable energy sources, other than coal, is important to us and future generations.
Public transport and public infrastructure are something that I very much support, and health resourcing and funding.
These would be some of the key issues in this state that I would be interested in looking at and supporting.
Receive all of our articles weekly