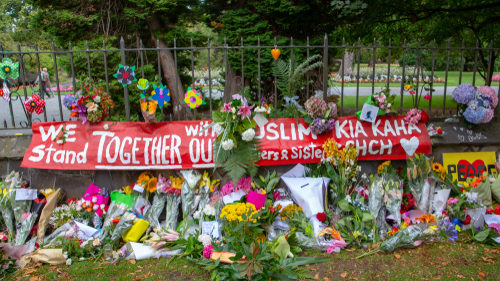 The Australian Security and Intelligence Agency (ASIO) has identified the "Neo Nazi movement" as a considerable threats to Australia's national security.
Every year, the director-general of ASIO delivers a terrorism threat assessment with a view to identifying and taking measures to reduce the threat to Australia.
In this year's report, the organisation's chief, Mike Burgess, reported that although threats from the Islamic State and Al Qaeda remain concerns, along with foreign interference by way of state-sponsored espionage and computer hacking, serious threats to our national security are coming from a growing Neo-Nazi movement in Australia.
White supremacy
While they often only operate in small cells, gathering to salute Nazi flags, inspect weapons and disperse their extreme ideology, Neo Nazi groups are a top priority on ASIO's threat list, as they continue to thrive in online chat forums, seeking to connect with other like-minded extremists and alarmingly, try to recruit children as young as 13 and 14 years old.
Mr Burgess reports that a number of these groups have become more organised and security conscious in recent times, which is making them more difficult to detect, monitor, contain and subdue.
The Neo-Nazi movement and other forms of right-wing extremism, have always been under ASIO's watchful eye, but they have come into sharp focus since the Christchurch massacre in March last year, when a gun man opened fire in two consecutive shooting attacks at local Mosques during Friday prayer, streaming the first live on social media.
Fifty-one people were killed and 40 were injured. Australian man, Brenton Tarrant has been charged with the murders and attempted murders and also faces a charge of engaging in a terrorist act. He has pleaded not guilty and his trial is due to begin in New Zealand later this year.
A significant aspect of ASIO's role is to detect such attacks on Australian soil prior to them happening and to be able to act beforehand to stop them. As such, the organisation follows up any leads it determines are worthwhile, and Mr Burgess says the number of potential terrorism leads that ASIO is investigating has doubled over the past year.
Terrorism threats to Australia come from a wide range of groups and places.
Combating the threat of terrorism
Since the September 11 attacks, the Australian Federal Government has introduced more than 80 pieces of legislation and there are several more currently before parliament. This number of laws far exceeds the volume introduced in the United Kingdom, Canada and even the United States in response to September 11. And it's not just the sheer number of laws, but also their scope, which makes Australia stand out amongst Western democracies.
Prior to September 11, Australia did not have any terrorism laws, so it was important that in the aftermath, this was addressed. And while it is understandable that one of the few ways governments can address palpable public concern is to enact new laws in an effort to restore public confidence and a sense of security, it's fair to say that, when compared to their counter parts, successive Australian Governments have gone into overdrive.
Heavy-handed laws that impeded freedoms and rights
And in many cases, these new laws demonstrate just how far lawmakers have strayed from fundamental human rights as well as the basic principles of criminal justice, such as reversing the presumption of innocence and the onus of proof, and diluting the right to silence, crafting heavy-handed legislation that goes far beyond reasonable scope.
We have all witnessed first-hand most recently, the wide-reaching and serious implications of the Government's National Security Legislation Amendment (Espionage and Foreign Interference) Bill 2018 which has created a series of laws that penalise Commonwealth officers that leak classified information, but also criminalises all the steps that go into reporting such information to the public, and impose serious penalties, effectively enabling the Government to shut down whistle-blowers as well as any journalists or publishers who tell their stories, under the guise of 'protecting our national security'.
Recently, when the Australian Broadcasting Corporation (ABC) lost its legal challenge over the warrant and subsequent raids on its offices by the Australian Federal Police in relation to The Afghan Files story, the Federal Court ruled that: "the purpose of the warrant in this case was entirely legitimate" as police had been investigating "valid" national security offences.
The court also said the few legal protections for journalists' sources were not applicable in this case.
Ordinary Australians impacted
Other laws too, such as the Data Retention laws, legislation that paves the way for a national facial-recognition database, anti-protest laws and the list goes on … which have also been presented under the guise of 'protecting national security' have seriously impacted the privacy, freedom of speech and freedom of association of ordinary Australians, and as has been said many times before, without a Bill of Rights, Australians remain largely unprotected.
As the 2020 ASIO report suggests, the threat of terrorism will always exist and it's nature will change and evolve.
It is imperative for our government to craft laws which provide controls and frameworks to deal with the threat. But it's becoming increasingly obvious that in Australia we have struggled to find a balance in these laws which provide appropriate levels of protection without impeding democratic freedoms, and civil liberties.
Receive all of our articles weekly